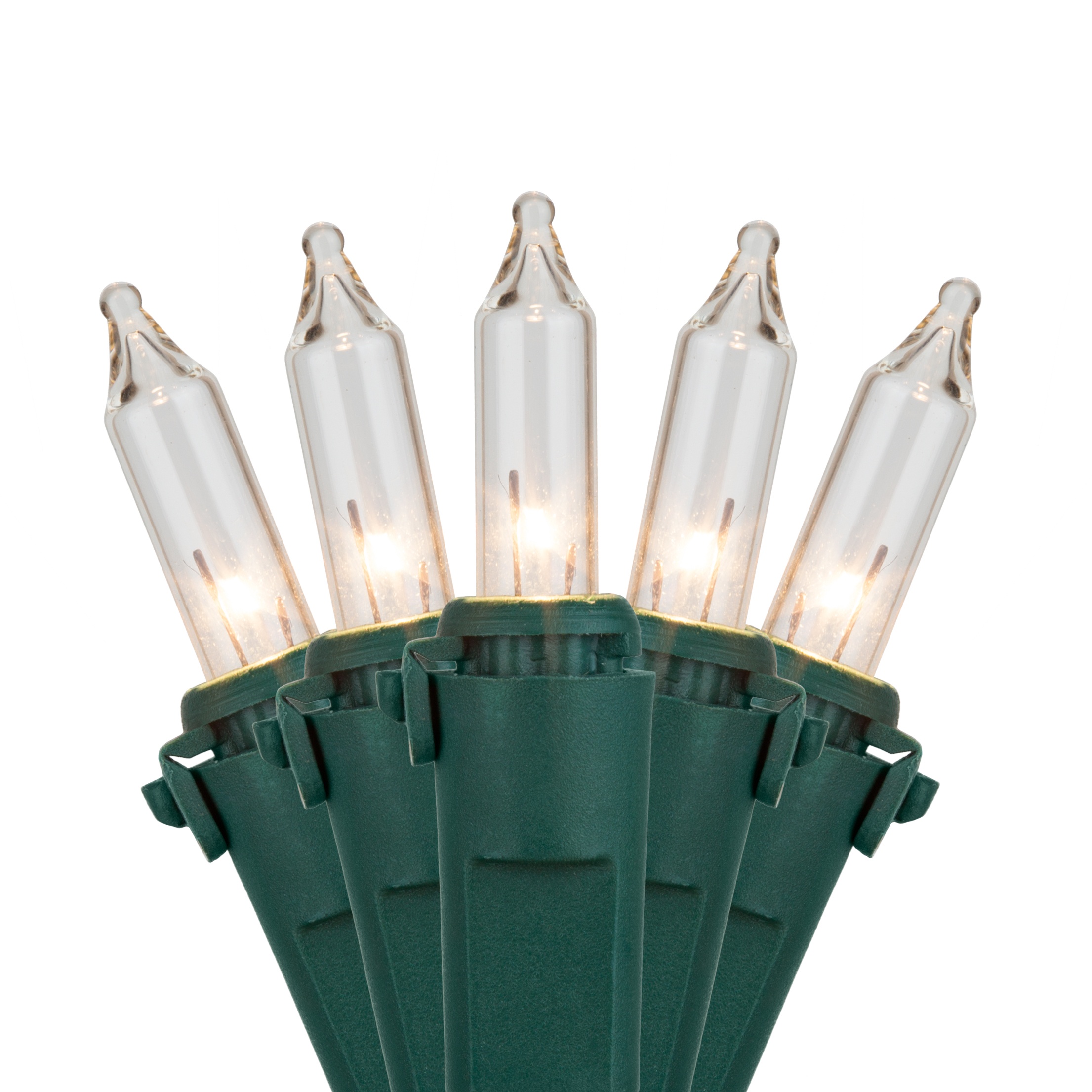 100 Clear Mini Christmas Lights, 4" Spacing, Premium, Green Wire
Item: U17532
Clear Christmas mini lights
100 count incandescent bulbs
4" spacing on green wire
33.7' long
Lamp locks keep bulbs securely seated in their sockets for increased connectivity
End-to-end connection with male and female plugs
Connect up to 05 strings
One light goes out the rest stay lit
UL Listed, Indoor / Outdoor
| | |
| --- | --- |
| Light Count: 100 | Wire Color: Green |
| Light Color: Clear | Bulb Spacing: 4 in |
| String Length: 33.7 ft | Lead Length: 4 in |
| Max Sets Connected: 05 | Tail Length: 4 in |
| Bulb Size: Mini | Wire Gauge: 22 |
| Male Plug Type: Fused/Stackable | Light Display: Steady |
| Female Plug Type: End-to-End | Grade: Premium |
| Average Hours: 3,000 | Twist Proof Bulbs: Yes |
| Bulb Technology: One goes out the rest stay lit | Lamp Lock Bulbs: Yes |
| Bulb Type: Incandescent | Removable Bulbs: Yes |
| Voltage: 120 | Bulb Voltage: 2.5 |
| Watts Per Bulb: 0.408 | Rating: UL Listed |
| Usage: Indoor / Outdoor | Watts: 40.8 |
| Amps: .37 | Light Color: Clear |
| Bulb Size: Mini | |
Reviewed by Fred C.
on Wednesday, August 22, 2012
Clear Mini lights - Very bright
Stars
Love the lights - my wife loves the brightness of the lights
Reviewed by Donna S.
on Friday, November 30, 2012
customer
Stars
Three cords on each strand of lights. Some strands had the three cords twisted tightly that made them easy to work with and put on the tree. On other strands, the 3 cords were untwisted and made it difficult to weave on to the tree branches. Some strands had burnt out lights in them.
Reviewed by John L.
on Saturday, December 22, 2012
great product
Stars
perfect set of lights, work great, strong and reliable wire. much better than big box store 'cheapies'
Reviewed by Wlliam Z.
on Sunday, January 08, 2012
Clear mini lights
Stars
Good service,good price.Pluged them in and they work for next year.What more could you ask for. B.Z.
Reviewed by Harold B.
on Saturday, February 18, 2012
Premium Clear Mini Lights
Stars
Both the lights and customer service are both PREMIUM. I will buy all my lights for ChristmasLightsEtc.
Reviewed by Lamar H.
on Thursday, March 29, 2012
Clear mini lights
Stars
The lights were great and all are in working order...tha nks for your rapid response.
Reviewed by Karen D.
on Monday, December 03, 2012
100 Clear Christmas Mini Lights, 4" Spacing, Premium, Green Wire
Stars
My clear mini lights seem to be of fine quality
Reviewed by Bill B.
on Sunday, June 16, 2013
Clear Mini Christmas Lights
Stars
It was easy to select and order the lights I needed and they shipped out in about 2 days and arrived fast. I will order more when I plan my next Christmas light display.
Reviewed by Patricia P.
on Sunday, January 27, 2013
Clear Mini Christmas Lights
Stars
My package was delivered quickly and they are high quality lights.
Reviewed by June T.
on Friday, January 11, 2013
Clear Mini Lights
Stars
So far so good! I keep the lights up all year (on a scheffelera plant) in the livingroom.
Reviewed by GERALD K.
on Saturday, January 12, 2013
Clear Mini Lighting
Stars
Excellent service. The lights appear to be very good quality.
Products Related To Premium Clear Mini Lights - Green Wire
Email A Friend
Write A Review