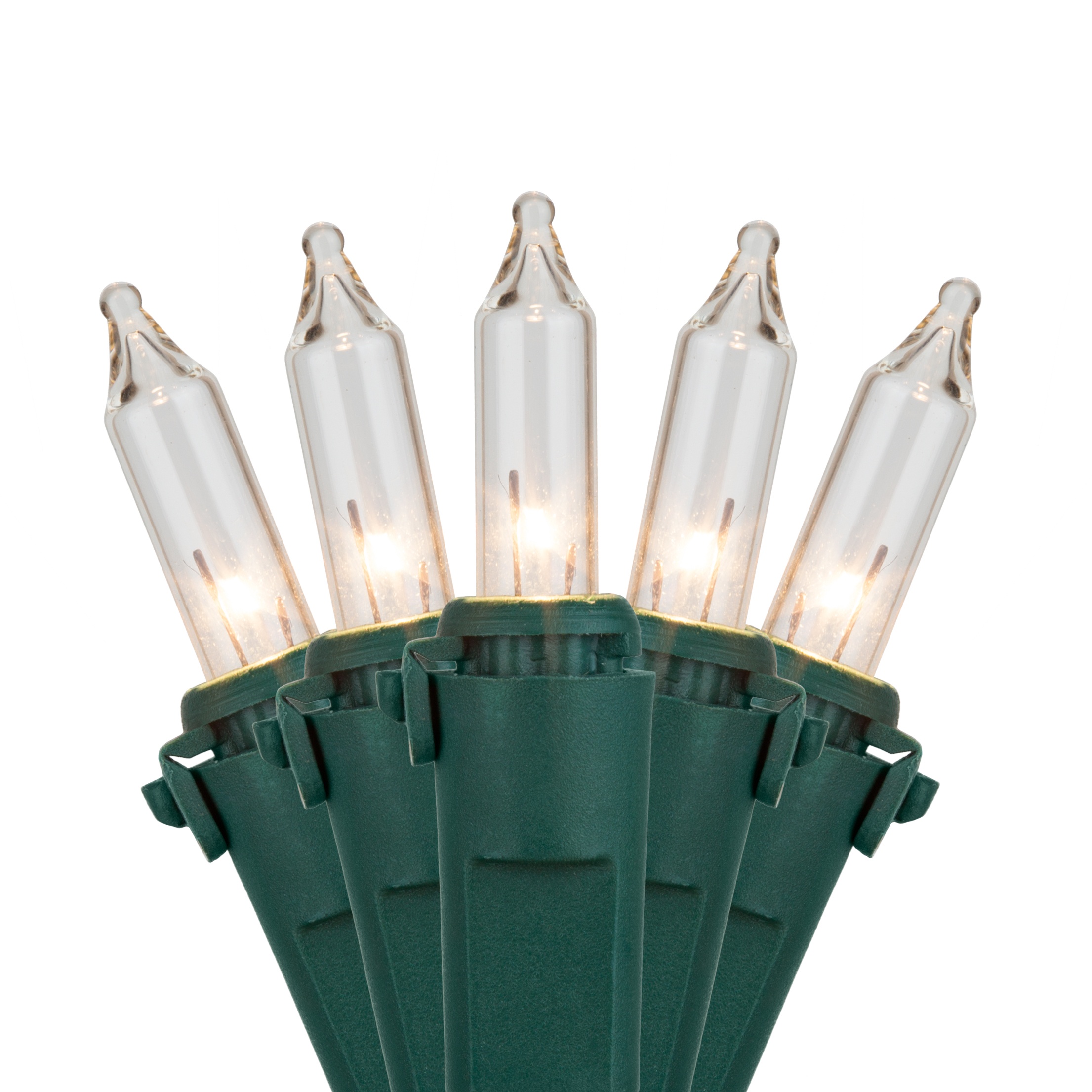 100 Clear Mini Christmas Lights, 6" Spacing, Premium, Green Wire
Item: U17535
This item (U17535) is not currently available for purchase.
Enter your email address above to be notified when this product is available for purchase.
Clear Christmas mini lights
100 count incandescent bulbs
6" spacing on green wire
50.5' long
Lamp locks keep bulbs securely seated in their sockets for increased connectivity
End-to-end connection with male and female plugs
Connect up to 05 strings
One light goes out the rest stay lit
UL Listed, Indoor / Outdoor
| | |
| --- | --- |
| Light Count: 100 | Wire Color: Green |
| Light Color: Clear | Bulb Spacing: 6 in |
| String Length: 50.5 ft | Lead Length: 6 in |
| Max Sets Connected: 05 | Tail Length: 6 in |
| Bulb Size: Mini | Wire Gauge: 22 |
| Male Plug Type: Fused/Stackable | Light Display: Steady |
| Female Plug Type: End-to-End | Grade: Premium |
| Average Hours: 3,000 | Twist Proof Bulbs: Yes |
| Bulb Technology: One goes out the rest stay lit | Lamp Lock Bulbs: Yes |
| Bulb Type: Incandescent | Removable Bulbs: Yes |
| Voltage: 120 | Bulb Voltage: 2.5 |
| Watts Per Bulb: 0.408 | Rating: UL Listed |
| Usage: Indoor / Outdoor | Watts: 40.8 |
| Amps: .37 | Light Color: Clear |
| Bulb Size: Mini | |
Reviewed by Mark C.
on Thursday, May 10, 2012
Quality Product
Stars
Quality product, web sight easy to follow overall great experience. Thank you.
Reviewed by William P.
on Saturday, December 08, 2012
Mini Lights
Stars
Good quality product in plain package. Perfect!
Reviewed by Michael C.
on Wednesday, December 12, 2012
100 Clear Mini Lights - 6" space
Stars
This is how I remember Christmas lights from many years ago. Great quality lights.
Reviewed by Talia D.
on Tuesday, January 17, 2012
Bright Light
Stars
I was very impressed with the expediency of receiving my order. The lights are beautiful.
Reviewed by Bernie S.
on Thursday, October 25, 2012
Shambour Outdoor Christmas Light Display
Stars
First, I request and hope that your company continues to make these incandescent mini-lights for years to come! They are lower cost, musc brighter/more aesthetically pleasing than the boring LED lights that cannot melt snow away from their surfaces! Second, I love the premium grade quality, whereby when one light burns out the stringer stays lit; without this feature I would lose my mind repairing stringers. For the past 22 years I've been setting up about 25,000 clear lights on 25 maple trees on my 2 acre lot every Holiday Season. Each tree trunk has your premium grade alternating Red and Green lights wrapped around the trunks of the trees. Thousands of cars drive by my property (on a state highway) each year and these folks have come to expect a premium display of lights! Each year I change out about 30 stringers or 10 pecent of my lights (out of the about 300+ stringers of lights in all) that comprise my outdoor display. For being China-made, the quality of your product is very good as the average stringer of your premium light lasts about 8 years! Overall quality is very good. However, to my mild disappointment; even with a "premium ranking" I find about 2 percent of the bulbs not working on random (brand new) stringers I receive from Christmas Lights, Etc. Of course, this is not a show stopper for me ... but, it bothers me. Aside from this "mild disappointment" please keep up the good work keeping these "older technology" lights in the supply chain; the higher power consumption is of no issue/concern to me!
Reviewed by MARLENE R.
on Thursday, July 26, 2012
Exactly as described
Stars
Excellent service. Received within 2 days of order.
Products Related To Premium Clear Mini Lights - Green Wire
Email A Friend
Write A Review