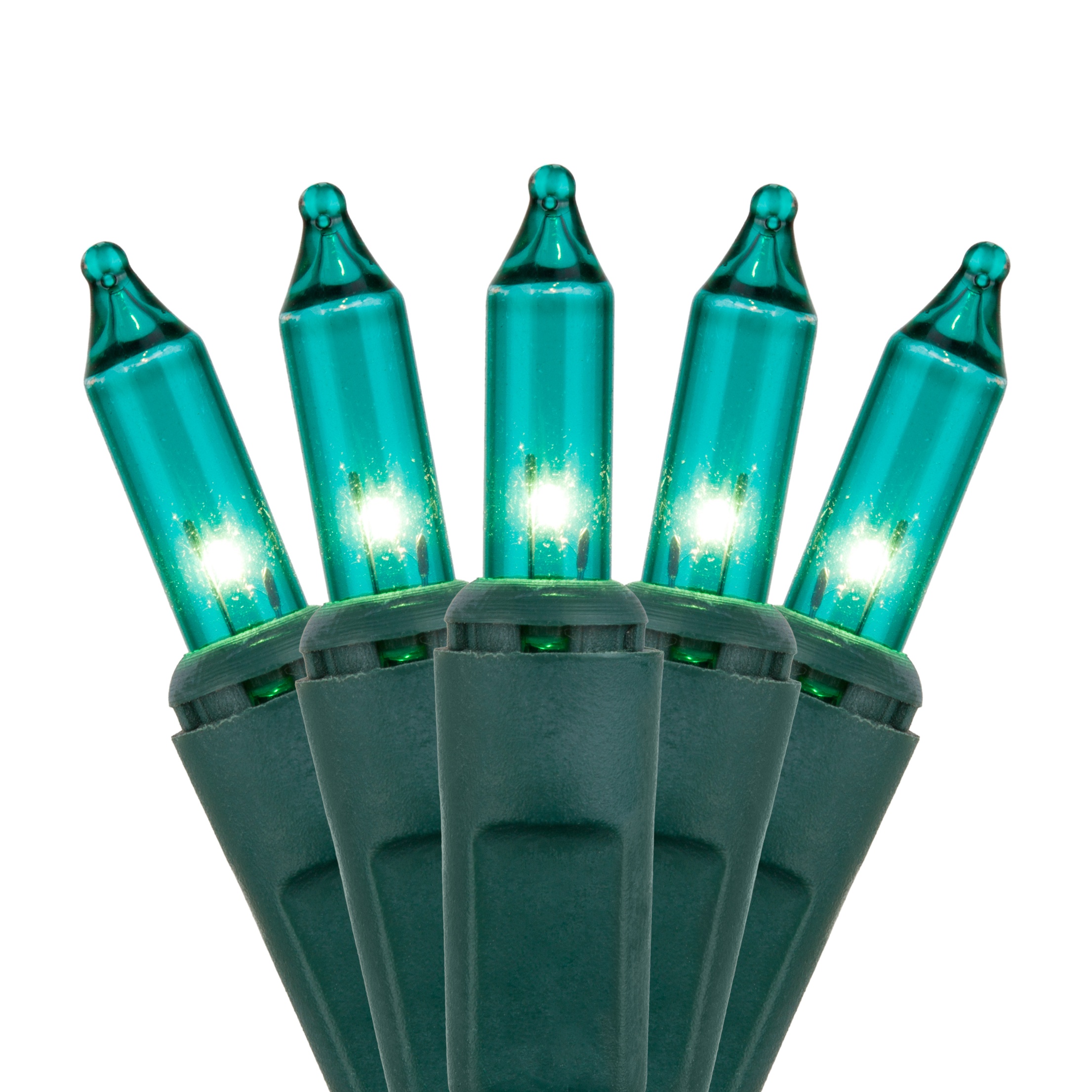 100 Teal Christmas Tree Mini Lights, 6" Spacing, Green Wire
Item: U15210
Blue mini Christmas lights
100 count incandescent bulbs
6" spacing on green wire
50.5' long
End-to-end connection with male and female plugs
Connect up to 05 strings
One light goes out the rest stay lit
UL Listed, Indoor / Outdoor
| | |
| --- | --- |
| Light Count: 100 | Wire Color: Green |
| Light Color: Teal | Bulb Spacing: 6 in |
| String Length: 50.5 ft | Lead Length: 6 in |
| Max Sets Connected: 05 | Tail Length: 6 in |
| Bulb Size: Mini | Wire Gauge: 22 |
| Male Plug Type: Fused/Stackable | Light Display: Steady |
| Female Plug Type: End-to-End | Grade: Standard |
| Average Hours: 3,000 | Twist Proof Bulbs: No |
| Bulb Technology: One goes out the rest stay lit | Lamp Lock Bulbs: No |
| Bulb Type: Incandescent | Removable Bulbs: Yes |
| Voltage: 120 | Bulb Voltage: 2.5 |
| Watts Per Bulb: 0.408 | Rating: UL Listed |
| Usage: Indoor / Outdoor | Watts: 40.8 |
| Amps: .37 | Light Color: Blue |
| Bulb Size: Mini | |
Reviewed by Becky M.
on Friday, September 14, 2012
SERVICE WAS AMAZING!
Stars
Thank you for making the ordering process so easy and accommodating. I needed this product shipped extremely fast and placing the order via phone was super quick and easy! The rep was very helpful and professional! Thank you! The product was at a great price but did not match the description. These "teal" lights are very basic green in color. That was disappointing as I searched high and low for TEAL lights as was our need. I am still quite pleased with the company and ordering process and will use again when needing a "normal" color product. Thank you!
Reviewed by Karen A.
on Monday, January 14, 2013
Teal Mini Lights
Stars
No problems with my order.
Products Related To Standard Teal / Turquoise Mini Lights
Email A Friend
Write A Review