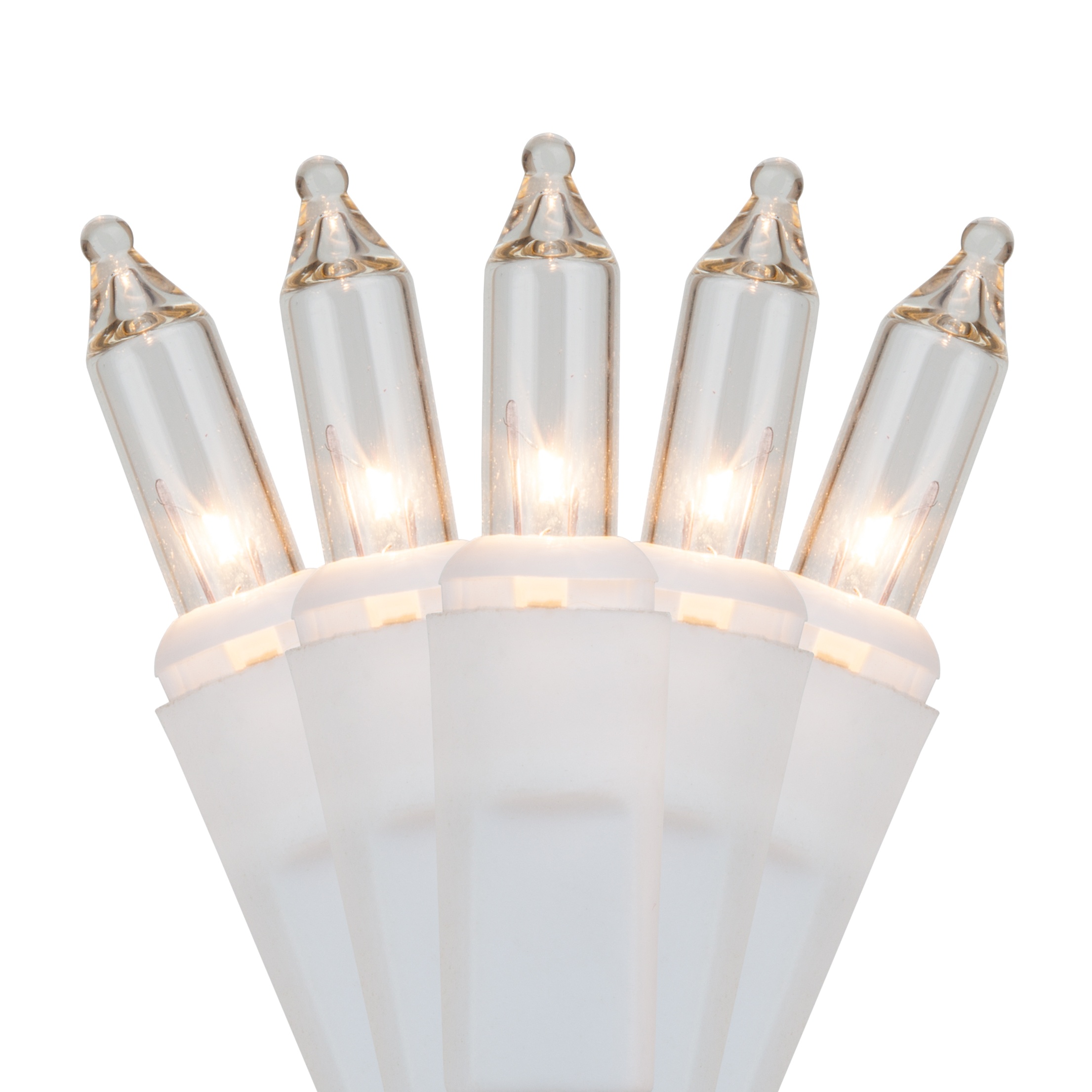 35 Clear Mini Lights, 4" Spacing, White Wire
Item: U15181
Clear mini Christmas lights
35 count incandescent bulbs
4" spacing on white wire
13.3' long
Craft lights - no female plug
One light goes out the rest stay lit
UL Listed, Indoor
| | |
| --- | --- |
| Light Count: 35 | Wire Color: White |
| Light Color: Clear | Bulb Spacing: 4 in |
| String Length: 13.3 ft | Lead Length: 24 in |
| Max Sets Connected: 0 | Tail Length: 0 in |
| Bulb Size: Mini | Wire Gauge: 22 |
| Male Plug Type: Fused/Stackable | Light Display: Steady |
| Female Plug Type: None | Grade: Standard |
| Average Hours: 3,000 | Twist Proof Bulbs: No |
| Bulb Technology: One goes out the rest stay lit | Lamp Lock Bulbs: No |
| Bulb Type: Incandescent | Removable Bulbs: Yes |
| Voltage: 120 | Bulb Voltage: 2.5 |
| Watts Per Bulb: 0.66 | Rating: UL Listed |
| Usage: Indoor | Watts: 23.1 |
| Amps: .21 | Light Color: Clear |
| Bulb Size: Mini | |
Reviewed by Jeanette G.
on Saturday, March 23, 2013
Clear Mini Lights
Stars
These mini lights are just what I was looking for and they worked out great for my project.
Reviewed by Maralene R.
on Sunday, April 21, 2013
Clear Mini Lights
Stars
I was so happy to find your company on the internet. These lights are not available in my local stores. My daughter and I will be using these lights for our Christmas decorations (glass blocks and special frosted deco bottles). I was especially happy to be able to obtain white wiring on the lights.
Reviewed by Sharon G.
on Friday, January 25, 2013
Clear Mini Christmas Lights
Stars
I purchased 10 sets of these clear mini lights for craft projects. They arrived quickly, they work great and they are very affordable. I will order them again.
Reviewed by Linda K.
on Sunday, December 23, 2012
Perfect
Stars
It fits my purpose for the purchase and works well
Reviewed by Tom S.
on Sunday, March 11, 2012
string lights
Stars
Very happy with the service and the products arrived in a timely manner.
Reviewed by Pamela N.
on Friday, February 10, 2012
Mini christmas tree lights
Stars
Great lights received order quickly
Reviewed by Michelle B.
on Wednesday, February 15, 2012
product purchase
Stars
love getting the product when out of season and that it is good quality. will continue to purchase from your company
Reviewed by Marcia S.
on Tuesday, December 18, 2012
Great Service
Stars
I ordered my mini lights during the busy holiday season and received them in less than a week. The lights were exactly what I ordered and what I needed. I will order from this Christmas Lights, Etc again.
Reviewed by Glenn M.
on Wednesday, November 07, 2012
Great sevice!
Stars
Even though these lights were back ordered we were kept informed concerning the delivery schedule. The lights are great and they are perfect for Christmas projects and decorations. Reasonable price for a hard to find item.
Reviewed by Linda B.
on Wednesday, November 07, 2012
35 Clear Mini Lights, 4" Spacing, White Wire
Stars
We needed these lights for our deer. It worked fine.
Reviewed by sally D.
on Thursday, November 08, 2012
Clear mini lights
Stars
just what i needed for my project
Reviewed by Jill S.
on Thursday, November 08, 2012
Clear mini lights
Stars
was just what I needed
Products Related To Standard Clear Mini Lights - White Wire
Email A Friend
Write A Review