4' x 6' Net Lights - 150 Red Lamps - Green Wire
Item: U15248
150 Incandescent lights on a 4' x 6' Green wire
Red Mini bulbs
Net lights are the quick and easy solution for shrubs and bushes
| | |
| --- | --- |
| Light Count: 150 | Wire Color: Green |
| Light Color: Red | Net Size: 4' x 6' |
| Application: Bushes | Lead Length: 24 in |
| Max Sets Connected: 03 | Tail Length: 8 in |
| Bulb Size: Mini | Wire Gauge: 22 |
| Male Plug Type: Fused/Stackable | Light Display: Steady |
| Female Plug Type: End-to-End | Grade: Premium |
| Average Hours: 3,000 | Lamp Lock Bulbs: No |
| Removable Bulbs: Yes | Bulb Technology: One goes out the rest stay lit |
| Watts Per Bulb: 0.425 | Total Watts: 63.75 |
| Amps: .58 | Rating: UL Listed |
| Usage: Indoor / Outdoor | Bulb Shape: Mini |
| Bulb Type: Incandescent | Bulb Material: Glass |
| Bulb Voltage: 2.5 | Light Color: Red |
| Bulb Size: Mini | Wattage: 63.75 |
M5 4'x6' Red LED Net Lights, Green Wire
Sale: $33.14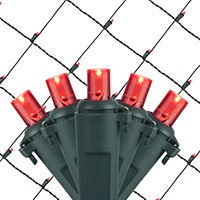 5MM 4'x6' Red LED Net Lights, Green Wire
Sale: $25.49
Reviewed by Denise C.
on Wednesday, January 30, 2013
Red Mini Net Lights
Stars
So far, I am very happy with these net lights. They arrived on time and in excellent condition. I love the color. I'm using them for Valentine's decorating so haven't set them up yet.
Reviewed by Kevin U.
on Monday, December 10, 2012
Red Net Lighting
Stars
Item came on time and as promised. A bit more expensive than in the store and shipping but I couldn't find the variety they offer.
Reviewed by Bill R.
on Saturday, January 18, 2014
4x6 Mini Red Net Lights
Stars
The lights are good.
Reviewed by Mable S.
on Sunday, January 19, 2014
4 X 6 Red Net Lights
Stars
For some reason online is the only place I could find red net lights. I looked last year and this year in the stores, and couldn't find them so I looked online and found them here. They worked great and I had a completely covered red bush. I like the size of these nets. They really covered the bush I had to cover really well. They were very affordable too.
Products Related To Net Lights and Tree Wraps
Email A Friend
Write A Review