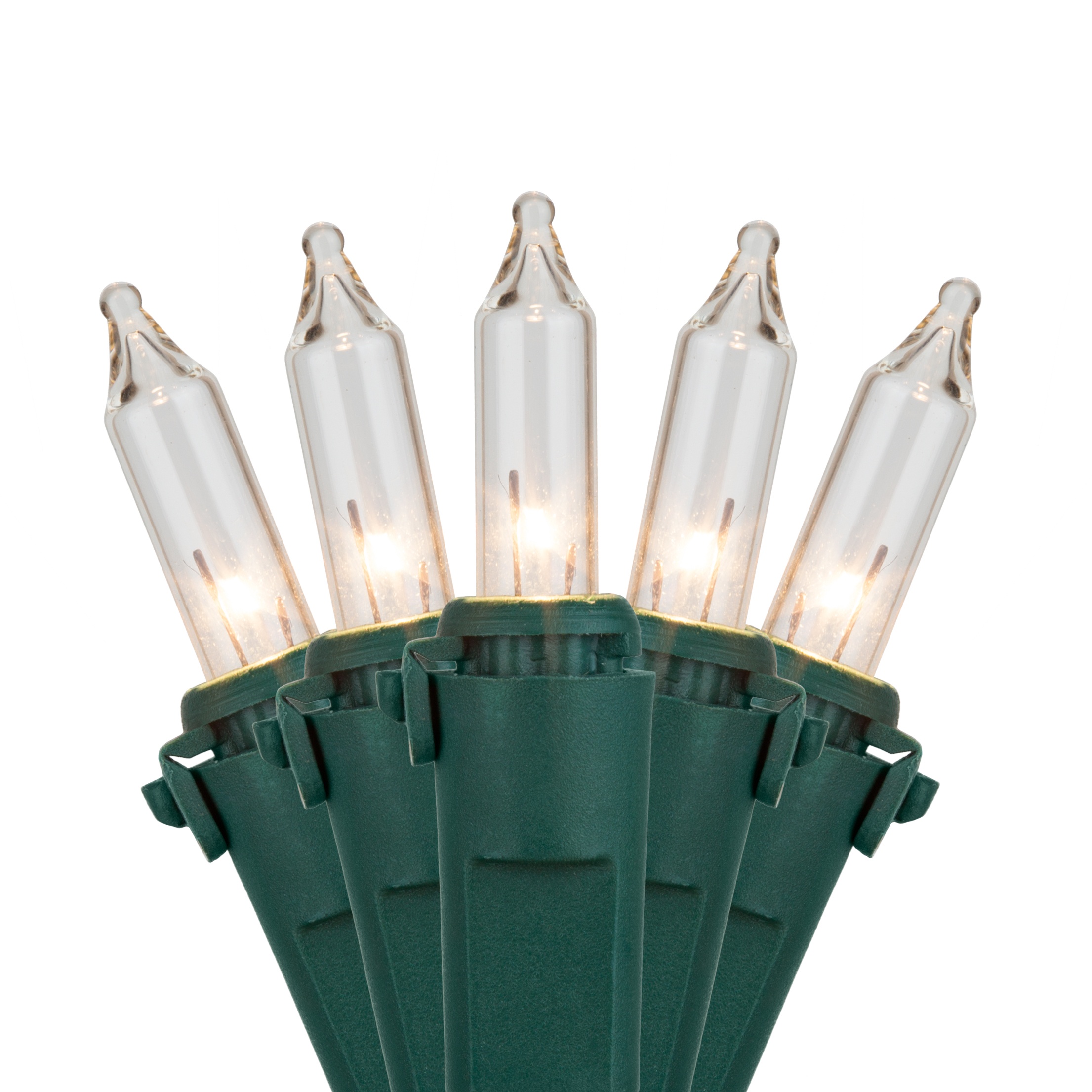 50 Clear Mini Christmas Lights, 4" Spacing, Premium, Green Wire
Item: U17556
Clear Christmas mini lights
50 count incandescent bulbs
4" spacing on green wire
17.0' long
End-to-end connection with male and female plugs
Connect up to 10 strings
One light goes out the rest stay lit
UL Listed, Indoor / Outdoor
| | |
| --- | --- |
| Light Count: 50 | Wire Color: Green |
| Light Color: Clear | Bulb Spacing: 4 in |
| String Length: 17.0 ft | Lead Length: 4 in |
| Max Sets Connected: 10 | Tail Length: 4 in |
| Bulb Size: Mini | Wire Gauge: 22 |
| Male Plug Type: Fused/Stackable | Light Display: Steady |
| Female Plug Type: End-to-End | Grade: Premium |
| Average Hours: 3,000 | Twist Proof Bulbs: Yes |
| Bulb Technology: One goes out the rest stay lit | Lamp Lock Bulbs: Yes |
| Bulb Type: Incandescent | Removable Bulbs: Yes |
| Voltage: 120 | Bulb Voltage: 2.5 |
| Watts Per Bulb: 0.408 | Rating: UL Listed |
| Usage: Indoor / Outdoor | Watts: 20.4 |
| Amps: .19 | Light Color: Clear |
| Bulb Size: Mini | |
Reviewed by Zachary J.
on Wednesday, August 14, 2013
Clear Mini Lights
Stars
This is a great product and exactly what I was looking for - THANKS!
Reviewed by SALLY B.
on Thursday, June 06, 2013
Clear Mini Lights
Stars
I give this company AAA!!
Reviewed by Marie J.
on Sunday, December 16, 2012
Clear Mini Lights
Stars
Very good quality lights. They were shipped promptly too.
Reviewed by Janine B.
on Friday, January 04, 2013
Clear Christmas Lighting
Stars
With incadecents on their way out, this was the perfect purchase to keep me going with my white mini lights on my tree for a good while. The lights seem to be very good quality. Website explains distance between bulbs and leads very well. Very fast service!
Products Related To Premium Clear Mini Lights - Green Wire
Email A Friend
Write A Review