50 Clear Twinkle Christmas Tree Mini Lights, 6" Spacing, Green Wire
Item: U15262
Clear mini Christmas lights
Soft twinkle mini lights
50 count incandescent bulbs
6" spacing on green wire
25.5' long
End-to-end connection with male and female plugs
Connect up to 10 strings
One light goes out the rest stay lit
UL Listed, Indoor / Outdoor
| | |
| --- | --- |
| Light Count: 50 | Wire Color: Green |
| Light Color: Clear | Bulb Spacing: 6 in |
| String Length: 25.5 ft | Lead Length: 6 in |
| Max Sets Connected: 10 | Tail Length: 6 in |
| Bulb Size: Mini | Wire Gauge: 22 |
| Male Plug Type: Fused/Stackable | Light Display: Twinkle |
| Female Plug Type: End-to-End | Grade: Standard |
| Average Hours: 3,000 | Twist Proof Bulbs: No |
| Bulb Technology: One goes out the rest stay lit | Lamp Lock Bulbs: No |
| Bulb Type: Incandescent | Removable Bulbs: Yes |
| Voltage: 120 | Bulb Voltage: 2.5 |
| Watts Per Bulb: 0.408 | Rating: UL Listed |
| Usage: Indoor / Outdoor | Watts: 20.4 |
| Amps: .19 | Light Color: Clear |
| Bulb Size: Mini | |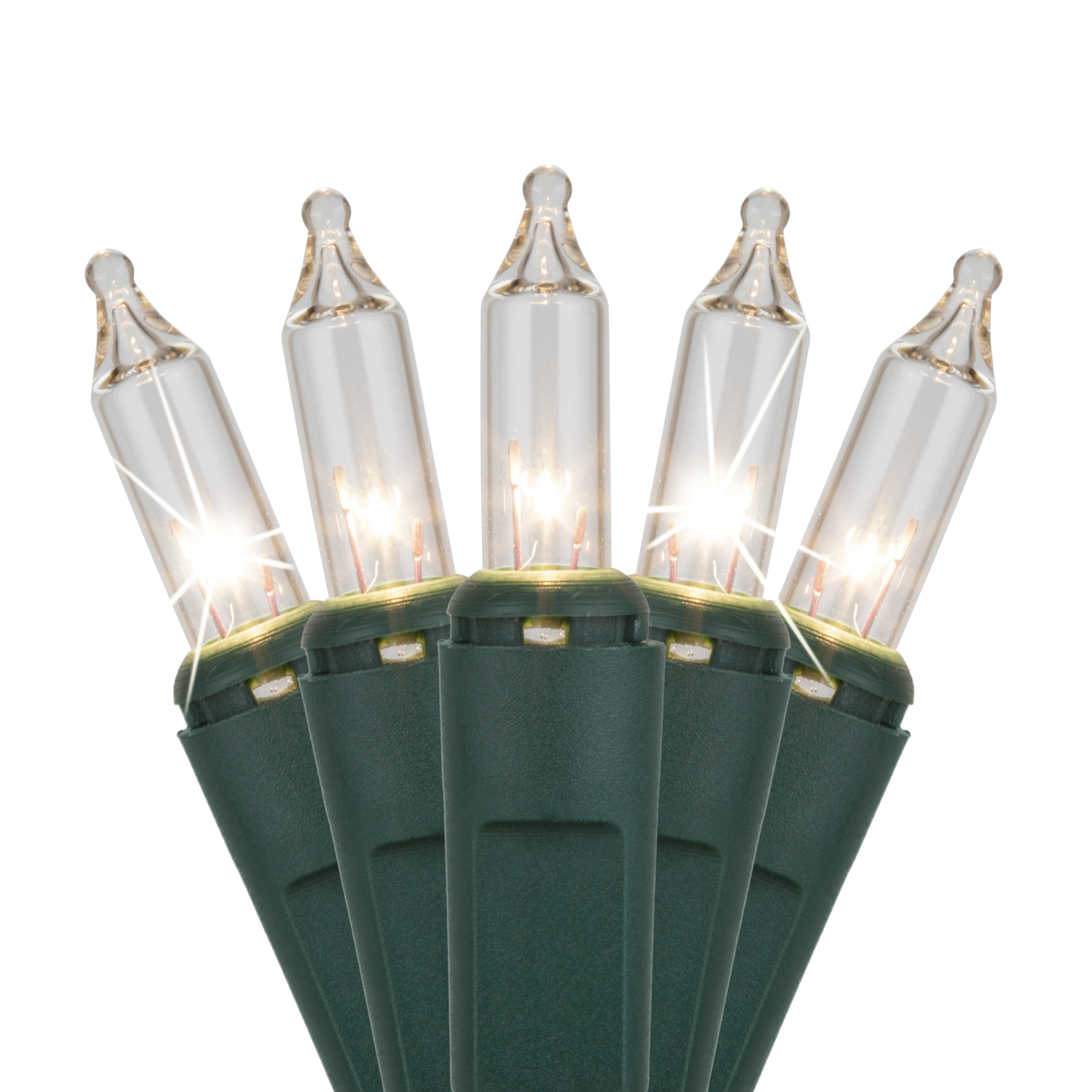 100 Clear Twinkle Christmas Tree Mini Lights, 6" Spacing, Green Wire
Sale: $12.99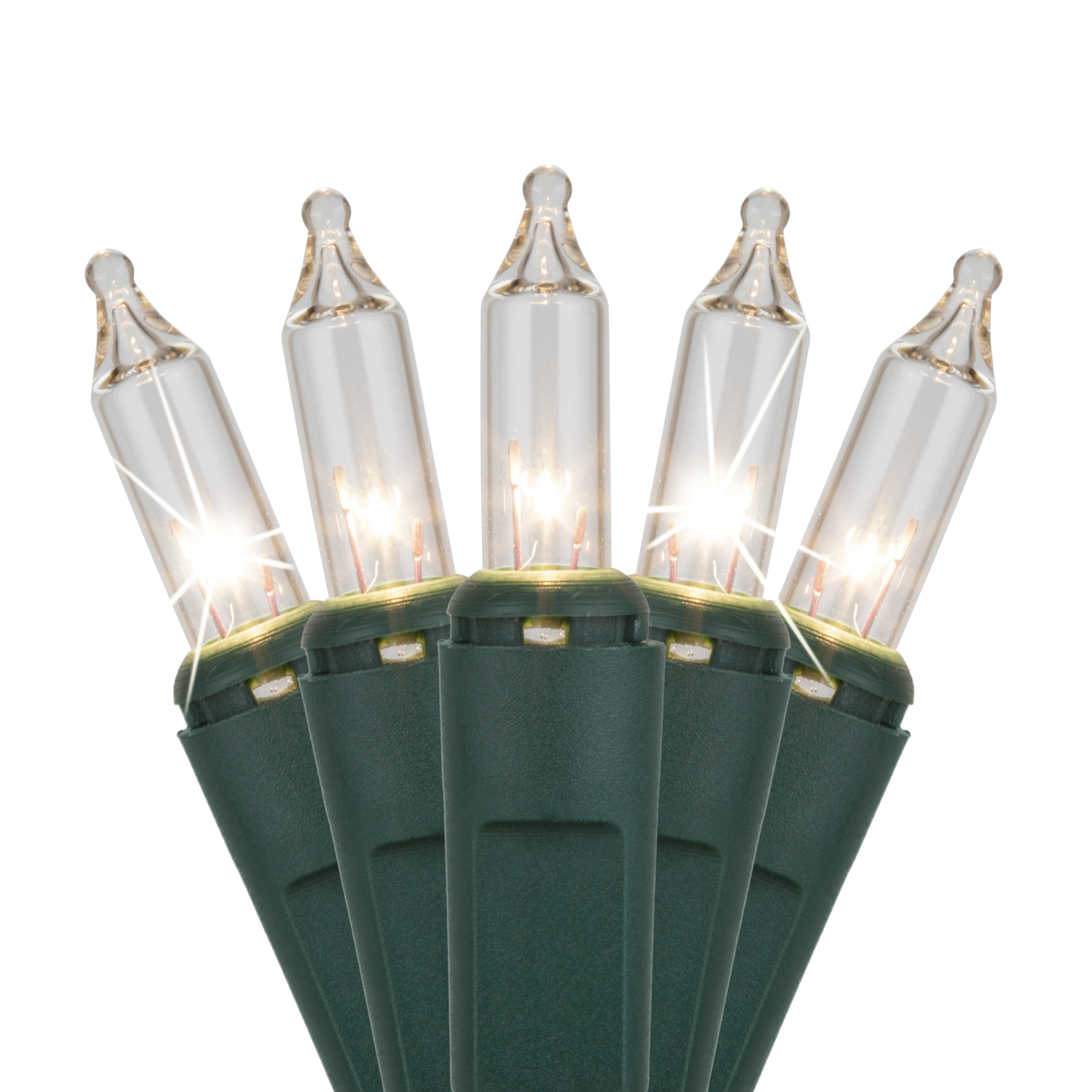 35 Clear Twinkle Christmas Tree Mini Lights, 6" Spacing, Green Wire
$6.99
Reviewed by Kit K.
on Friday, June 14, 2013
Clear Twinkle Mini Lights
Stars
Just was I was looking for!
Reviewed by Susan C.
on Thursday, August 15, 2013
Clear Mini Twinkle Lights
Stars
The lights came quickly! I misjudged how many I would need and had to order additional strands. They look beautiful. I love the twinkle-just the right amount twinkles. Hopefully, I get MANY years of service out of them.
Reviewed by Marie H.
on Friday, September 13, 2013
Clear Twinkle Mini Lights
Stars
I bought these lights to put in a fireplace that was no longer in use. They add a great warmth to my room and with my glass fire screen and the way that these lights twinkle, they add a great illusion to an otherwise drab room. They are very bright and start to twinkle right away. I would buy them again and again!
Reviewed by David C.
on Sunday, October 20, 2013
Red and Clear Mini Lights
Stars
They are the best lights in the world. Thanks again for the most beautiful lights ever!! Nobody has lights as beautiful. They are the most elegant and gorgeous lights in the market today. This is why I been a customer and continue to be for many years to come. Christmas Light Etc and their staff make Christmas so special year after year!
Reviewed by Nicki K.
on Sunday, January 19, 2014
50 Clear Twinkle Christmas Lights
Stars
I have been completely satisfied with both the product and the service I have received from Christmas Lights Etc. I would recommend both the product and the company.
Reviewed by Kathyrn M.
on Saturday, December 01, 2012
Be Aware
Stars
The picture and information provided regarding these lights are a bit misleading. Not all of the lights twinkle as shown in the picture, only every 5th light. So, if that is what you are after, the lights are nice and the lines are higher quality than those you can generally find at Home Depot. It just depends on what you want.
Products Related To Twinkle Chasing Mini Lights
Email A Friend
Write A Review