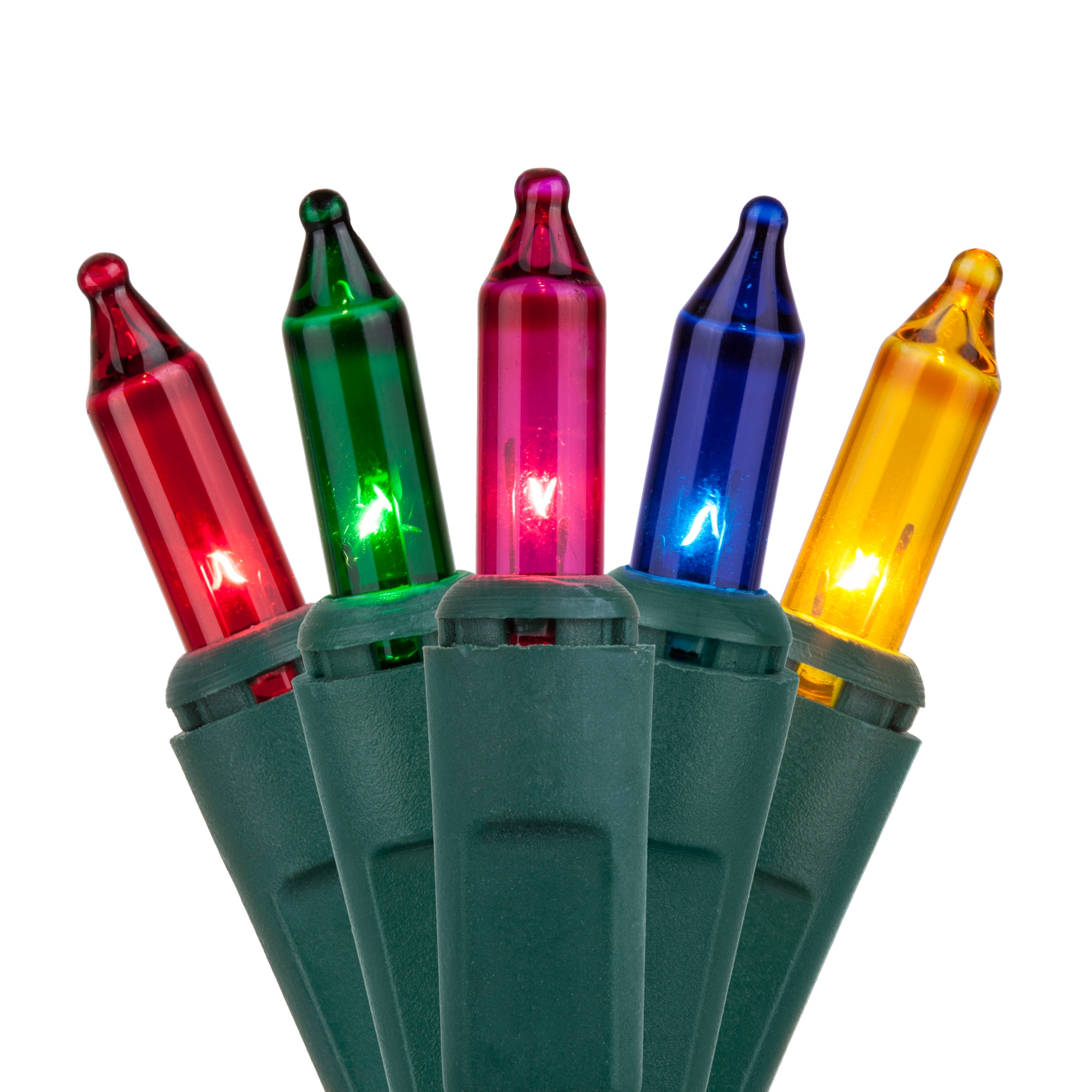 50 Multi Color Christmas Tree Mini Lights, 6" Spacing, Green Wire
Item: U15195
Multicolor mini Christmas lights
50 count incandescent bulbs
6" spacing on green wire
25.5' long
End-to-end connection with male and female plugs
Connect up to 10 strings
One light goes out the rest stay lit
UL Listed, Indoor / Outdoor
| | |
| --- | --- |
| Light Count: 50 | Wire Color: Green |
| Light Color: Multi: Red, Blue, Green, Yellow, Pink | Bulb Spacing: 6 in |
| String Length: 25.5 ft | Lead Length: 6 in |
| Max Sets Connected: 10 | Tail Length: 6 in |
| Bulb Size: Mini | Wire Gauge: 22 |
| Male Plug Type: Fused/Stackable | Light Display: Steady |
| Female Plug Type: End-to-End | Grade: Standard |
| Average Hours: 3,000 | Twist Proof Bulbs: No |
| Bulb Technology: One goes out the rest stay lit | Lamp Lock Bulbs: No |
| Bulb Type: Incandescent | Removable Bulbs: Yes |
| Voltage: 120 | Bulb Voltage: 2.5 |
| Watts Per Bulb: 0.408 | Rating: UL Listed |
| Usage: Indoor / Outdoor | Watts: 20.4 |
| Amps: .19 | Light Color: Multicolor |
| Bulb Size: Mini | |
Reviewed by Janet W.
on Tuesday, November 20, 2012
Good service and Product
Stars
This is the only place that has the lights that I needed. No shopping around and time saved. Thanks
Reviewed by Kathy S.
on Thursday, December 20, 2012
Multicolor Christmas Lights
Stars
The lights were delivered on time as promised and the colors are perfect. Thank you for making such a wonderful product.
Reviewed by David A.
on Sunday, January 20, 2013
Multicolor Mini Lights
Stars
It was nice finding multi-color lights that had 6 inch spacing. So many sets now are 2-3 inches apart and when you are decorating outside, you want a further gap between lights. Also a good value for the money.
Products Related To Standard Multicolor Mini Lights
Email A Friend
Write A Review