5MM 4'x6' Blue LED Net Lights, Green Wire
Item: U20862
100 LED lights on a 4' x 6' Green wire
Blue 5mm bulbs
LED lights stay cool to the touch and last longer, with an average energy savings of 80%
Net lights are the quick and easy solution for shrubs and bushes
| | |
| --- | --- |
| Light Count: 100 | Wire Color: Green |
| Light Color: Blue | Net Size: 4' x 6' |
| Application: Bushes | Lead Length: 24 in |
| Max Sets Connected: 43 | Tail Length: 4 in |
| Bulb Size: 5mm | Wire Gauge: 22 |
| Male Plug Type: Fused/Stackable | Light Display: Steady |
| Female Plug Type: End-to-End | Grade: Premium |
| Average Hours: 60,000 | Lamp Lock Bulbs: Yes |
| Removable Bulbs: Yes | Bulb Technology: One goes out the rest stay lit |
| Watts Per Bulb: 0.048 | Total Watts: 4.8 |
| Amps: .04 | Rating: UL Listed |
| Usage: Indoor / Outdoor | Bulb Shape: Wide Angle |
| Bulb Type: LED | Bulb Material: Acrylic Resin |
| Light Color: Blue | Bulb Size: 5mm |
| Wattage: 4.8 | |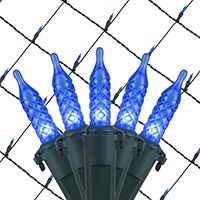 M5 4'x6' Sapphire Blue LED Net Lights, Green Wire
Sale: $27.99
4' x 6' Net Lights - 150 Blue Lamps - Green Wire
$19.99
Reviewed by George S.
on Thursday, December 06, 2012
I love them!
Stars
Some poor soul stole 1/2 of my LED net lights last year. Obviously I liked them enough to replace them with the identical lights!
Reviewed by Joe F.
on Friday, December 14, 2012
Blue LED Net Lights
Stars
We are very pleased with color, quality, and brightness of our blue LED nets.
Reviewed by John K.
on Tuesday, November 20, 2012
LED Lights
Stars
I really like the lights I bought. Between the two orders this year I spent over $ 500.00, which is normally shocking, but I can't wait to add more of these lights next year.
Reviewed by Janet S.
on Tuesday, November 20, 2012
one problem
Stars
ya gotta make sure you have the lights over bushes on the right side if not the leds face down rather than out where they can be seen more better
Reviewed by Pauline S.
on Tuesday, November 20, 2012
LED Net Lites
Stars
The lites are fantastic
Products Related To LED Net Lights
Email A Friend
Write A Review