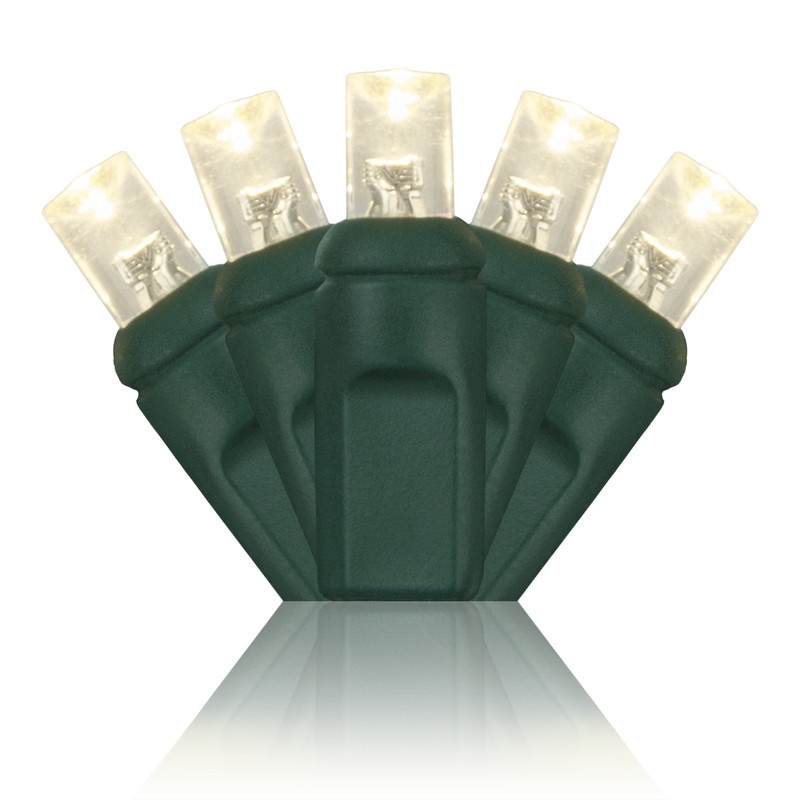 70 5mm Warm White LED Christmas Lights, 4" Spacing
Item: U20275
5mm Warm White LED light set
70 Warm White bulbs on a Green wire
Energy Saving LED lights remain cool to the touch
Virtually unbreakable, colors will not fade or flake
Full wave technology
If one light goes out, the rest stay lit
| | |
| --- | --- |
| Light Count: 70 | Wire Color: Green |
| LED Light Color: Warm White | Bulb Spacing: 4 in |
| String Length: 24.0 ft | Lead Length: 6 in |
| Max Sets Connected: 43 | Tail Length: 6 in |
| Wire Gauge: 22 | Male Plug Type: Fused/Stackable |
| Light Display: Steady | Female Plug Type: End-to-End |
| Grade: Premium | Average Hours: 200,000 |
| Bulb Material: Epoxy Plastic | Voltage: 120 |
| Watts Per Bulb: 0.069 | Rating: Energy Star Certified, UL Listed |
| Usage: Indoor / Outdoor | Removable Bulbs: No |
| Amps: .04 | Watts: 4.83 |
| Light: Full Wave | Twist Proof Bulbs: Yes |
| LED Bulb Shape: Wide Angle | Bulb Type: LED |
| Light Color Group: Clear | Bulb Size: 5mm |
Reviewed by Jaqueline H.
on Saturday, February 09, 2013
5mm Warm White LED Christmas Tree Lights
Stars
Beautiful warm white LED lights. Great, fast service, thank you!
Reviewed by Marilyn A.
on Friday, January 18, 2013
5mm LED Warm White Lights
Stars
Timely delivery and the lights looks great. I have not used for the Christmas season yet.
Reviewed by Pat R.
on Wednesday, February 13, 2013
LED Warm White Lighting
Stars
The 5mm warm white lights create a wonderful effect on 7' artificial ficus tree. The are very bright and cast warm leafy shadows on ceiling and walls.
Reviewed by Michael F.
on Monday, December 10, 2012
Excellent lights
Stars
The full-wave rectifier eliminates the painful 60Hz flickering that most LED sets had a few years ago and the 2700K color temperature of these ""warm white"" LEDs is an excellent match to conventional incandescent bulbs. For reference, the 200000 hour quoted lifetime is almost 23 years of continuous operation. I'll be thrilled if the whole strand works through just 20 seasons of use. Another thing to note is that the limit of 48 connected strands equates to almost a quarter mile of lights. The flexibility of connecting so many strands really helps with the number of extension cords I need to use.
Reviewed by Tom M.
on Saturday, March 31, 2012
LED light set: Good purchase
Stars
These were delivered much faster than I expected and worked exactly as I had hoped for. And the price was better than any of the local companies at Christmas time. My wife suggested I replace all of our old, partially working Christmas lights right away, which I intend to do!
Reviewed by mike o.
on Friday, January 04, 2013
LED Warm White Mini Lights
Stars
The illumination was fantastic and represented more of the traditional white light vs normal LED blueish color.
Reviewed by William O.
on Monday, December 10, 2012
White LEDs have truly arrived
Stars
Forget the faint, sickly blue "white" LEDs of Christmases past. These are the real thing -- truly white. They mix well with miniature incandescents. The look a little puerer, but not enough to throw things off, and a bit brighter. The increased brightness offsets the higher price, because you don't need as many to get an effect. For us, it's going to be an all-LED future.
Reviewed by Jeff A.
on Tuesday, December 18, 2012
Very nice lights
Stars
These are excellent lights - they look more like incandescent clear lights than any other LED I've seen. They do not flicker as much as other LEDs, and they are very bright.
Reviewed by Cris W.
on Sunday, January 01, 2012
LED light string: It is a Warm White!
Stars
I hate the new WHITE LED's they are too white and don't have that glow. I found and purchased these White warm wide angle 5mm lites and I am very happy. I will be purchasing more throughout the year to be ready for Christmas 2012.
Reviewed by Ian B.
on Friday, January 13, 2012
Nice!
Stars
Great! The color is good. They are a tad brighter than I expected; good.
Reviewed by Becky C.
on Monday, January 09, 2012
Great Lights
Stars
These lights are a nice color and work well. The Christmas Lights Etc website was easy to use and my order arrived quickly. I would recommend this website to anyone looking for quality LED lights.
Reviewed by Patrick M.
on Sunday, January 08, 2012
great service and great led lights.
Stars
My order was processed, shipped, and received within 3 days! Amazing!
Reviewed by Judith M.
on Friday, January 17, 2014
5mm Warm White LED Lights - Thrilled with these lights
Stars
I have finally found the perfect white mini LEDs after many years of searching. They're very bright and a good color, not the all too obvious icy blue of most LEDs. I have recommended them to several friends and neighbors who've asked about them.The only odd thing is they come in sets of 70. Not sure why that is, guess I'm too used to 25/50/100 light sets.
Reviewed by Peter S.
on Friday, December 07, 2012
great lights
Stars
used them to string some angels, for years they have been normal lights that went out - now they are permanent and LED
Products Related To Wide Angle 5MM LED Lights
Email A Friend
Write A Review