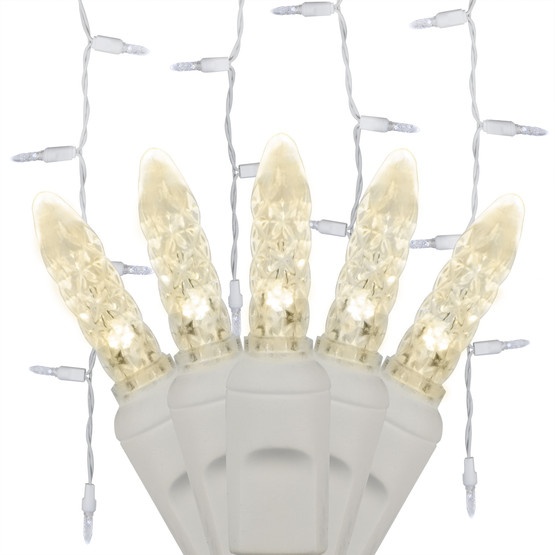 70 M5 Warm White LED Icicle Lights
Item: U20352
70 count Warm White LED Icicle Lights
LED M5 lights on a 7.5' White wire
Premium grade icicle lights with 15 drops
Hanging icicle lights outline rooftops and fence lines
Energy saving LED lights use less power, allowing more icicle strings to be connected together
LED lights last longer and are virtually unbreakable
| | |
| --- | --- |
| Light Count: 70 | Wire Color: White |
| Light Color: Warm White | Bulb Spacing: 3 in |
| String Length: 7.5 ft | Spacing Between Drops: 6 in |
| Max Sets Connected: 43 | Drop Count: 15 |
| Lead Length: 6 in | Drop Length: 9" - 14" - 19" |
| Tail Length: 6 in | Light Display: Steady |
| Bulb Size: M5 | Male Plug Type: Fused/Stackable |
| Wire Gauge: 22 | Female Plug Type: End-to-End |
| Grade: Premium | Bulb Technology: One goes out the rest stay lit |
| Removable Bulbs: No | Bulb Material: Acrylic Resin |
| Average Hours: 200,000 | Rating: UL Listed, CSA Approved |
| Voltage: 120 | Watts Per Bulb: 0.069 |
| Usage: Indoor / Outdoor | Watts: 4.83 |
| Amps: .04 | Light Color Group: Clear |
| Bulb Type: LED | Bulb Size: M5 |
| Wattage: 4.83 | |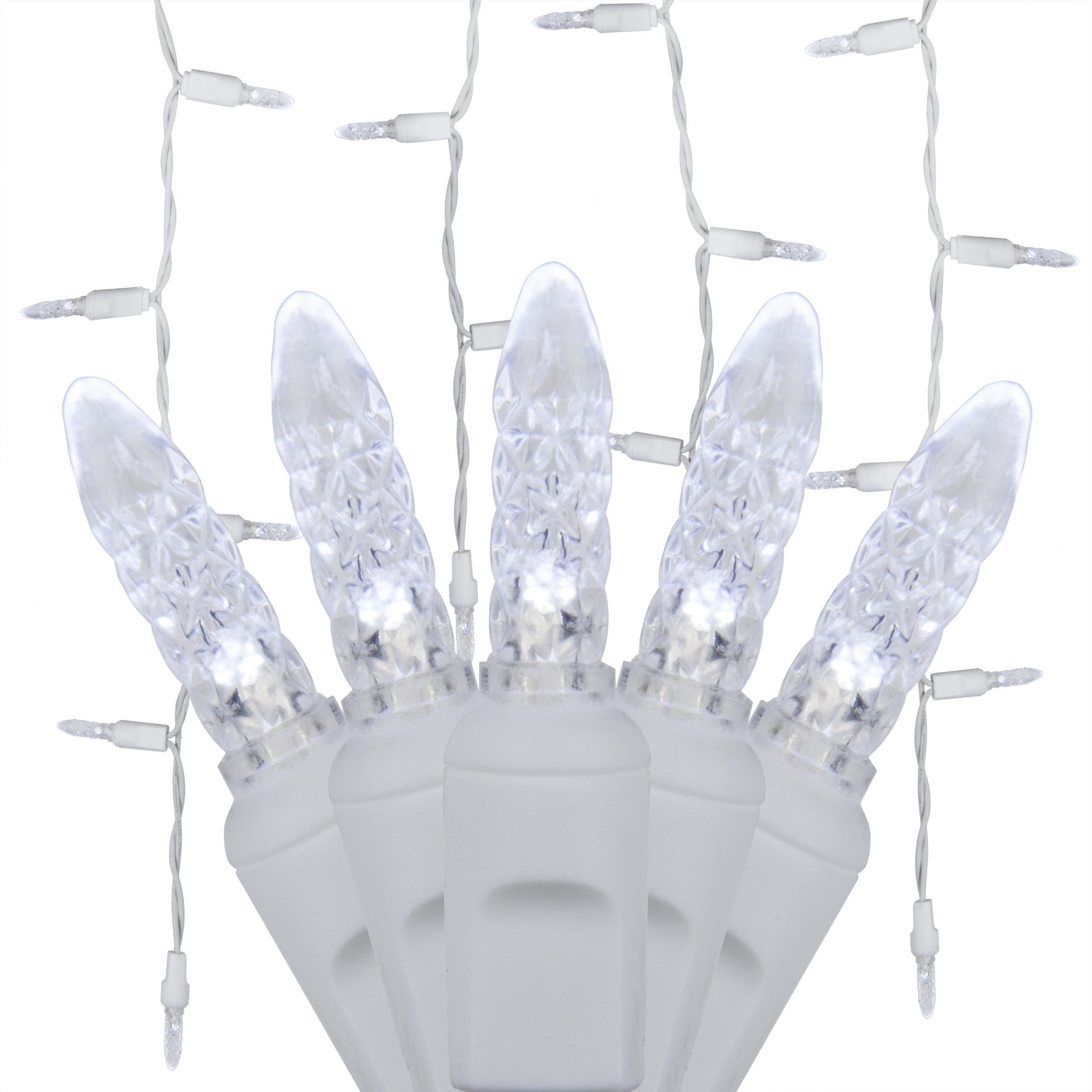 70 LED Icicle Lights, Cool White M5 Bulbs
Sale: $22.39
70 5mm Cool White LED Icicle Lights
Sale: $20.99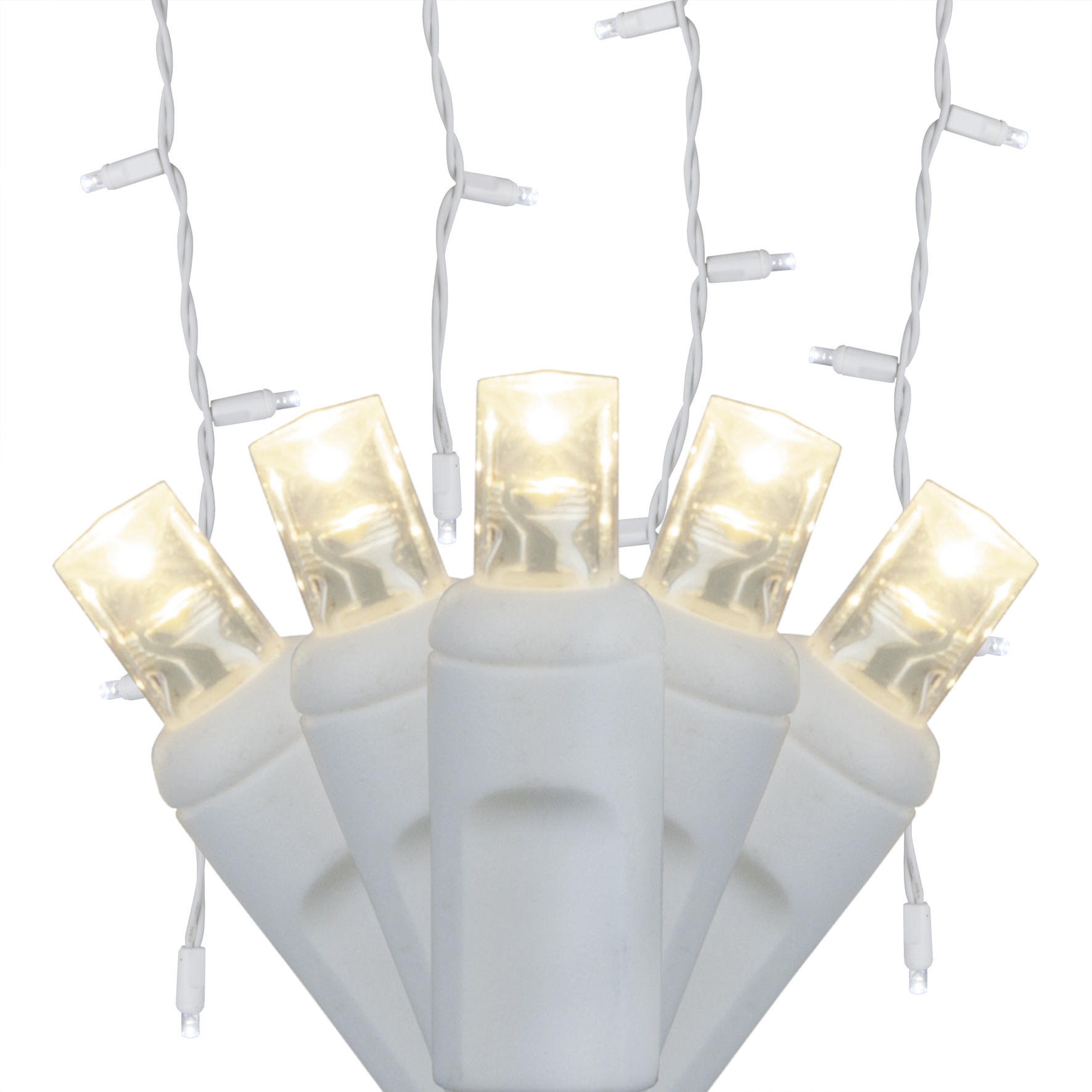 70 5mm Warm White LED Icicle Lights
$27.99
Reviewed by John N.
on Sunday, January 19, 2014
Warm White LED Icicle
Stars
The warm light is very close to traditional icicles. I am able to light up my entire front porch using attached sets and only 1 outlet. I recommend for ease of use and energy savings.
Reviewed by Brian L.
on Wednesday, October 31, 2012
LED Icicle Lights
Stars
Ordering was very easy. The quality the lights look good and am looking forward to installing them on the house this x-mas. Thank you.
Reviewed by Lisa G.
on Thursday, November 01, 2012
Warm White LED Icicle Lights
Stars
Better than description. The warm white lights are so pretty.
Products Related To LED Icicle Lights
Email A Friend
Write A Review