C9 Multicolor Replacement Bulbs, Transparent
Item: U15145
Transparent Multicolor C9 replacement bulbs light up Christmas and holidays. Triple Dipped Transparent Christmas lights illuminate in rich hues, while nickel bases prevent corrosion for 3,000 hours of Indoor / Outdoor display. 7 watt incandescent 130 volt light bulbs shine brighter. E17 Intermediate base size screws into regular C9 sockets. Great retro Christmas light to hang from rooflines and for wrapping trees. Fade and peel resistant for long life and true color.
C9 bulbs
E17 - Intermediate base size
7 watts
Transparent Multicolor
Steady light display
Nickel base
| | |
| --- | --- |
| Bulb Size: C9 | Bulb Size: C9 |
| Light Color: Multi: Red, Blue, Amber, Green, Pink | Light Display: Steady |
| Watts Per Bulb: 7 | Coating: Triple Dipped Transparent |
| Base Size: E17 - Intermediate | Base Material: Nickel |
| Bulb Diameter: 1.18" | Weather Resistant: Weather Resistant |
| Fade Resistant: Fade Resistant | Peel Resistant: Peel Resistant |
| Average Hours: 3,000 | Bulb Voltage: 130 |
| Usage: Indoor / Outdoor | Light Color: Multicolor |
| Bulb Type: Incandescent | Voltage: 120 |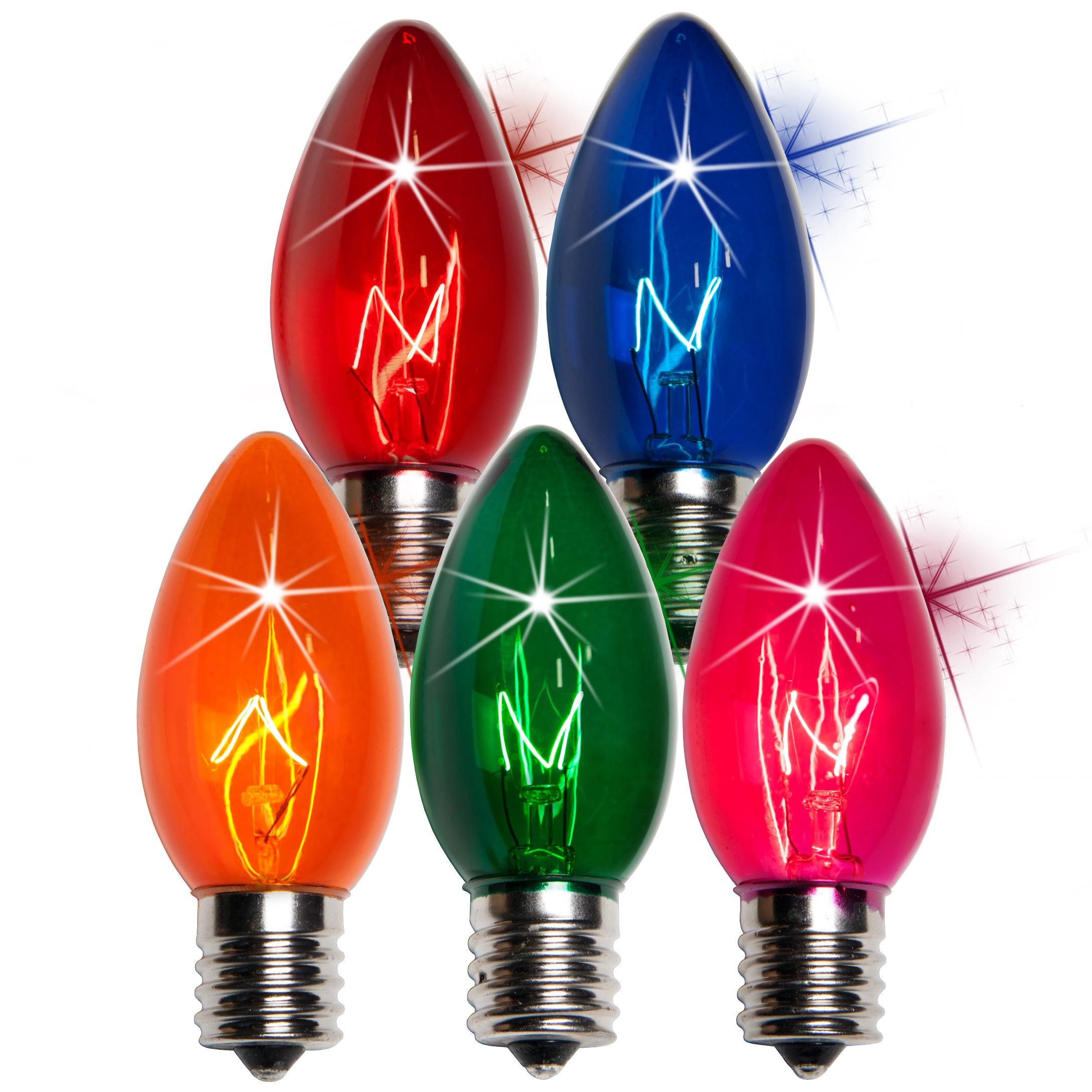 C9 Twinkle Multicolor Replacement Bulbs
Sale: $9.50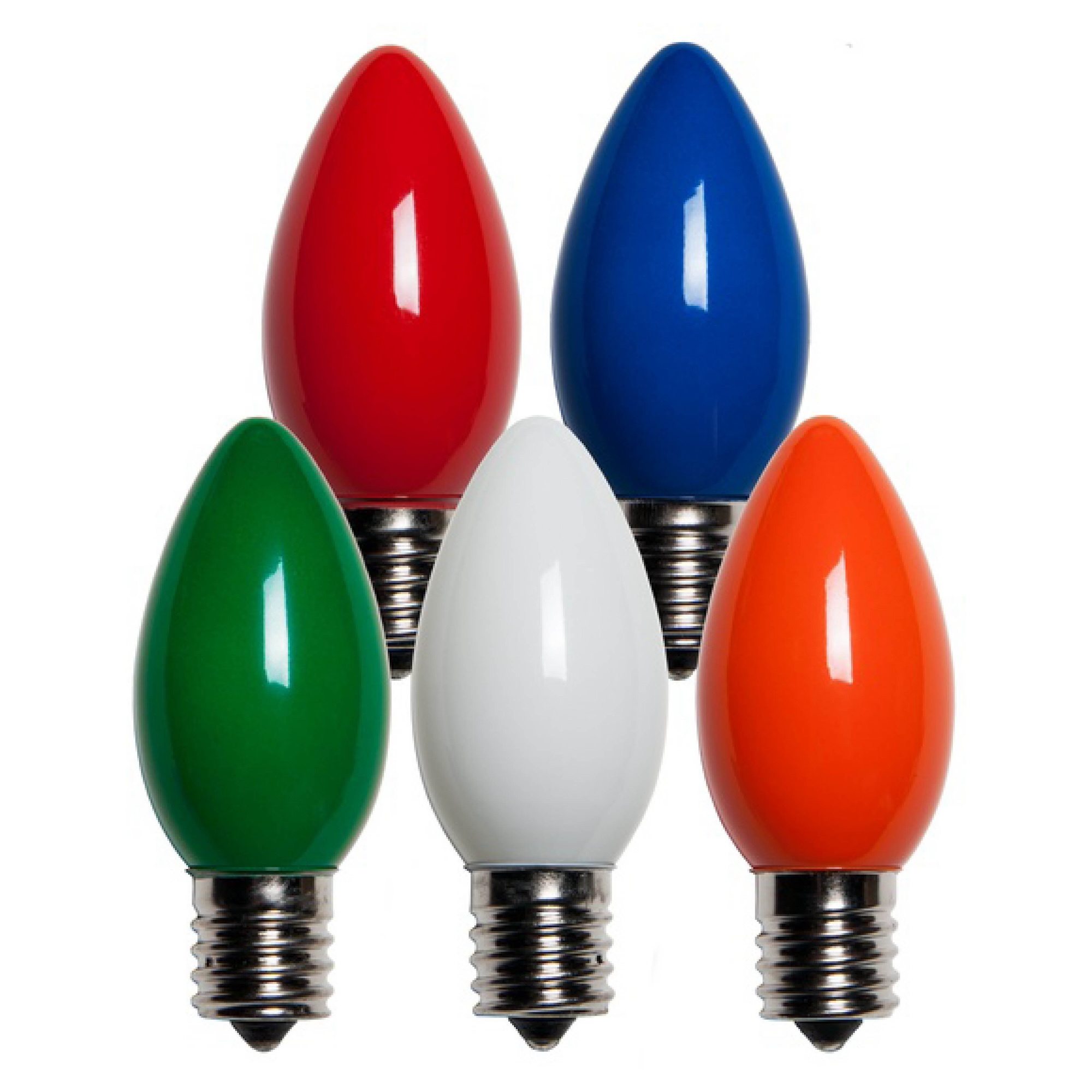 C9 Multicolor Replacement Bulbs, Opaque
Sale: $6.38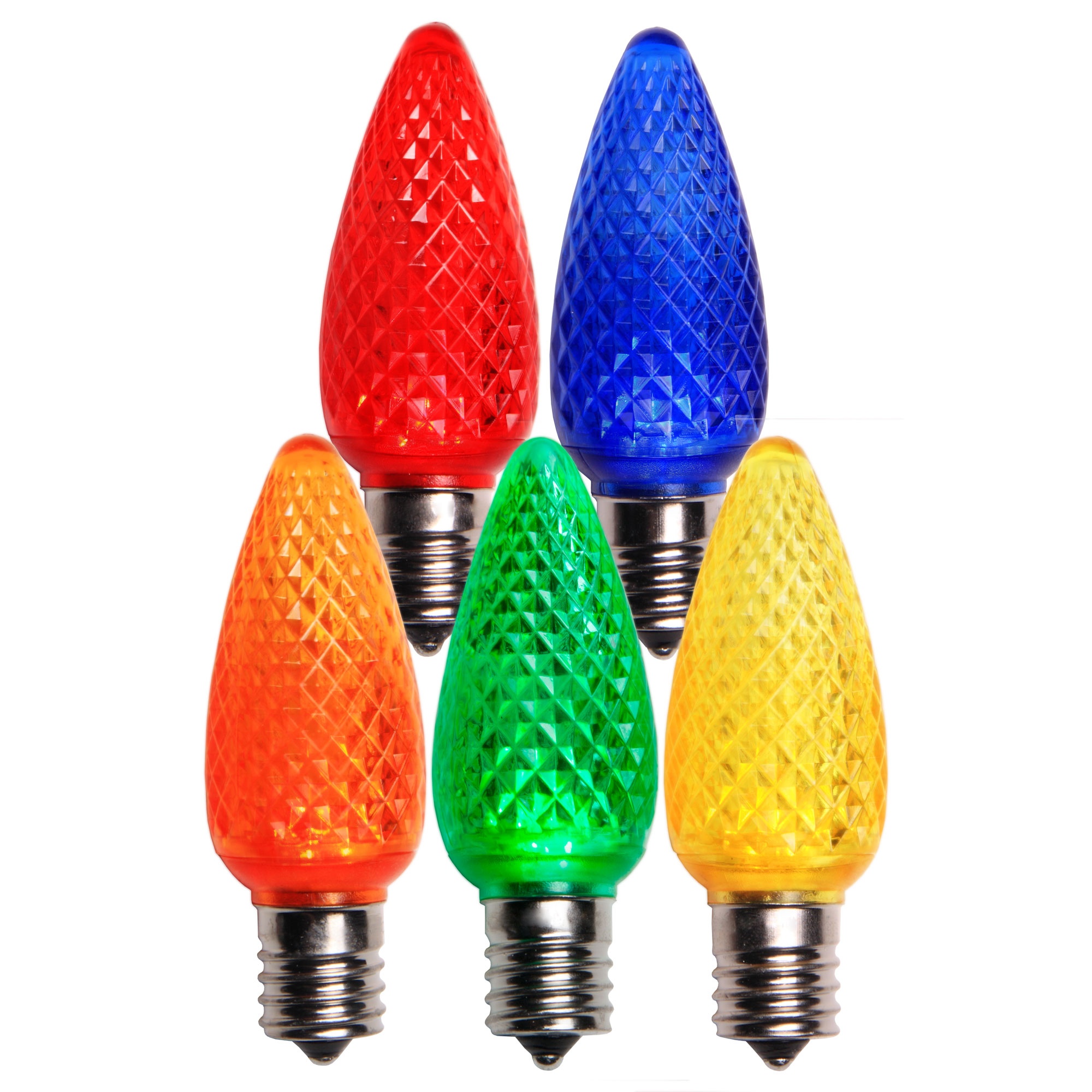 C9 Multicolor LED Christmas Replacement Bulbs
$51.25
Reviewed by pete s.
on Monday, December 03, 2012
twinkle lights
Stars
very good really dont need pink but it works in a pinch when you need multicolor lights
Reviewed by Veronica E.
on Tuesday, December 11, 2012
excellent
Stars
Fast excellent service. Thank you.
Reviewed by Greg R.
on Saturday, December 08, 2012
Holy Moly these are awethome!!!!!
Stars
If you want to be THE go to house on your block for your Christmas dithplay, these are you're the secret weapon!!!!!! You gotta get these C9 multicolor lights!! There totally awethome!!!
Reviewed by BILL B.
on Thursday, November 22, 2012
c9 cool light bulbs
Stars
I had been buying other brand bulbs over the years and found they faded and chipped after only one or two seasons. I have bulbs I bought from CLE five years ago that still look great and have yet to fade and chip...plus they're less expensive than the other bulbs!
Reviewed by Roger G.
on Friday, November 23, 2012
Better than ordinary
Stars
The colors are bright and the base is better than the normal replacement bulbs. You can just tell they are better made.
Reviewed by Michael K.
on Saturday, December 29, 2012
Great service. Great Bulbs.
Stars
Fast ship - ordered C7 base by mistake, e-mailed customer support and they substituted C9 base bulbs. Thanks!
Reviewed by Cindy H.
on Wednesday, December 26, 2012
C9 bulbs
Stars
Arrived fast, in perfect condition.
Reviewed by Lewis L.
on Sunday, December 23, 2012
C9 triple dipped multi-color lights
Stars
They're exactly what i wanted!
Reviewed by William D.
on Saturday, January 07, 2012
lights
Stars
I purchased my christmas lights and strings from you and am very pleased with your customer service, product and fast shipping. please continue to carry the bulbs I can only get from you.
Reviewed by Paul M.
on Sunday, January 19, 2014
C9 Multicolor Lights - Beautiful Color
Stars
These bulbs are rich in color. In fact, at times I had to hold up to light see if it was a green or a blue. Smartly packaged and quickly shipped. We'll be buying more from Christmas Lights Etc.
Reviewed by Paul S.
on Saturday, December 01, 2012
C9 Transparent Multicolored, 7 Watt, 25 Triple Dipped Replacement Lamps
Stars
Thank you for shipping these replacement bulbs. I had such a hard time finding them locally. Finally, my wife suggested your website--I couldn't be happier with these bulbs. The quality is superior and they arrived in perfect condition (no broken bulbs during shipping). I will tell everyone I know about Christmas Lights Etc--Thanks again!
Products Related To Christmas Bulbs - C9 Transparent
Email A Friend
Write A Review