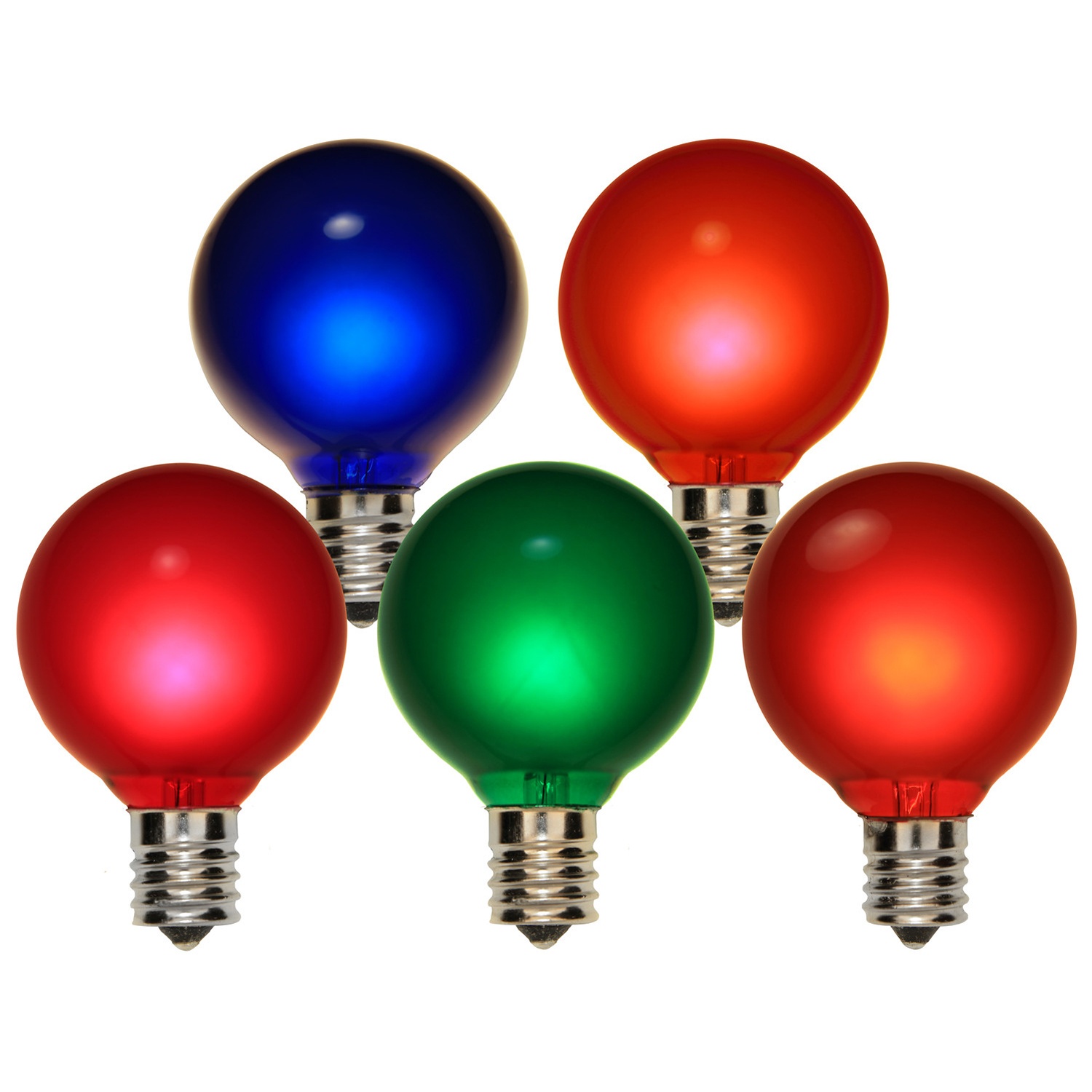 G50 Satin Multicolor, 7 Watt Replacement Bulbs
Item: U18775
Colored Christmas lights boast traditional holiday elegance on glass bulbs. Transparent Multicolor G50 globe lights are ideal party and patio lights. Satin Christmas lights illuminate in rich hues, while nickel bases prevent corrosion for 3,000 hours of Indoor / Outdoor display. 7 watt incandescent 130 volt light bulbs shine brighter. E17 Intermediate base size screws into regular C9 sockets.
G50 bulbs
E17 - Intermediate base size
7 watts
Transparent Multicolor
Steady light display
Nickel base
| | |
| --- | --- |
| Bulb Size: G50 | Bulb Size: G50 |
| Light Color: Multi: Red, Blue, Amber, Green, Pink | Light Display: Steady |
| Watts Per Bulb: 7 | Coating: Satin |
| Base Size: E17 - Intermediate | Base Material: Nickel |
| Bulb Shape: Globe | Bulb Diameter: 50mm |
| Weather Resistant: Weather Resistant | Peel Resistant: Peel Resistant |
| Average Hours: 3,000 | Bulb Voltage: 130 |
| Usage: Indoor / Outdoor | Light Color: Multicolor |
| Bulb Type: Incandescent | Voltage: 120 |
Reviewed by Sean T.
on Friday, December 14, 2012
G50 Multicolor Christmas Lights
Stars
These are very unusual bulbs and I was lucky to find Christmas Lights, Etc. These bulbs are good quality too. The colors are deep and rich, also none were broken in the shipment. I bought two boxes of 25 and tested only one box. I trust they all work.
Reviewed by WendyLee M.
on Saturday, December 22, 2012
G50 Replacement Bulbs
Stars
They look great!
Reviewed by Betty C.
on Friday, December 21, 2012
G50 Multicolor Christmas Lights
Stars
Perfect lights, very beautiful. I am very happy that I found your site.
Reviewed by Donna K.
on Friday, January 18, 2013
G50 Multicolor Christmas Lights
Stars
I received my bulbs and will use them next year. Great price and great service. Thank you!
Reviewed by Frank M.
on Sunday, January 19, 2014
G50 Multicolor Satin Lamps - Great Quality / Fair Price!
Stars
I have several strings of these lights and it is hard to find replacements. These replacements are good quality and fairly priced. The paint does not chip like on cheaper bulbs and the colors are true and have a nice glow to them! Christmas Lights Etc. are very helpful and friendly with the ordering process and shipping is fast! I would highly recommend these bulbs to anyone looking for a good quality traditional looking bulb!
Reviewed by John P.
on Tuesday, November 20, 2012
Replacement bulbs
Stars
Excellent service in delivery and conditions of the bulbs. Only wish you could provide yellow in the group.
Reviewed by Cynthia B.
on Friday, November 16, 2012
Christmas Lights
Stars
After looking in my area for these particular Christmas tree lights I was so happy to find them on your website. Not only are they exactly what I wanted, but the price was awesome and the delivery time incredible! Thank you.
Reviewed by Deanna B.
on Friday, December 07, 2012
G50 bulbs
Stars
These lights are perfect for our tree. We have had a hard time finding replacement bulbs. Thank you so much. They shipped really quickly too.
Reviewed by APRIL C.
on Wednesday, December 05, 2012
Awesome!
Stars
Easy ordering, fast delivery, and absolutely what I needed for my tree.
Reviewed by Joseph B.
on Friday, January 17, 2014
G50 Satin Multicolored Bulbs
Stars
These bulbs were what I expected. Very vibrant colors.
Reviewed by Thomas K.
on Friday, December 14, 2012
Good Value for Hard-to-Find Christmas Lamps
Stars
I looked locally for these light bulbs as replacements for the ones on my Christmas tree with no luck. These are suitable replacements; they would he perfect if the amber ones were yellow instead. The unlighted bulb colors don't look like the photo, but match pretty well when lighted. The red and pink ones look the same when unlit, leading me to think that I had received a double batch of red ones. But when I checked them lighted the difference was apparent.
Reviewed by don w.
on Sunday, December 16, 2012
works great
Stars
shipped & delivered as promised. pleased with product
Reviewed by Tracy H.
on Sunday, December 16, 2012
Perfect Replacement!
Stars
I have a pre-lit Christmas Tree with 45 of these bulbs on it. They began burning out and I could not find any replacements locally. Luckily, I found these and they are the perfect replacement bulb.
Reviewed by Robert H.
on Monday, December 24, 2012
Exact replacements!
Stars
This is just what we needed to fix our prelit tree! Thank you for having a mixed set of colors available.
Products Related To E17 Patio and Party Light Bulbs
Email A Friend
Write A Review