Swivel Straight Christmas XTS1 Tree Stand for Trees Up to 12'
Item: U21225
This item (U21225) is not currently available for purchase.
Enter your email address above to be notified when this product is available for purchase.
Revolutionary pivot base live tree stand
No more struggling to straighten your live Christmas trees!
Tree stand is equipped with foot pedal to pump up the side levels of the stand
Tree stand includes drain holes and water reservoir
Rubber feet keep tree stand in place
Won't crack or rust
Impact grade polymer constrution
3 bolts and screw tips work together to secure trunk in stand
Heavy duty

Accommodates larger Christmas trees up to 12' in height and 5.75'' in trunk diameter
Extra larger water reservoir
Holds 1.5 gallons of water
| | |
| --- | --- |
| Use with Tree Sizes: Up to 12' | Usage: Indoor |
| Pole/Trunk Diameter: 5.75 in | Tree Stand Type: Live Tree Stand |
Reviewed by Julie W.
on Sunday, January 19, 2014
Swivel Straight Live Tree Stand
Stars
Awesome product! This Christmas tree stand is a miracle. It makes putting up, straightening and centering your tree a breeze. I would never put up a tree again without one of these stands.
Reviewed by Mark H.
on Sunday, January 19, 2014
Swivel Straight Live Tree Stand
Stars
This is an awesome Christmas tree stand. I is by far the best tree stand I've ever had. Simple to set up by yourself with the added ability to plum the tree upright.
Reviewed by Sandy L.
on Sunday, January 19, 2014
Swivel Straight Live Tree Stand - Extraordinary
Stars
This is the best Xmas tree stand there is. I've been using it for years until it wore out. I was ecstatic when I found out I could purchase the exact same one. There is none other like it, believe me I've checked. It's the BEST!!!!!
Reviewed by Scott J.
on Tuesday, December 18, 2012
Swivel Live Tree Stand
Stars
My wife could not get the tree straight and was using cables to pull it and still wasn't right. I am in a wheelchair and have limited assistance I can give. So being fustrated the thought of a swivel stand came to mind and with the internet, I figured that there is something out there! Then I found the XTS Swivel Stand. It was delivered and we took the old stand off. The trunk was a little too large because it was cut low. Cut a few inches off and slipped the socket part on and tightened the screws. We lifted the tree and put it in the stand and with a few pushes of the foot to adjust it was done. 100% recommended. Saves on arguing! Not the cheapest stand but the best never is.
Reviewed by Nicole F.
on Wednesday, December 12, 2012
Swivel Straight
Stars
This tree stand is awesome. We struggled with our old stand for two days trying to put our 10 foot tree up, and finally threw up our hands and ordered the swivel straight. Once it arrived, we seamlessly got our large tree up in less than 15 minutes!
Reviewed by martin c.
on Wednesday, January 23, 2013
Swivel Tree Stand
Stars
I have been using one of these for years. It is absolutely the best tree stand you can buy. I would use nothing else.
Reviewed by Elon F.
on Saturday, December 29, 2012
Swivel Straight Live Tree Stand
Stars
This is my second XTS1 stand. It couldn't be any easier or quicker to set up a large Christmas tree. We use it for our large trees for our church. Very stable and always straight. The delivery was in 2 days! Best tree stand ever. Perfect, thank-you.
Products Related To Christmas Tree Stands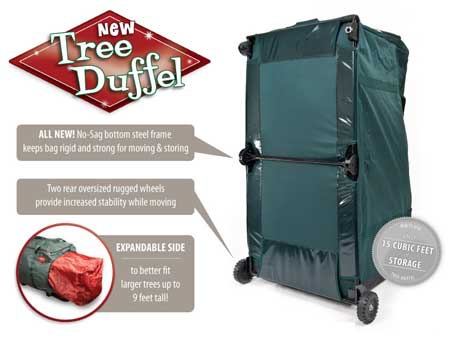 Expandable Duffel Christmas Tree Storage Bag 6'-9'
Sale: $69.99
Email A Friend
Write A Review