Light Up Your 4th!
FREE SHIPPING ($100+)
USE CODE: PARTY100
7 Considerations When Buying An Artificial Christmas Tree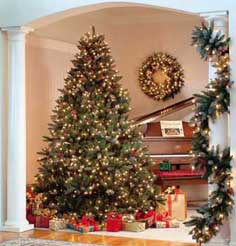 For cost reasons, more and more families are choosing to invest in artificial Christmas trees instead of real trees. A recent study published on the American Christmas Tree Association (ACTA) website explains that over a ten year period the cost of replacing a live Christmas tree every year is three times the cost of purchasing a single artificial Christmas tree (which can last up to 10 years or more). With the popularity of artificial Christmas trees on the rise, budget-conscious consumers are going to the internet to save money and gain access to greater product catalogs. But how can any consumer be certain that they are buying a quality tree from a dependable company? With this in mind, Christmas Lights, Etc, one of the largest U.S. suppliers of premium Christmas trees, decorations and holiday lighting for homes, commercial decorators and businesses, provides 7 important factors for customers to consider before purchasing an artificial Christmas tree online this holiday season:
1. CONSIDER THE LENGTH OF THE COMPANY'S WARRANTY
A tree's warranty can tell you a lot about the overall quality and expected longevity of the tree. Some companies offer only short-term, 3 or 5 year warranties. Protect your investment by buying a tree that is made to last and protected by a longer term, 10 year warranty. Artificial Christmas trees from Christmas Lights, Etc come standard with 10 year manufacturer warranties.
2. CONSIDER THE HEALTH OF THE COMPANY BEHIND THE WARRANTY
As important as the length of a tree's warranty is whether or not the company you buy it from will be around to honor it. In today's volatile business climate, considering the health of a retailer is important before making long-term purchases. Prior to buying an artificial Christmas tree online, review the company's history to see if the business has stood the test of time and as such, may be more likely to be around should you need them in the future. Established in 2000, Christmas Lights, Etc is one of the largest and most successful retailers in the U.S. For three years in a row, Inc. Magazine has recognized Christmas Lights, Etc as one of America's fastest growing companies.
3. CONSIDER THE COMPANY'S EXPERTISE
Buying a Christmas tree is a selective process that requires careful consideration based on many factors. Customers are challenged with choosing a tree that meets their height limitations, spending budgets, style preferences and delivery requirements. Getting it right is important because purchasing the family tree is different than most regular purchases in that a decision is made one time and the product is relied upon for years thereafter. To get it right, buyers should consider purchasing artificial Christmas trees from companies where artificial trees are their primary business, and ones that provide knowledgeable customer service people to help customers choose the right tree for them.
4. CONSIDER THE COMPANY'S EXPERIENCE
As a customer, you expect to receive the Christmas tree you order on-time and in good condition. But busy holiday seasons often place strains on order processing systems as retailers are flooded with requests. So, what happens when orders get backed up, products get mixed up, trees ship late or are damaged in route? In these cases, experienced, high volume retailers are more equipped to handle order spikes and shipping problems with their higher capacity systems, deeper inventories and refined resolution processes. Having adequate experience fulfilling a high number of Christmas tree orders online over a long period of time can be a good indicator that a company is poised to handle these types of challenges should they impact your order. In its twelve seasons online, Christmas Lights, Etc has sold tens of thousands of trees and more than a million holiday lights. In fact, more traffic has come through the ChristmasLightsEtc.com website over the last three years than any other Christmas site online according to Alexa.
5. CONSIDER THE REPUTATION OF THE COMPANY
How do you know if a company is accountable to its customers and whether or not it has a record of complaints and abuses? One good way to find this out is to check with the Better Business Bureau (BBB). The BBB records any complaints and arbitration associated with a company or its products when a company chooses to register with them. Companies that choose not to register with the BBB limit their customer's options for recourse when problems arise. Another way to get a feel for a company's reputation is to perform a Google search using the company's name next to the word, complaints. This type of simple search can often reveal a number of negative reactions. Note that when reviewing random search engine results, buyers should carefully consider the source of the critique before making final judgments about the information. With concern for its customers and its reputation, Christmas Lights, Etc has long been an accredited member of the BBB and maintains a clear, satisfactory record with consumer advocacy groups.
6. CONSIDER THE COMPANY'S CUSTOMER RATINGS
Often times a good indicator of a company's confidence about its own products and service is its willingness to be openly and independently rated and reviewed by its customers. Ratings provide a kind of scorecard to understand a company's strengths and weaknesses. Reviews offer insight into positive or negative trends in quality, service or fulfillment. This crucial information can help buyers avoid needless frustration, disappointment, even loss. After years of consistently positive customer satisfaction ratings, Bizrate.com has identified ChristmasLightsEtc.com as an official Bizrate.com Customer Certified
retailer.
Shop Red Sleigh™ and Kringle Traditions & trade, Christmas Trees
Red Sleigh and Kringle Traditions brand artificial Christmas trees include an industry best ten year warranty on frame and construction, and three year warranty on lights. With realistic tree designs, a large selection in fullness and style, and features including hinged branches and bark wrapped branches, Christmas Lights, Etc offers beautiful Christmas trees designed to last for many seasons.
7. CONSIDER THE COMPANY'S PARTNERS
An indication of a company's priorities can often be determined by how it chooses to use its website real estate. If the saying is true, then you may certainly be able tell a retailer by the company they keep (or the partners they associate with). On their website's, certain retailers make a point of highlighting relationships with advertisers or fellow merchants seeking to make additional money off of the customer. Instead, retailers like Christmas Lights, Etc choose to focus on more meaningful relationships like those with environmental partner, Energy Star or consumer protection partners, the BBB and McAfee (for information security). Amidst other important considerations, buyers are wise to scrutinize how retailers focus their website in order to avoid doing business with companies that may not have the customer's best interests in mind.
For peace of mind choosing the right artificial tree for your family, use our easy Christmas Tree Finder.
View our Pre Lit Christmas Trees Guide for additional information regarding our available Christmas trees.
Christmas Tree Related Pages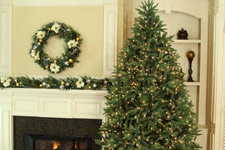 Tree Finder
Make the search for the perfect Christmas tree easy. This site allows for narrowing the search by tree size, light color and more.
---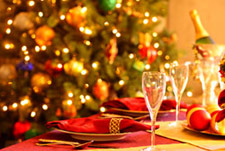 Christmas Tree Ideas
Incorporate Christmas tree ideas into all the rooms of the home.
---
Prelit Christmas Trees Guide
This page explains all the ins and outs of qualities to look for when choosing a prelit Christmas tree.
---