Light Up Your 4th!
FREE SHIPPING ($100+)
USE CODE: PARTY100
Commercial LED Christmas Lights
Professional Design & Flexibility
Commercial LED products provide greater design possibilities for the commercial user allowing you to provide customers with personalized designs that set their homes and businesses apart from the rest. Commercial LED lights are available in all sizes, from C9 bulbs for high rooflines to rope light, mini lights, 5mm wide angle lights, and even icicle lights. Newer blizzard, snowfall, and C7 retrofit falling icicle bulbs give the appearance of falling snow through sequenced LEDs. In addition, special effects and custom color themes are possible using commercial C Strings and Retrofit LED Bulbs. For instance, you can do a candy cane roofline by alternating Cool White and Red Retrofit LED bulbs. The Commercial C strings provide the flexbility to cut to exact length for a clean, professional look.

Commercial LED strings are designed for heavy duty use in environments where only the best is accepted. Commercial decorators and installers can't afford to use lights that have the potential to fail on a cold winter's night. Experienced professionals invest in quality commercial LED products so they can spend more time installing lights rather than troubleshooting lights.
Commercial Prelamped LED Light Strings - C7, C9, M5, 5MM, C6

Christmas Lights, Etc offers commercial LED light strings with 20 wire gauge versus the standard 22 gauge thickness. A weatherproof coaxial power connector creates a watertight seal that keeps snow, ice, sleet and rain out. This keeps strands securely connected on long runs, eliminates the need to tape every connection and eliminates the need to drive back to a customer's house to troubleshoot issues caused by moisture in the connections. Commercial LEDs are designed to handle the harsh winter elements keeping you and your customers happy all season.
Prelamped commercial LED light strings allow you to connect up to 125 sets on a single power connector, eliminating the need to go back to a power source over and over again saving on time and money. Low wattage LED lights use as little as 2.4 watts per set, making impressive lighting schemes possible without the added expense of additional electrical circuits.
Commercial C7/C9 Spools and Retrofit Bulbs
Commercial C strings and Retrofit bulbs are available for commercial installers and decorators who need to have maximum flexibility and want the best look in LED. Retrofit LED bulbs at Christmas Lights, Etc have 5 LEDs per C9 bulb, compared to the single diode bulbs found in most prelampled LED strings. The lumens output is much greater, providing the maximum brightness available on the market, while using only 0.96 watts of energy per bulb.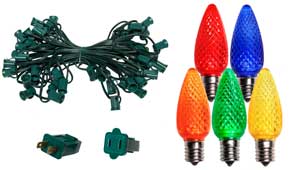 Bulbs can be found in every color from the purest cool white to vibrant colors of green, red, and gold. Twinkle, color morphing, and dimming bulbs are also available, providing tons of exciting design alternatives. An advantage of the Retrofit is the ability to mix and match colors at will to create custom color themes. Simply screw bulbs into commercial C7 and C9 strings with a variety of bulb spacing options, or use spools for larger projects and custom string lengths.

Keep the project of hanging Christmas lights looking impressive with professional Christmas lights clips. Commercial installers and decorators understand the need for the right light clip, and the importance of having enough. Prelamped LED light strings will need an LED All in One Clip, but any C7 and C9 light clip will work when retrofit LED bulbs are used in a standard light string, and LED mini and icicle lights also work with standard clips.
"We wanted to thank you for helping make Festival of Lights at the Cincinnati Zoo & Botanical Garden a huge success. The Giant 35' pre-lighted Christmas tree that we purchased from you last year looks so realistic, it has become an icon for the event. The 22,000 mini lights had a brilliant shine throughout the Zoo! High quality lighting is essential for a high quality event, like the Festival of Lights. We want to thank you again for your great customer service and look forward to doing business with you again next year."
"Just tried out some of the lights(specially the M5), and I must say I was pleasantly/happily surprised. I'm used to the lights at the "big box" stores, which, up till now, I nothing to compare to. Comparing their lights to yours is night and day. Your lights were much brighter, easier to dim, and seemed to be made better. I especially like the brighter fact(escpecially the M5), and no noticable flicker. Wonderful lights(although they seemed pricey at the time, you-get-what-you-pay-for), very happy."
"We couldn't be happier with the quality of the tree and performance of the LED lights. The LED light bulbs were even brighter than we had anticipated. We have received so many calls from Village residents expressing...how terrific the new tree looks. I also want to express my thanks to your sales representative Jane...Jane was great from initial information gathering to installation."
Looking for the quality products at the right price? We have a variety of pricing models to suit your needs. You'll find volume discounts throughout the site that save up to 40% depending on the product. Then, for resellers and commercial decorators, we'll assign a personal rep and provide the best products and prices available to meet your design needs and budget. If you're an installer or commercial decorator, call our wholesale department at 866-962-7382 and press 3 to find out more about the program.
---
Shop Commercial LED Christmas Lights
LED Lights Related Pages
Christmas Lights Visual Guide
Learn about bulbs, their heights, best applications, and more with the quick, easy-to-use Visual Guide for Christmas Lights.
---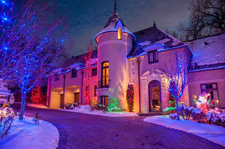 LED Christmas Lights Guide
Learn about the benefits of LED lights, including energy savings and their impact on the environment.
---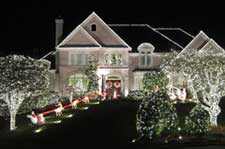 Retrofit LED Bulbs
Decorate your roof line, driveways, walkways, and more like a professional with retrofit LED bulbs and spools.
---