Christmas Lights, Etc Customer Reviews and Testimonials
---
After years of buying lights from the local stores and having them blow out after a few days, I found Christmas Lights, Etc. From the very first purchase a few years back, I love them. I buy more each year and now the house is pretty colorful. Thanks for a great product.
Patricia - Lynn, MA
---
Have been a customer for years. Every order is promptly filled and shipped. Prices are reasonable. Phone service staff are excellent. And I always get what I need...and want. Of all the wholesale or discount Xmas places, this is hands-down the BEST I have tried and used. What's NOT to love? And why go anywhere else!
Rob - Tampa, FL
---
We received the tree in September and anxiously awaited its opening. It didn't disappoint as it is truly beautiful. It took a long time to get it shaped, but the effort is worth it. Not having to put the lights on is also a plus and they are spaced so much better. It is very well constructed, better then any we've ever seen. We have always had live trees, so we wanted a tree that would look authentic. This one does. We will probably look for a 2nd one as we live in Christmas Card Lane and decorating is our passion. Thank you. Happy Holidays!
Jacqueline - Henderson, NV
---
Once again, we were completely happy with our order! We have ordered before and lights are good quality and look as advertised. One time I ordered the wrong base on the light and you were great about the return. Very pleased!!
Kaye - Lake Ozark, MO
---
Couldn't believe how fast you guys were. I am very impressed with your customer service. Thank you so much. You will be highly recommended. Merry Christmas to you all!
Connie - Blaine, WA
---
It is very hard to find the vintage style multicolored opaque lights these days. No one seems to make them anymore. The only lights you can find now are endless choices of LED lights, which doesn't have that soft glow as the vintage style lights. That's when I stumbled across Christmaslightsetc.com that still has these! I was forever grateful that I found them, and at a reasonable cost as well! I will buy from them any chance I get, as long as they keep these lights in stock. They were packed great, sent fast, and every single light works! They look beautiful. I now have (in my opinion) the best looking house on the block, partly because no one has these vintage style lights anymore. All my neighbors have the cheap LED lights which are too bright and harsh to look at. Thank you Christmaslightsetc.com for still offering these vintage lights!
Randy - Huntington, WV
---
The web site was extremely easy to navigate and found the product I wanted quickly. The ease of ordering was much better than I expected. The product arrived well packaged and protected. The bulbs needed were to replace original bulbs that had been in a decoration that my father started using in 1962. It has been used every Christmas since then. The decoration is a precious memory to me. To see it up and lighted again brings back warm Christmas Memories of long ago. Thank you.
Walter - Duryea, PA
---
I decided to go back to the same colors and shapes of the light bulbs that I grew up with on our Christmas tree. I thought the price of the bulbs and the cord I ordered was excellent! I will use this company in the future for getting my lights! The shipping was fast and everything arrived in one piece!
Carol - Worthington, OH
---
Holiday Dreams on Ice was such a success this weekend! Big thanks to everyone who came out to support, our wonderful cast, and Christmas Lights, Etc for this beautiful tree!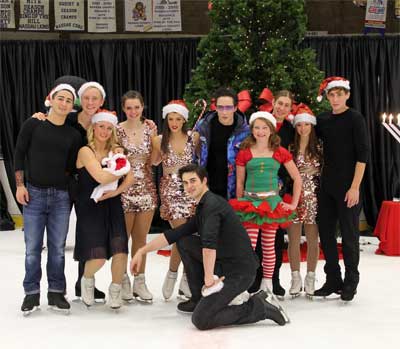 Johnny Wier - U.S. National Figure Skating Champion, 2-Time Olympian
---
I have not been able to find replacement bulbs until now!! I quickly put in these new replacement bulbs and I love the twinkles!! Thank you.
Susan - Sherman Oaks, CA
---
This is the way to buy holiday lights! No hassles searching local stores for what you want or need...everything was here. The All-in-One Plus clips made outlining the house a breeze. Thank you!
Mark - Falls Church, VA
---
We bought the Cool White LED Cascade lights in all 3 sizes, and they make our house stand out! Really liked the prices - we are adding more colors next!
Christmas Family - GA
You must have flash player installed to view this video. Please visit
Adobe.com
for information on obtaining the flash video player.
---
This garland is absolutely beautiful! Looks even better than in the pictures. Perfect for the mantel. Arrived very quickly. Awesome purchase!
Elizabeth - Covington, LA
---
I wanted to share this short video of my home with the Christmas lights that I purchased from you in October...Your lights are the best on the market.
Hector - Portland, TX
You must have flash player installed to view this video. Please visit
Adobe.com
for information on obtaining the flash video player.
---
I am very pleased with the lights I purchased. I wanted sturdy light strings to use outdoors for many years, and I wanted light strings that would stay lit if one bulb went out. The lights are bright and look wonderful after I restrung my angel sculpture with them!
Sylvia - Cottage Grove, MN
---
After trying to find a light string longer than 50' locally (or strings with a large enough gauge to connect more than two strings), I went online to order what I needed. I ordered a 100' C9 string and C9 ceramic bulbs from this site. The string was very good quality as well as the bulbs. I received the order very quickly. The lights look great on my house! I would not hesitate to order from Christmas Lights, Etc again, and I will recommend them.
James - Marion, IA
---
GREAT JOB WILL ORDER FROM YOU AGAIN
John - North Tonawanda, NY
---
Thank you for your prompt service and quick delivery.
Russell - Vail, AZ
---
I'm not a professional house lighter. I have however been illuminating the house and yard for a good 20 years.
Most LED Flicker, these don't. Most are made with weak connection from the wire leads to the light sockets, these however appear VERY SOLID and nearly water proof. In fact I've never seen such a strong ""seasonal product"" VERY WELL BUILT. First year using them so time will tell. But Again I've never seen a stronger built stand of lights.
The "Warm white color" these lights produce matches our old incandescent light strands nearly perfectly. In fact they look just like incandescent bulbs in brightness, color, and as mentioned no flicker. So plan to use them like incandescent lights in your light display. I mention this because if this product is placed side by side with the piercingly bright LEDs (the one without faceted covers) then these by comparison will look a little bit dimmer.
Lastly most sets I have used over the years the bulbs are 4, 6 or 12in apart these (as indicated) are 8in. Nothing wrong with this just different from what I personally own.
Overall great product will be buying more to replace aging sets.
Jason - Manassas, VA
---
Thank you for shipping these replacement bulbs. I had such a hard time finding them locally. Finally, my wife suggested your website--I couldn't be happier with these bulbs. The quality is superior and they arrived in perfect condition (no broken bulbs during shipping). I will tell everyone I know about Christmas Lights, Etc--Thanks again!
Paul - Placitas, NM
---
The picture and information provided regarding these lights are a bit misleading. Not all of the lights twinkle as shown in the picture, only every 5th light. So, if that is what you are after, the lights are nice and the lines are higher quality than those you can generally find at Home Depot. It just depends on what you want.
Kathy - Tualatin, OR
---
Lights of this quality and size are generally much more expensive - and while this one isn't cheap, it's worth every penny. The light has multiple settings allowing you to flash the blue opposite the white at varying speeds - or - have both colors remain lit. It's beautiful and bright and can be seen from a significant distance - If I could afford to, I would definitely purchase more of these!!
Awesome!!
Lisa - Galva, IL
---
We love the lights! Because of the great clips we bought from you, we've had several people ask if we had the lights professionally installed.
Jerry - Midland, TX
---
After reading all reviews for this tree...I have no idea how anyone could not appreciate absolutely everything this tree offers. During the Holiday's my obsessive compulsive ""eye"" sees everything. I am 62, I weigh 120 lbs., put it together by myself. Love the way ornaments hang. Even the heavy ones! Lights are fantastic. The way it's constructed I plan on using this tree for many years. I am exceptionally happy with this tree. Thank You!
Re: http://www.christmaslightsetc.com/p/6.5_Foot_Full_Fraser_Fir_PreLit_Artificial_Christmas_Tree--19595.htm
Brenda - Hillsdale, MI
---
I am very pleased with my order! I got it promptly in a few days, just as requested. The lights I ordered were in perfect condition when the box arrived. They all worked with no burned out bulbs, and they were all the right color! You guys did a GREAT JOB! I will definitely order from you again in the future!
ONE HAPPY CUSTOMER
Neil - Edmond, OK
---
Just tried out some of the lights(specially the M5), and I must say I was pleasantly/happily surprised. I'm used to the lights at the "big box" stores, which, up till now, I nothing to compare to. Comparing their lights to yours is night and day. Your lights were much brighter, easier to dim, and seemed to be made better. I especially like the brighter fact(especially the M5), and no noticeable flicker. Wonderful lights(although they seemed pricey at the time, you-get-what-you-pay-for), very happy.
William - Anaheim, CA
---
Thank you again, dealing with you and your company has been very easy, you definitely have made me a repeat customer for life.
Alexander - Indianapolis, IN
---
I took a risk ordering cold from your online store, and I must say, it has been ages since I've been so delightfully surprised with a company's response. I was looking for the now hard-to-find C7 twinkles for some old-fashioned Halloween lights with a week to go before Halloween. Your site said shipped same day if ordered before noon. I got my lights in two days ground! I wouldn't even expect you to accomplish that again! Not only that, the quality of the product is 100% and moreover the purples (I took a chance on) are PERFECT for my flashing skulls. You have earned my repeat business! THANK YOU!
Rod - Orlando, FL
---
There are a lot of websites offering the same products, but Christmas Lights, Etc was the best price and easiest to use.
---
I was very happy to find easter lights for easter. thank you very much, and I did receive them in time. I will continue to shop from this store.
Laverne - Laurium, MI
---
HAVE ORDERED SEVERAL TIMES IN THE LAST COUPLE OF YEARS AND HAVE NEVER BEEN DISAPPOINTED.
Diane - Lowellville, TX

---
Great prices, can't wait to get my order. I am planning on decorating with outdoor lights every holiday, Valentines (red, purple and pink), St. Patty's day (green and yellow), 4th of July (red white and blue).
Lisa - Lake Worth, FL
---
Very pleased with the quality of the tree we purchased.
Elizabeth - Lancaster, PA
---
What a neat company to do business with they have the product and quantity that I needed, not only that but it was delivered on time and the quality of the product was of the highest standard.
Douglas - Clovis , NM
---
I purchased a 32" tree in 2001 and have used it every year since,. It has been one of the best purchases I have made for Christmas and has given me many, many, hours of joy and peace at Christmas.
Thank you...Dan - Blue Bell - PA
---
I just want to say that your customer service is outstanding in every way! I placed this order Sunday night and it is on my porch by Wednesday. It doesn't get any better than that. Also, it is exactly as I ordered. Keep up the good work!
Timothy - FL
---
Our tree was delivered very promptly. The assembly directions were easy to follow and the tree is up and decorated and looks beautiful. We are very satisfied with the Douglas Fir.
Charles - SC
---
I Purchased the grape vine reindeer the buck and doe.They are absolutely gorgeous. I was amazed at the quality of the product. I can hardly wait to display them. In our front yard here at the campground. I know i will receive lots of compliments. Thank you for offering a great product.
Audrey - TN
---
Just to let you know how pleased I was with your service and product! Arrived today as scheduled and completes my outdoor decorating! It is so hard to find this size bulb now- everything is LED and they just don't have the vibrant colors as these. Thank you so much and please, do not discontinue them! Merry Christmas! Happy Holidays!
Kathy - MD
---
The tree sold at the Festival of Trees fundraiser (for breast cancer research) and took Best of Show! Thought you would be interested to know that.
Helen - OR
---
Hi,received my order last Thursday 12/3/09 like you estimated. Lights look good .Thanks very much and best wishes to everyone at Christmas Lights, Etc for the Holidays.
Jeff - OH
---
We received our order today (56" deep red tree skirt with beads). Thank you for carrying this product. We have been to every boutique and department store in the Dallas metroplex and couldn't find the exact color/elegance we were looking for. We searched the internet endlessly with the same results until we found your site. Thank you for ending our search... It is positively beautiful and it's absolutely perfect. It's so beautiful, elegant and the perfect color that seemed to elude us. What a great company! Thanks for the warp speed shipping too!
Steve - TX
---
Merry Christmas season to all of you!! You have lights no store near us keeps in stock -- our house will be brighter because of you! This web site is a joy to buy from. Just wanted to tell you
The Obenhuber Family
---
Thank you so much. I LOVE MY TREE!!!!!!! It's what I've been searching for, for years to replace the fiber optic tree I used to have years ago.
Natalie - MA
---
I received my tree and I love it. It was so easy to put up. The day after Thanksgiving and my tree is already trimmed and lit up. Thank you.
Renee - PA
---
This company has been the best company to deal with as far as the quality of things are concerned. Your C7 twinkling bulbs are just excellent! I am making home made lamps with these, and they are great! Thank you for all of your help!
Live Chat comment
---
I just ordered my first artificial tree from your company. This was a BIG decision and step for me. I've had real trees in my home for over 30 years. Your sales person, Carrie was just phenomenal. Outstanding knowledge, patience and customer focus. I can't wait to see my tree. I'll be following up with you and Carrie once I receive my 'fraser'. Thank you so very much for a pleasant purchasing experience.
Dawn - MD
---
OH MY GOD!!!!!!I LOVE LOVE LOVE MY ORDER I"M VERY VERY VERY HAPPY WITH IT. IT SHOWED UP ON TIME, IT WAS PACKAGED VERY WELL AND LOUD ENOUGH FOR THE HOUSE DOWN THE BLOCK TO HEAR IT. THIS CHRISTMAS IS GOING TO BE GREAT THANKS TO YOU AND YOUR PRICES. MERRY CHRISTMAS
Theresa - NY
---
I always purchase from this company- very reliable and great product!
Jessica - CO
---
Your site contains excellent and detailed information - and your telephone support was very helpful as well! Will definitely buy from you again.
Jens - FL
---
Nice site. Well organized. I will tell my friends to try it out!
Toni - CA
---
I bought my Christmas from your company. I was so pleased that I had to come back to purchase more lights. Thank you, for being such a great and reliable company!
Raymond - NY
---
This is a great company to deal with since I have ordered in the past and plan to continue to buy from this company. Don't go anywhere else for Christmas lights until you come here!
John- PA
---
They had exactly what I was looking for and have everything you need to decorate your house for any holiday...
Mark - NJ
---
The selection was terrific, the colors, and the LED options! The service, shipping was fast
Leslie - NC
---
I have viewed the site for a few months and have been impressed with the appearance of the products. I have been looking for a few years for a new Christmas tree but had not found exactly what I was looking for until now. I am hoping that the tree will look as good up close as it does on the website.
Terri - FL
---
This is an excellent site and is easy to maneuver!
George - VA
---
I have been buying lights from this site for the last two years. I am very pleased with the prices and quality of the items I have purchased. They have a very large variety when it comes to types, colors, qualities, sizes, etc.. Largest selections I've seen on the many sites I have looked at. I live 160 miles from the nearest city and this has been very convenient for me in getting my decorations for holidays and the like. I love this site!!!
Joy - Tierra Amarilla - NM
---
Very easy site to navigate. Needed bulk lights for a wedding reception, found Christmas Lights, Etc to have good value for the money.
Holly - MI
---
Wow! You guys are a joy to do business with! I'll be back!
Joe - CA
---
The site is very e/z to use, very good info on their stock.
Pete - CA
---
Outdoor christmas lights (which we use at home for decoration and safety) are difficult to find other than during the Christmas holiday season. I have been used to buying MerryBrite lights and am glad to find that Christmas Lights, Etc offers quality outdoor mini lights year around.
William - NC
---
I found exactly what I was looking for at a very good price. These are not easily available in retail stores here except just after Thanksgiving and sell out fast.
Richard - MI
---
Good way to find seasonal lights for a wedding in the summer.
Sandra - OR
---
Great site, fast shipping, great prices
Gary - FL
---
christmas lights etc. com rocked my world. the selection was unbelievable and i can't wait to buy more here again
Robert - CT
---
Good quality product and quick delivery. Good Web site.
Phillip - FL
---
i have been looking for a couple of months online for these and this is the first time i found this site. the price was great, along with shipping cost. i had ben looking at some on ebay and they were 6.00 for 50 lights. plus 4.95 or so for shipping. i was happy to learn that these rice lights are replaceable if one burns out. thanks, sue
Susan - IA
---
thanks your site and doing business is so easy...you are the best!!!
Tomas - CA
---
Always very pleased
Diane - AZ
---
I am SO impressed. I placed my order yesterday at noon. I received that order today!!! I am very pleased with your service and the product. Thank you VERY much.
Jennifer - AL
---
Very nice site, easy to navigate, prices were very low. Great selection.
John - SC
---
This is the second time I have ordered from this site. It is so easy and includes the details I need to make my purchase. Thanks!
Carol - PA
---
Nice site-excellent products-will visit again!
Rick , IA
---
Thank You so much for fast shipping and smooth sale.I will feel good buying from your company again.
Sharon , DE
---
Thanks so much. The lights arrived right on time and we are delighted with them. With such great service and a great product, I will be ordering again.
Georgianna , FL
---
These are the best items I have gotten so far in light bulbs. Keep up the great work.
Elizabeth, PA
---
Love them! Will definitely be ordering more from you soon!
Sandra - Houston, TX
---
They were amazing! I actually received my order before I saw the order confirmation. Their product exceeded expectations and I would highly recommend Christmas Lights, Etc.
Alpharetta, GA
---
This is the best company to deal with for great quality Christmas lights. I will buy from them in the future!
John - Elizabeth, PA
---
Good price for quality product.
Rodney - San Antonio, TX
---
My daughter is working on a social studies project about Las Vegas and we are building a small model of a casino. Your company was the first I found with a small strand of lights that were battery operated. I wish to thank you for that and come Christmas I will be looking at your site again.
Tracy - Ozone Park, NY
---
The online chat option is fantastic. I used it twice when deciding on my order.
Laure - Gainesville, FL
---
Very reasonable prices, good product, and speedy delivery. Will buy from them again!
Aimee - Bedford, TX
---
Very nice selection, impressed with the website, and the prices were fair!!
Debbie - Winona, MN
---
I checked around and was most happy with your website. Pricing and selection are good and the descriptions are thorough. I plan to buy more.
Donald - Arvada, CO
---
Great selection of lights and more importantly replacement light availability. Very quick shipping. This is my third order from Christmas Lights, Etc in a month. Glad I found them!
Naniece - Reno, NV
---
I found the site easy to navigate and compare products. They had the best selection of 4'5" realistic artificial trees.
Karen - Dallas, TX
---
The tree was just beautiful and the experience with Christmas Lights, Etc was wonderful. The shipping was fast, the tree was well packaged and the tree was even more beautiful than we even imagined.
Dawn - Holly Springs, NC
---
The lights are of very good quality. Nice and Bright. Love them
June - Brimfield, MA
---
They have what I need at a great price. I have recommended their site to friends.
Zoe - Caney, KS
---
Being a "Chevy Chase"-sort with my Christmas lighting, I'm always trying to add to my "extravaganza" each year - glad I lucked-upon this site for additional future purchases!
Debra - Peoria, IL
---
Your selection was great! Delivery was within a few days. I am very satisfied that I ordered through Christmas Lights, Etc.
Elizabeth - Cudahy, WI
---
Awesome sight especially during the Holiday Rush!!!
Damon - Queen Creek, AZ
---
I was able to find replacement lights I couldn't find anywhere else.
Jacki - Sarasota, FL
---
This is my second purchase from Christmas Lights, Etc, but I am sure it won't be my last. Great place to do business with.
Kathleen - Midlothian, IL
---
Good product, fast delivery, good place to do business with...
Kenneth - San Diego, CA
---
This website was very user friendly. Each item was pictured well to review. They helped make my choices simple.The shipping was more than fair. I was 200% pleased with my purchase, delivery and final products. Awesome. They are a breath of fresh air.
Sharon - Lewistown, PA
---
This is a fabulous website! I have searched every local craft store to find 20 light sets and could only find them in white. It's great having a website to go to 365 days a year to find what I need for my craft projects!
Charlene - Northfield, OH
---
Great customer service and great price!!!
Saul - Sylmar, CA
---
Use of the on-line services was easy with clear explainations and excellent pictures.
Charles - Somers, CT
---
Found an item I could not find anywhere else for the last few years. Was very excited to receive these garland lights. They are beautiful. Received them much sooner than I expected. So I ordered some more!!!
Kathleen - Midlothian, IL
---
Liked the shipping calculator box. Often one never knows how much the shipping is and by the time you find out you are ready to cancel the order.
Susie - Fort Myers, FL
---
Your web site provides beautiful pictures, with ability to view close-up and see the details of the item. This Christmas tree was just what I am looking for and was marked down to a good price. I would have to have passed on the original price, as it would be totally out of my budget. Free shipping also helped.
Bobby - Alto, GA
---
Exactly what I wanted and arrived in very short time, even though it was during the prime holiday shipping times!
Mary - Sorento, IL
---
I loved this site. After visiting many other sites to buy a tree;I liked yours the best and made my purchase with you.
Colleen - Ocean City, MD
---
Great company!!!!!!!!!! I would highly recommend them to anyone looking for unique, hard to find lights.
William - Downers Grove, IL
---
Fantastic and bright lights. They are brighter than I expected them to be. I will buy more of these type of lights next year.
Donald - Mountain House, CA
---
Good Prices, good availability, fast delivery and easy returns if needed
Jerry - Mechanicsville, VA
---
Love the tree, when I checked to see when would be delivered, had fast response to my forgotten password and was able to find out exactly where my tree was in the process of reaching me. I Love the tree and it fits our need exactly. Thanks so much!!! Merry Christmas & Happy New Year
Shyla - Omak, WA
---
Thank you. I looked everywhere for the light bulbs and found them at your company. I was very happy.
Kimberly - Seville, OH
---
I was surprised and pleased to see that my order arrived in great shape and on time! Thanks!
George - Claysville, PA
---
What a Wonderful experience ordering from Christmas Lights Inc. I would recommend this company to anyone. Fair prices and fast delivery.
Charles - Bentleyville, PA
---
Very satisfied with the LED battery operated Christmas lights. They are very pretty on the tree and surprisingly bright and last forever. This is my second order. What a wonderful way to brighten up our tree this Christmas!! Thank you for everything!! You're great!!
Sherry - Staunton, VA
---
HAD TO CALL CUSTOMER SERVICE AND WAS HANDLED PROFESSIONALLY AND RAPIDLY
Lewis - Lake Saint Louis, MO
---
You are one of the few places online that I have found twinkle lights. Thanks!
Pamela - Columbiana, AL
---
When you need something out of the norm....Christmas Lights, Etc has it for you. Thank You!
Pasquale - Langhorne, PA
---
This was a great experience. All went great. I marked it to return if other needs arise.
Gerald - Lake Placidm, FL
---
Convenient, I don't need to drive, wait on check out counter, hassle free and you get to talk to live person if you have any question, you don't need to talk to machine and wait forever. Easy and I like it.
Jo-ann - Laurel, MD
---
Great work you guys...I appreciate the promptness....Merry Christmas!
Joe - Hurst, TX
---
Great company to work with. Have already recommended to my mom and dad.
Vannessa - Mingo, OH
---
I found my best deal with Christmas Lights, Etc on the Christmas lights I was looking for. If I need more lights I will come back to Christmas Lights, Etc for them.
Donald - Mountain House, CA
---
I have never seen lights spaced only 2" apart. The selection of lights is the best ever! Prices are better than I've found searching for my Christmas lights! Very Happy I found this site!
Judith - Edgewater Park, NJ
---
I was thrilled with the lights. They went on the bow of my boat, and got a chuckle from several of the people down at the marina.
Cheryl - Gig Harbor, WA
---
It was a pleasure doing business with you. The lights were easy to find on your web sight, and ordering was a snap. Actually the lights came a day ahead of schedule.
Maryann - Westminster , MD
---
I was very pleased and like product. I was impressed with the selection you have and have already recommended your site.

Julie - Portland, OR
---
Just wanted to say thanks for a smooth ordering process and speedy delivery. Also the light are fantastic! Happy Holiday-
Andy - Blackwood, NJ
---
This is one of the best online merchants in all respects: selection, quality, excellent website, communication, ontime delivery.
Jane - Hendersonville, NC
---
I wanted to tell you how delighted I am with my LED sapphire blue mini ice light set. When I plugged them in I actually squealed and said out loud, "They're gorgeous!" My 6 year old grandson recently suggested that I " Please put up my Christmas decorations", as they were so pretty. So the next best was to string these beautiful lights around my sliding door. It was so easy to Google you, order online, and the service was very fast. Thank you for helping me put sparkle in my home again.
Elizabeth - Kennewick, WA
---
Thanks for everything. You guys are the BEST and I won't hesitate to recommend you to all our friends! Awesome Customer service during and after the sale!
Clovis - Sachse, TX
---
Thank You for you great customer service. I look foward doing business in the near future.
Jim - Drexel Hill, PA
---
What a great company! Have a wonderful holiday. You can be sure I will continue to use the company and will recommend it to friends, neighbors, and relatives. You are terrific!
John - Wantagh, NY
---
What can I say, the item was exactly what I wanted, it came on time and I was very pleased with everything.
Todd - Lehighton, PA
---
Excellent site, great products and easy to order.
Rose - Houston, TX
---
Thanks for offering what I was looking for @ the best price!
Ric - Ocean Shores, WA
---
We ordered a lighted palm tree and pink flamingo for our parents Florida home and now need to order one for their lake home. It was great quality and they loved it!
Carrie - Overland Park, KS
---
Alot to choose from and easy to purchase
Gary - Jacksonville, FL
---
Very fast shipping. Like the product and plan to purchase more from the company. Good user-friendly website - makes shopping easy and fun.
Leora - Nevada, IA
---
Wonderful & easy to use web site and selections!
Kevin - Wantagh, NY
---
I was specifically searching for C-7 and C-9 Christmas bulbs in colors that I do not currently have in my strings of lights and Christmas Lights, Etc had 2 colors that I had not seen offered locally. They also seem to have an exhaustive selection of products though I was just after Christmas lights at the moment. Compared to other websites offering similar products I liked the clarity and description offered by Christmas Lights, Etc. The site is very easy to use and the layout is professionally done. Enjoyable experience looking through their wares!
Mark - Portland, OR
---
They had just what I was looking for. They also explained in the product description what I need to know about light bulb and light set sizes were compatible.
Denise - Rockwood, ME
---
You have wonderful looking trees and a very easy site to navigate. Thank you
Pam - Roswell, NM
---
Thank you so much ! Ya'll are the greatest. This is the best customer service I have ever had from anyone / anywhere. I will recommend you to anyone who needs Christmas decorations.
Ben - Bryon, GA
---
Best website I saw on Christmas trees. This led directly to our confidence in the product and our decision to purchase.
Earl - Reno, NV
---
Very helpful staff. Honest about products. No complaints, just praise.
Wendy - Brookfield, MA
---
Great customer service via phone and @ emailing. Also, customer service responded to my email promptly and even on through the phone.
Kristie - Minot, ND
---
Christmas Lights, Etc support us serving our country overseas very well and only hope they keep it up. Thanks for the lights they are perfect!
Ron - United States Army
---
First time purchase. Great experience all around. Would come back.
Darren - Airmont, NY
---
This is the second time I have ordered from Christmas Lights, Etc. Both purchase experiences have been great.
Susan - Kelso, WA
---
Prompt delivery; merchandise packed well and in great condition. Quality product--what I was looking for. No back-order required.
George - Los Angeles, CA
---
Excellent website and I did the on-line chat with a question and that was quick and very helpful.
Diane - Rothsay, MN
---
I was very happy to find the style of light clips that I was looking for. I have been looking for them for quite some time.
Brady - Hooper, UT
---
This is the 2nd time I've visited your site and found what I needed in nano-seconds! love it!
Joyce - Shulerville, SC
---
This is my second, possibly third, year of purchasing my replacement light bulbs for my Christmas lights. They are a great company, more people should know about this company.
Dawn - Warren, MI
---
I have been looking for the C7 Twinkle Christmas light bulbs for about 3 years...and thought I would never find them....till I found your ''site''.
Debbie - St. Charles, MO
---
This is my 5th order. You make this quick and easy. I love your products. Very high quality.
Gregg - Port Allen, LA
---
It was very easy to order and I do not order on the internet very much. I would have been going all over town looking for these items wasting precious time and gas.
Judy - Columbus, GA
---
My 84-year old mother has been driving us nutz looking for a fiber optic tree. They certainly had what I was looking for.
Mary - Lebanon, PA
---
I am a return customer, have enjoyed the experience with the co.
James - Monte Sereno, CA
---
I have enjoyed shopping at Christmas Lights, Etc in the past and look forward to shopping there in the future....Happy Holidays and Thanks Marty
Birmingham, AL
---
Awesome site and selection! I was hesitant to buy stuff from an online site, but I checked them out on BBBonline and they look good. I am looking forward to buying more Christmas stuff from these guys many Christmas's to come =)
Richard - San Diego, CA
---
You have wonderful looking trees and a very easy site to navigate. Thank you
Pam - Roswell, NM
---
We received the 7.5 pre-lit Tiffany tree with the 1200 lights last week and decided to put it up this weekend. We wanted to make sure we liked it, and didn't need to send it back.
It's beautiful, lots of lights and very good branch disbursement. Great doing business with you, and we will pass your company name on. Thanks and Merry Christmas
William - Cashmere, WA
---
Thank you!!!!!! I received my tree almost to the minute that your delivery time projected. It is beautiful and took only a matter of minutes to assemble. I will always look to your site to order in the future.
Deborah - Jupiter, FL
---
Thank You so much for fast shipping and smooth sale.I will feel good buying from your company again.
---
I looked on several sites and this had the best selection and prices.
David - Newark, OH
---
Had exactly what I was looking for at a reasonable price!
Marc - Clifton , VA
---