Recommended Number of Ornaments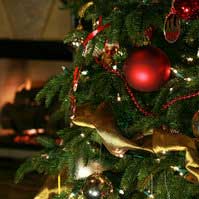 Christmas ball ornaments add color and character to trees and are a delight to hang each season. Christmas ball ornaments are available in a wide variety of colors, sizes, and finishes. Many people slowly build their ornament collection, taking years to finally have enough ornaments. Other people change their color themes or trees, or buy a new tree for the guest room or office and suddenly need to purchase ornaments all at once.
Christmas ornaments on ChristmasLightsEtc.com come in four different finishes of shiny, matte, pearl, and metallic. Ornament ball colors and sizes can be mixed and matched to coordinate your tree while adding color and beauty. The different finishes look great when combined like shiny and matte, so don't hold back. Below is a chart which can help you determine the number of ornaments needed to create the Christmas tree of your wishes. Some people prefer more ornaments on a tree than others, so personal preference may skew the count slightly.
Tree Height
Number and Suggested Size of Ornaments
2 Ft.
40 to 60 1.25" ornaments
3 Ft.
60 to 80 1.25" - 2" ornaments
4 1/2 Ft.
120 ornaments of different sizes from 1.25" - 2"
7 1/2 & 8 1/2 Ft.
300 ornaments of different sizes from 2" - 3.25"
9 1/2 to 12 Ft.
450 ornaments of different sizes from 2.75" - 4"
14 Ft.
650 ornaments of different sizes from 2.75" - 4"

Consider the amount of tips the tree has to hang the ornaments. If it is a very full tree there are more tips from which to hang more ornaments. If it is not a full tree with a small amount of tips you would not need as many ornaments. Some individuals like to have their trees with just a few tasteful ornaments hung from the branches and some like it full of ornaments. Decorating should be fun and whatever you decide, use what makes