After years of buying lights from the local stores and having them blow out after a few days, I found Christmas Lights, Etc. From the very first purchase a few years back, I love them. I buy more each year and now the house is pretty colorful. Thanks for a great product.
Patricia - Lynn, MA
Have been a customer for years. Every order is promptly filled and shipped. Prices are reasonable. Phone service staff are excellent. And I always get what I need...and want. Of all the wholesale or discount Xmas places, this is hands-down the BEST I have tried and used. What's NOT to love? And why go anywhere else!
Rob - Tampa, FL
We received the tree in September and anxiously awaited its opening. It didn't disappoint as it is truly beautiful. It took a long time to get it shaped, but the effort is worth it. Not having to put the lights on is also a plus and they are spaced so much better. It is very well constructed, better then any we've ever seen. We have always had live trees, so we wanted a tree that would look authentic. This one does. We will probably look for a 2nd one as we live in Christmas Card Lane and decorating is our passion. Thank you. Happy Holidays!
Jacqueline - Henderson, NV
Once again, we were completely happy with our order! We have ordered before and lights are good quality and look as advertised. One time I ordered the wrong base on the light and you were great about the return. Very pleased!!
Kaye - Lake Ozark, MO
Couldn't believe how fast you guys were. I am very impressed with your customer service. Thank you so much. You will be highly recommended. Merry Christmas to you all!
Connie - Blaine, WA
It is very hard to find the vintage style multicolored opaque lights these days. No one seems to make them anymore. The only lights you can find now are endless choices of LED lights, which doesn't have that soft glow as the vintage style lights. That's when I stumbled across Christmaslightsetc.com that still has these! I was forever grateful that I found them, and at a reasonable cost as well! I will buy from them any chance I get, as long as they keep these lights in stock. They were packed great, sent fast, and every single light works! They look beautiful. I now have (in my opinion) the best looking house on the block, partly because no one has these vintage style lights anymore. All my neighbors have the cheap LED lights which are too bright and harsh to look at. Thank you Christmaslightsetc.com for still offering these vintage lights!
Randy - Huntington, WV
The web site was extremely easy to navigate and found the product I wanted quickly. The ease of ordering was much better than I expected. The product arrived well packaged and protected. The bulbs needed were to replace original bulbs that had been in a decoration that my father started using in 1962. It has been used every Christmas since then. The decoration is a precious memory to me. To see it up and lighted again brings back warm Christmas Memories of long ago. Thank you.
Walter - Duryea, PA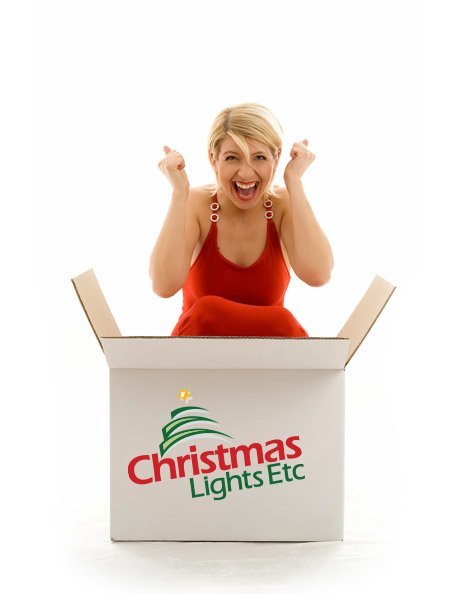 I decided to go back to the same colors and shapes of the light bulbs that I grew up with on our Christmas tree. I thought the price of the bulbs and the cord I ordered was excellent! I will use this company in the future for getting my lights! The shipping was fast and everything arrived in one piece!
Carol - Worthington, OH
Holiday Dreams on Ice was such a success this weekend! Big thanks to everyone who came out to support, our wonderful cast, and Christmas Lights, Etc for this beautiful tree!
Johnny Wier - U.S. National Figure Skating Champion, 2-Time Olympian
I have not been able to find replacement bulbs until now!! I quickly put in these new replacement bulbs and I love the twinkles!! Thank you.
Susan - Sherman Oaks, CA
This is the way to buy holiday lights! No hassles searching local stores for what you want or need...everything was here. The All-in-One Plus clips made outlining the house a breeze. Thank you!
Mark - Falls Church, VA