Christmas Door Decorating Ideas
Christmas Wreaths
Large wreaths are available in sizes up to 8, a great idea for hanging over barn doors or hanging on a loft door. Decorating barns allows for classic rustic Christmas visions to come to light, and adds a sense of festivity to the home and property. Bring wreaths and lights inside barns as well, using cool to the touch LEDs for longer life.
Email Specials & Promos - sign up for instant holiday savings
Prelit Christmas Wreaths illuminate the house and front door. Choose from incandescent of LED wreaths, and add lights to walkways, topiary trees, and any garland hanging by the front door. If you switch to long lasting LED wreaths, then consider energy saving LED lights for the rest of the front door decor as well.
Ideas for double doors include hanging a wreath on each door. Ensure wreath diameter measures smaller than the door itself. Bow width should measure half the size of the wreaths. Predecorated wreaths make a festive impact on double doors. Hang using matching wreath hangers.
Greet visitors at the threshold with Christmas decor. Holiday wreaths create a welcoming entrance to the house. A festive red bow livens up greenery and adds a pop of color to the house, a great idea whether decorating lavishly or keeping it simple.
Join for Exclusive Sales - sign up for instant holiday savings
Categories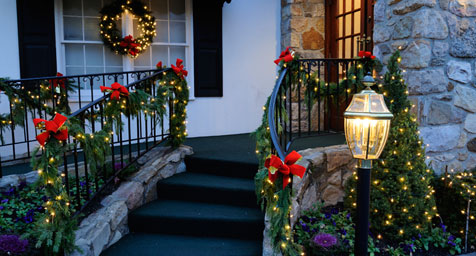 Swag Prelit Garland
Give the door a fresh, new look by trimming with artificial garland or decorating on the walkway up to the door. Choose from a wide selection that matches many tree styles to create a cohesive design indoors and out.
Get This Look!
Drape Garland Over the Door
Drape garland over the door to create a cohesive theme on the front of the house. Lighted garland pulls the eye towards the door and complements other lights hung on the house.
Get This Look!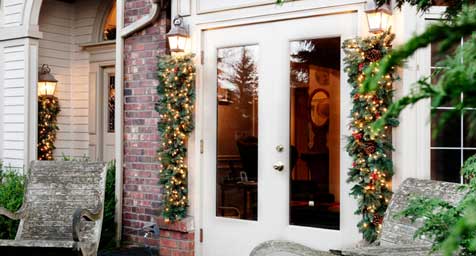 Hang Unique Teardrop Garland
Decorative teardrops give a festive look for the holidays to front doors as well as side entrance doors. With its unique shape, it works as a perfect door framing item.
Get This Look!
Christmas Garland
Swag prelit garland
on stairs leading up to your home. Measure your area and multiply by 1.5 to find out the length of garland you will need. This calculation allows for draping or swagging the garland. Prelit garland is great when wrapped on columns and hung over windows.
Email me deals and promos - sign up for instant holiday savings
Hang garland over the door
and in archways for a traditional front door decorating idea. Lights are welcoming and encourage visitors with their warmth, so brighten archways with Christmas lights.
Teardrop garland
, plush foliage uniquely shaped like a tear drop, are hot new items for front door decorating ideas. Decorative teardrops are outdoor/covered rated and have pine cones, ferns, berries and ornaments adorning green foliage. Prelit battery operated teardrops give more freedom when choosing where to hang them.
Categories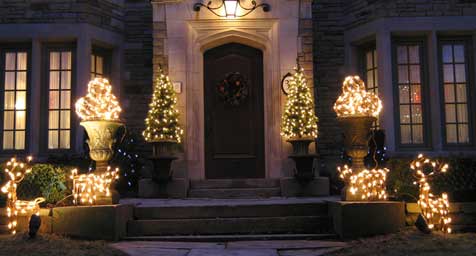 Add Decorations with Topiary Animals and Potted Trees
Decorate around the porch or on it with lighted topiary animals and potted trees around the doorway.
Get This Look!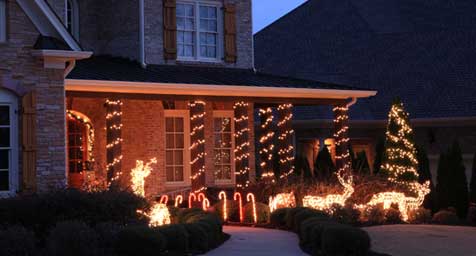 Wrap Columns in Lights
Garland lights and column wraps give columns and the front porch a bold look. Wrap garland lights around banisters and door frames for an added elegance that complements any columns or tree wraps in the yard.
Get This Look!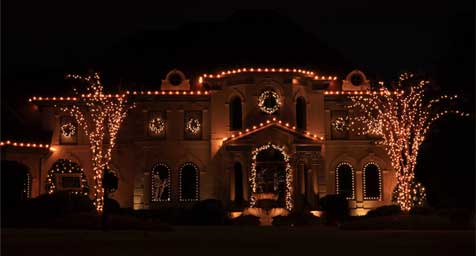 Illuminate Archways with Garland Lights
Many homes have an entryway or archway that leads to the door. Light this area up with LED or incandescent garland lights to pull the eye straight towards the entrance of your home.
Get This Look!
Christmas Lights
Front door trees
are a popular Christmas door decorating idea. Wrap existing trees and topiaries with Christmas lights, or take advantage of empty pots for the season by staking mini outdoor Christmas trees into soil. Potted Christmas trees help create a welcoming entrance, with holiday decorations such as berries and pinecones.
Email me deals and promos - sign up for instant holiday savings
Place topiary animals
as decorations near front of the door for a magical Christmas display. Prelit reindeer, prancing, kneeling and gazing, can be selected in materials of topiary or intertwined grapevine.
Wrap columns with lights
in incandescent or LED colors that match the rest of the home's decor. Wrap light strings around columns to illuminate the front yard and porch.
Garland lights
are long bundles of light strings. Hang garland lights over the archway of doors to welcome all to the front of the house. Draw the eye to the door with multicolor or clear garland lights.
Categories