Outdoor Christmas Lights Ideas for the Roof
Video: Christmas Light Themes for the Roof
White LED Lights
: Popular outdoor Christmas light ideas for the roof include C9 Christmas lights, a bulb large enough to be seen in full color from the road. The size of the C9 creates a visual impact to draw attention to your house. Add some ground lighting, including walkways and lighted trees, and a Christmas house is complete from roof to curb. Ideas in Christmas light themes help to personalize roof outlines, are easy to achieve using bulbs and stringers, and can be customized every season for a new or updated theme. Choose clear or warm white LED lights for a soft white light, or cool white LED lights for more of an ice color light.
Email Specials & Promos - sign up for instant holiday savings
Candy Cane Christmas Roof Lights
: Get creative with lighting the roof, using red and cool white LED bulbs, or red and clear incandescent lights on the roof. Secure C9 bulbs along the roof in an alternating pattern, and use stakes along the ground to tie the very top of the house together with even the finest details below. Branch out from this fun pattern on other parts of the house and yard, including porch railings and trees and bushes.
Red / Green Christmas Roof Lights
: Choose a red and green light theme for your house this season to bring festivity and holiday cheer to the neighborhood. Outline the roof and windows with C9 red and green bulbs. This traditional lighting theme is a classic favorite, although the reality is that red and green lights are an idea not often found outdoors. For more fun, add a white bulb to the mix.
Colorful Lights
: With even spacing between each bulb, multicolor or solid colored C9 lights make a stunning impression lining the home. Create retro or visually powerful lighting effects with color LED lights. Ideas in decorating a roof with color lights include placing bulbs in sockets in single, double, or even triple color pattern sequence.
Theme Lights:
Multicolor C9 bulbs can be used with stringers in any combination, like these blue and green theme lights. To celebrate for any festivities, sporting events, holidays, and more, stringers can be customized with bulbs of your choice.
Categories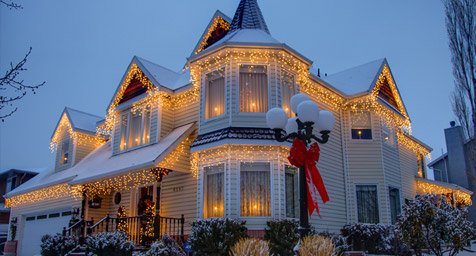 Hanging Icicle Lights
Decorate homes for the holidays with icicle lights and create a Victorian era dream house. Add red bows to light posts and wreaths and greenery for classic Christmas decorating ideas.
Get This Look!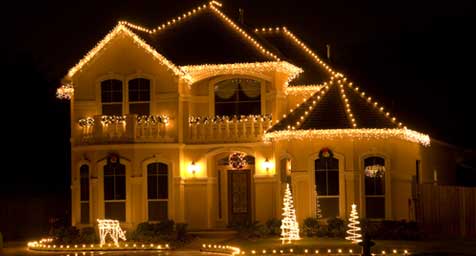 Short Drop Icicle Lights
Hang icicle lights from the roof and outline rooftops with C9 bulbs for a well-lit Christmas home. Short drops look especially bright on stucco and other flat surfaces.
Get This Look!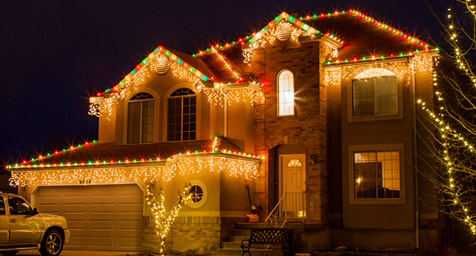 Combining Icicles and C9 Lights Together
A unique idea in decorating the roof for Christmas is to use All-in-One Plus light clips to hang both C9 bulbs and icicle strings together. Switch the color patterns for extra holiday fun.
Get This Look!
Hanging Icicle Lights for a Winter Idea
Traditional Icicle Lights
: Icicle lights are available in long and short drops. Long drop icicle lights can vary in length up to 24". Use icicles on rooflines for an elegant icy appearance, choosing clear incandescent or warm or cool white LED lights. Add a few prelit Christmas wreaths to windows and doors with red bows for a classic traditional Christmas house, or place candles in the windows for added warmth.
Email me deals and promos - sign up for instant holiday savings
Short Drop Icicle Lights
: Outdoor Christmas lights ideas aren't complete without the most popular light, the icicle. Short drop icicle lights are great for Christmas homes that showcase various architectural features. Hang icicles from rooflines and outline roof tops with C7 or C9 Christmas lights. Choosing icicle lights with shorter lengths allows for additional lighting on windows, railings, around columns, and along walkways and driveways. Choose icicle lights with multiple drop lengths for an attractive outdoor lighting idea that is easy to hang and popular with both decorators and installers.
Combining Icicles and C9 Lights
: Another popular outdoor Christmas lights idea for the roof includes combining icicles and C9 lights together. The best solution for a uniform, professional looking roof outline includes using the All-in-One Plus light clip, which holds both the C9 socket and icicle drops. Ideas for lighting can include hanging multicolor or themed C9 bulbs with clear or white icicles, or choose all clear or all white lights. Continue using C9 bulbs along the windows and doors, or use stakes to line walkways.
Categories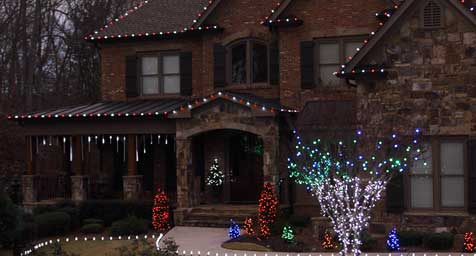 Animated Grand Cascade Lights
Enjoy falling snow as LED lights race in varying speeds down Grand Cascade light tubes.
Get This Look!
Clear Twinkle Lights
Twinkle and chasing clear mini lights and bulbs add unique animation to a traditional look.
Get This Look!
Animated Light Ideas for the Roofline
Animated Grand Cascade Lights and Falling Icicles are easy to screw into standard C9 and C7 sockets. LED lights fall in varying patterns, and Grand Cascade tubes are available in a variety of colors from cool white to red and green.
Email me deals and promos - sign up for instant holiday savings
Clear twinkle lights are available as C7 and C9 bulbs and prelamped mini lights. They add festive animation to any display, garnering attention with their flashing and flickering. Like a warm flame, clear twinkle lights ignite a sense of wonder in the season.
Multicolor twinkle bulbs and strings available in C7, C9, and mini lights are reminiscent of ginger bread houses. Wrap trees with mini lights and line walkways with C7 and C9 animated strings and bulbs to have a house that everyone stops to see.
Categories