Christmas Mantel Ideas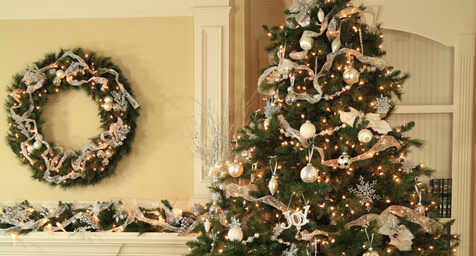 Brighton Fir Wreath with Lit Ribbon Design
Christmas mantel decorations look stunning with flexible LED ribbon. This picture shows the Brighton Fir wreath, garland and tree all matching in style of greenery and decor. LED light ribbon in silver winds through the greenery for an elegant look.
Get This Look!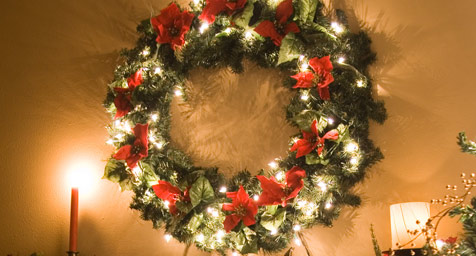 LED Wreath to Spotlight the Mantel
Select a prelit wreath with incandescent or LED lights tightly woven in the greenery. Hang the prelit wreath above the fireplace and enjoy the glow and ambiance it gives to the room.
Get This Look!
Unlit Artificial Wreath with a Simple Red Bow
The artificial unlit wreath is a classic garnish for the mantelpiece. Get in the Christmas spirit by decorating with a plush green artificial wreath without any hassles of hanging lights. Spruce up the wreath with a simple red Christmas bow.
Get This Look!
Christmas Mantel Decorating Ideas with Wreaths
Brighton Fir Wreath with Lit Ribbon:
Give the holiday mantel decorations an embellished look with the prelit Brighton Fir artificial wreath trimmed with LED ribbon lighting. Flexible LED ribbon is battery operated, giving extra illumination to the wreath and tree without any added plugs. The structured ribbon easily shapes throughout the greenery. Hesitant of decorating the wreath yourself? Select among our pre-decorative wreaths, professionally designed with ribbon, flowers and ornaments. Many decorative wreath styles, along with matching garland, teardrops and tabletop trees, are available to complement any home's decor.
Email Specials & Promos - sign up for instant holiday savings
Festive LED Prelit Wreaths
: Decorating the mantel for Christmas is simple with prelit wreaths. Convenient and professional-looking, prelit wreaths come with lights interweaved in the greenery and tips. With the glow of the lights, the holiday mantel decor can be enjoyed in the daytime and evening. Choose between LED or incandescent lights with the options of white, clear and multicolored bulbs. Match the lights of the wreath with the nearby artificial tree to give the room a stunning look.
Artificial Wreath with a Simple Bow Concept
: The wreath remains one of the most popular mantel decorations for Christmas. Premium unlit wreaths look natural and merry with its artificial tips and branches molded after the look of live trees. The tips of the Fraser Fir wreath are constructed so that they can be easily shaped into a side swept motion, resembling the look of Fraser Fir trees. For a wreath that looks full and plush, hang the Sequoia wreath, known for its extra thick branches and needle tips. Hang a traditional red bow to accent the wreath. Add a few favorite Christmas collectibles and candles to the mantel for a holiday mantelscape.
Categories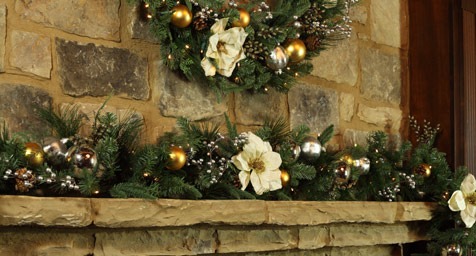 Decorative Garland with Rustic Look
Choose from many styles of decorative garland to fit the specific style of your home. The Aspen Silver garland looks gorgeous in rustic style homes with its white poinsettias and silver and gold ornaments. Hang the matching Aspen Silver wreath above the garland for a cohesive look.
Get This Look!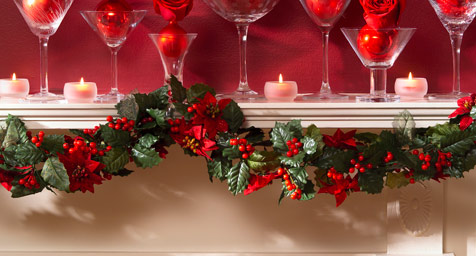 Draping Garland on the Mantel Technique
Drape the length of the artificial garland just under the mantel for a banner like design, leaving room on top of the mantel for added decorations, such as ornaments and candles. Festive Crimson Harvest garland is a charming adornment with red poinsettias nestled in the greenery.
Get This Look!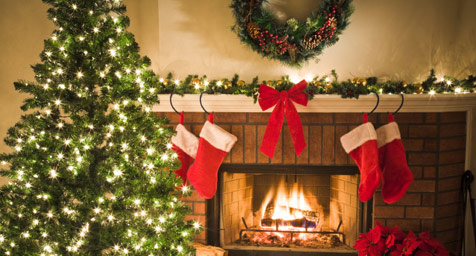 Thinner Garland for Added Decorations
Trim the mantel with thinner artificial greenery, such as the Norway Spruce garland, to allow space for added Christmas keepsakes and decorations.
Get This Look!
Mantel Decorating Tips with Garland
Decorative Garland with Rustic Style
: Incorporate decorative garland, such as the Aspen Silver or Floral Poinsettia, into Christmas mantel ideas to add contrast and style. Rustic Aspen Silver garland is elaborate with lush white poinsettias and bundles of silver and gold ornaments. For a beautiful backdrop to the garland, hang the matching Aspen Silver wreath above the mantel. Decorative garlands are 9' in length, allowing extra length to be draped on the sides or corners of the mantel.
Draping Christmas Garland for Fireplace
: One option in hanging garland is to drape artificial garland at even lengths, instead of laying it straight across the mantel. This style of hanging garland leaves plenty of room for displaying other holiday mantel decorations. One fresh idea to decorate the mantel is to place solid colored ornaments in a variety of clear glasses or vases. The Crimson Harvest decorative garland looks festive and cheerful with red poinsettias, berries and ornaments in the greenery.
Join for Exclusive Sales - sign up for instant holiday savings
Thinner Artificial Garland Accents
: Use thinner artificial garland, such as the Norway Spruce, to deck the fireplace while allowing space for other decorations. Candles, bows and stockings can be displayed on the mantel, while the trimming garland gives a cohesive look. All of our artificial garlands are premium grade, so it is just a matter of preference and style which garland is selected. For a muted look that highlights surrounding decorations, incorporate unlit garland.
Categories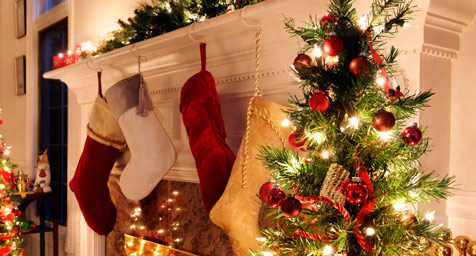 Christmas Stockings
Stockings with garnishing pom poms and tinsels dangling on the side look stylish and trendy hanging on the mantel.
Get This Look!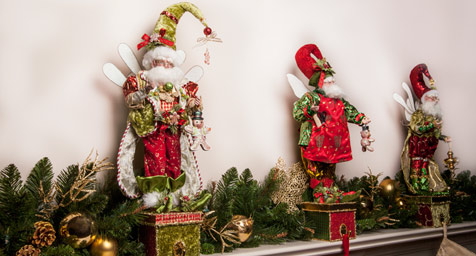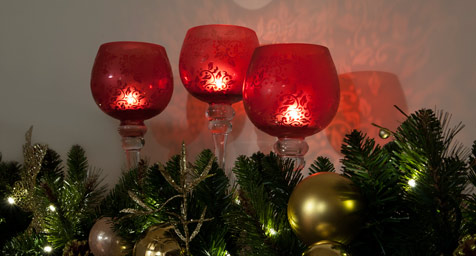 More Christmas Mantel Decorating Ideas
Hang Christmas Stockings on the Mantel
: Hanging stockings on the mantel endures as a favorite holiday tradition, adding another fun dynamic to gift giving. When selecting stockings, look for qualities that make them unique in design, such as tinsel trim, hand stitched designs and pom poms dangling on the side. Choose stockings with vivacious Christmas themes such as Santa, snowflakes and Christmas trees. Bring joy to the home by decorating the fireplace for Christmas with stockings; hanging one for each family member. Even pets would appreciate their own stocking filled with treats.
Join for Exclusive Sales - sign up for instant holiday savings
Whimsical Stocking Holders
: Stocking holders give a classy look to the mantel, while holding the stockings. Instead of using damaging screws or nails on the mantel, use bedazzling stocking holders instead. From whimsical Santa fairies to prancing reindeer sets, stocking holders paired with festive stockings make the mantel look dazzling and sophisticated.
Frosted Hurrice Candle Holders in Style
: Dress the mantel with Christmas candles placed in candle holders to add brightness and holiday cheer. Use glass hurricane candle holders to stylishly display candles. To celebrate Advent, place pink and purple taper candles in hearty wreath candle holders for a gorgeous layout. Decorate the mantel with LED flameless scented candles to enjoy for the holidays and year-round. Whichever candles are used, create an aurora of peace and serenity in any room with candles and candle holders.
Categories