We at Christmas Lights, Etc are concerned about your safety and the safety of the products we sell. Keeping your home and family safe through the holiday season is an essential part of our business goal and influences our decisions and product selections. We only offer products manufactured in complete compliance with all industry specifications. Our Christmas Trees are made of a flame-retardant poly vinyl and supported with heavy-duty metal stands to ensure your tree will be sturdy and safe during the holiday season.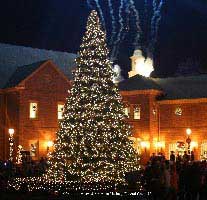 We print and include the product safety warning required by California law on all products we sell. Our lighting products are UL Listed and meet the standards established by Underwriter Laboratories. Below are safety tips that should be practiced throughout the season.
Do not allow children to handle lighting products.
When handling products known to contain lead; wash your hands after use.
Turn off lights when asleep or away from home.
Never use indoor extension cords for outside lighting.
Unplug light strings before changing bulbs.
Do not overload extension cords.
Do not use indoor lights outdoors.
Check all lights for broken or cracked sockets, frayed or bare wires, or loose connections, and throw out damaged sets.
Replace burned-out bulbs promptly with the same wattage bulbs.
Always read product safety labels before product use.
Storing Christmas decorations also requires safety measures be taken. The following are some safety tips from the National Fire Protection Association (NFPA) and the Underwriters Laboratories (UL) urge consumers to use when using and storing their holiday decorations:
Unplug electric decorations by using the gripping area provided on the plugs. Never pull the cord to unplug a device from electrical outlets. Pulling on the cord can damage the cord's wire and insulation and even lead to an electrical shock or fire.
Take the time to inspect your light string for flaws. Throw out light sets if they have loose connections, broken or cracked sockets, frayed or bare wires. Do not place a faulty set of lights back into the storage box for next year's use. Take the initiative now and throw out worn light strings. Shop for replacements during after-Christmas sales or add lights to your Christmas decoration list for next year.
Be sure to pack lights appropriately to prevent the need to untangle a web of lights next year. When preparing your holiday lights for storage, consider purchasing a holiday light storage reel, or create your own system.
Store electrical decorations in a dry place, such as a suitcase, where they cannot be damaged by water or dampness. Also, keep them away from children and pets to ensure that cords and wires are not damaged in storage.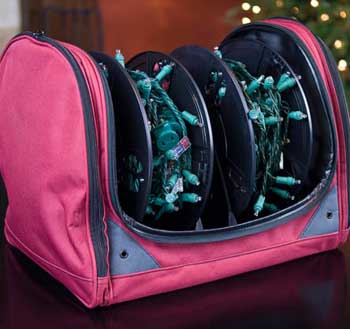 To preserve and ensure the longevity of your holiday lights and decorations you should purchase Christmas storage solutions such as light spools and Christmas tree storage bags. Additional ideas include:
Wrap each set of lights and put them in individual plastic bags, or wrap the lights around an empty wrapping paper tube or cardboard square. If you wrap the lights around a piece of cardboard, cut a slit in one side of the square. Thread the end of a set of lights through the slit. Wrap the lights around the cardboard, threading the other end back through the slit.
Although the box your artificial tree came in may seem like the perfect one to repack it in for storing, this isn't the wisest idea for preservation. The cardboard boxes begin to deteriorate making them more prone to insect infestation.
Special ornaments benefit from being stored in their original packaging. If you throw out the original box, store smaller ornaments in an egg carton.
Save yourself time next year by thoroughly labeling decorations before storing. Make a detailed inventory on the outside of each container. Number each to keep track of how many you have (for example, Box 1 of 12) and consider taping a piece of wrapping paper on the outside of each container for easy holiday storage identification.

What does UL Listed Mean?
Underwriters Laboratories Inc. (UL) is an independent, not-for-profit product safety certification organization. For more than 110 years they have been testing products and writing Standards for Safety. Over 19,000 types of products are tested annually, and more than 20 billion UL Marks appear on products each year. Worldwide, UL's family of companies and its network of service providers include 62 laboratories, and testing and certification facilities. For more information, visit http://www.ul.com.
What is the NFPA?
National Fire Protection association is a worldwide leader in providing fire, electrical, building, and life safety to the public since 1896. The international nonprofit organization's mission is to reduce the worldwide burden of fire and other hazards. They provide and advocate consensus codes and standards, research, training and education. Visit NFPA's Web site at www.nfpa.org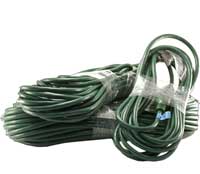 What about Lead?
Recently there have been many questions raised about the lead content in Christmas trees and lights strings. The wires included in our trees and in our light strands contain trace amounts of lead. Most household appliance cords contain the same small amount of lead that is used to insulate the wire. Our suppliers use the lowest lead content possible while maintaining all insulation safety standards required by law.
Read further for a safe shopping experience: 7 Considerations When Buying an Artificial Christmas Tree
Ready to shop? We have a great selection of realistic Artificial Christmas Trees that will ship in 24 hours!
Narrow your selection using our helpful Tree Finder tool.