Going Green for Christmas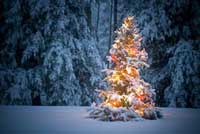 Last year an estimated 9.3 million artificial trees were sold in the United States. Half the trees put up during the 2008 Christmas holiday season were artificial trees. More people are choosing to abandon their traditional cut Christmas tree in favor of an Artificial Christmas Tree. For many people it may be a simple matter of not wanting to spend the time or gas to drive to the local tree lot or tree farm to purchase a live tree. People would prefer to invest their time and gas shopping for holiday gifts. Some dread the end of the season and the cleanup a live tree demands, while others are tired of the maintenance of a live tree and the fire hazards associated with dry trees.
Our trees are all produced in factories committed to sustainability. Measures are taken to reduce energy usage, and production materials are reduced, recycled, and reused. "Green Engineering" technologies are constantly being developed in a strong effort to create environmentally friendly materials, and transportation and distribution decisions focus on the overall effort to reduce each person's carbon footprint.
Artificial Christmas Trees
The quality of artificial Christmas trees has dramatically improved during the past five years, with artificial Christmas trees becoming incredibly realistic in their appearance with larger selections of styles, sizes, shapes, and colors. Today's trees may be purchased prelit with a variety of lighting options ranging from clear or multi colored mini lights to frosted, twinkle, and now even LED lights. Our trees are safe and treated with a flame retardant material. Unlike live trees, our artificial trees have not been treated with pesticides and have been tested for compliance with all regulations.

Tree Storage Bags
Artificial Christmas trees are easy to put up and take down and they last for many years. You can put them up as early as you would like and take them down long after the Christmas season - there are no time constraints compared to those found with a live tree. Artificial Christmas trees require little maintenance since they do not require watering, they do not shed their needles or drip sap, and when the holiday season is over you simply pack it away in your Tree Storage Bag and store it until next season. There are no worries as to how you will dispose of your tree.
Conservation experts question the cutting down of millions of live trees each year and the impact it has on our environment. Many of the live trees never get properly recycled and contribute to the tons of extra garbage picked up each holiday season which require disposal. Legitimate arguments can be made by live Christmas tree growers to purchase a live tree, and ultimately it's up to the you as the consumer to decide which tree best fits your lifestyle.
LED Christmas Lights: Are they environmentally friendly?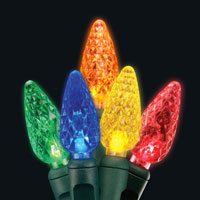 C6 Strawberry LEDs
Yes. LED technology offers the ability to generate light longer with less degradation, and at a lower cost per lumen than traditional fluorescent lamps. Reports show that around 9% of your house energy costs come through lighting in your home. A majority of the power required to light an incandescent lamp is lost in heat and a very small portion produces the light. LED lights require only a tiny 10-20% of the power required to produce the same amount of light as an incandescent lamp. LEDs produce directional light and the light more closely resembles natural light. LEDs are cool to the touch and have a long life span as opposed to an incandescent lamp. Prices continue to fall each year on LED lights which is all the more reason to convert all your existing conventional lighting to LED lights. LEDs are a long term investment that will begin paying for itself in the first year of use.
Aside from their energy saving features, LED Christmas lights are ecologically friendly to the environment both due to their long life span, which reduces waste and garbage, and they are composed of electronic components rather than a filament in a gas enclosed bulb. LED bulbs can be disposed of in a manner similar to any other electronic equipment, while other types of lights require specific disposal methods. Some non-LED bulbs contain gases that are potentially dangerous when inhaled if the outer glass is broken and the gas is allowed to escape. LEDs are the newest and upcoming generation of lighting that will be commonplace in the near future.
We realize our customers have busy schedules during the holiday season and we've designed our website to be easily navigated by the first time visitor and seasoned veteran alike. All our products are categorized in easy to use tabs and product categories. We have included many help sections highlighted throughout our website that can be easily accessed by clicking on the key phrase or word. We offer a variety of payment options, and orders can be placed over the Internet or phone with our highly qualified staff.
Energy Star products are proven to save you energy while helping the environment.
Sold on artificial trees but nervous about quality? Read our 7 Considerations when Buying an Artificial Christmas Tree to learn why you should shop at Christmas Lights, Etc.
Email Specials & Promos - sign up for instant holiday savings