Light Up Your 4th!
FREE SHIPPING ($100+)
USE CODE: PARTY100
LED Christmas Lights Guide
LED Christmas lights are energy saving lighting and are available in a larger variety of colors and sizes than traditional Christmas lights. Whether you prefer purchasing bulbs and stringers separately, prelamped strings, net and icicle lights, craft lights, or rope light, you can find it all in LED. The more you light up, the more energy you save.
Energy Star testing has shown that 140 LED lights can be powered using the same amount of electricity needed to power just a single 7-watt incandescent bulb. That is roughly the equivalent of two LED light strings compared to a single bulb. Compare Energy Star LED Christmas lights with regular incandescent lights:
LED Christmas Lights
Save 80-90% energy
Extremely low wattage

Single Red C7 bulb: 0.96 watts
70 count mini light string: 4.8 watts, connect 43
25 count C7 prelamped string: 2.4 watts, connect 87
Incandescent Christmas Lights
Uses 80-90% more energy than LEDs
Higher wattage than LED

Single Red C7 bulb: 5 watts
100 count mini light string: 40.8 watts, connect 5
25 count C7 prelamped string: 125 watts, connect 2
Comparing LED White vs Clear Incandescent Bulbs
Loading video...
LED lights are designed to last for many years, in both construction of the physical bulb, and the technology of the LED. An investment in LEDs guarantees many more years of use than that of incandescent lights.
LED Christmas Lights
Rated for 50,000 - 200,000 hours
No burn out factor
Unbreakable bulbs with plastic construction
Color is emitted through diodes, remaining vibrant through the life of the bulb
Prelamped strings are water tight single piece construction since bulbs do not need to be replaced
Durable bulbs are easier to store
Incandescent Christmas Lights
Rated for 3,000 hours
Bulbs burn out
Easily broken glass bulbs
Color is created through painted glass which can fade, chip and crack
Prelamped strings have removable bulbs since lamps burn out often
Bulbs are easily damaged in storage
The diodes and the integrated circuit board allow LED lights to offer fun technology in decorating, including dimming light, morphing light, and color change. Dimming LEDs use the ability to control the amount of power being sent to the diodes, sending less for dim light and more for bright light. Morphing LED lights slowly fade between different colors, and color change flash from red to green. Falling icicles and Grand Cascade lights are another fun LED holiday light, with LEDs chasing down tubes to simulate the appearance of falling snow.
Loading video...
Energy efficient LED bulb colors are strong and vibrant, offering all popular colors from red to green, as well as a variety of whites ranging from warm white to cool white. Knowing the Kelvin temperature, which measures whether light is warm or cool, helps to enhance an atmosphere through color. For a cozy, in-home color, choose white lights with a Kelvin temperature between 2700K - 3000K. Cool white energy efficient LED light bulbs typically have a Kelvin temperature of 3600K - 4900K. Knowing the lumens in LED lights is also helpful, which is simply the amount of light visible to the human eye.
LED Christmas light strings and bulbs come in a great variety of styles, sizes, and shapes.
Styles: Prelamped Strings, Replacement Bulbs, Net Lights, Icicle Lights, Fairy Lights, Trunk Wraps, Rope Light, Snowfall, Cascade T8, Battery Operated
Sizes: C9, C7, C6, G12, Mini, 5mm
Shapes: Traditional, Round, Wide Angle, Micro, and many more...
LED Christmas lights strings have significant impact on the environment, leading schools, cities, governments and states to mandate the use of LED lights in commercial decorating. Giant Christmas trees are lit using energy efficient LED lights, with a 35' commercial LED tree using an average of 9,269 watts less than a tree lit using incandescent mini lights. Consider the 12' commercial silhouette with LED lights that uses 473 watts compared to the exact same silhouette lit with incandescent lights using 3444 watts. Tax payer money is being invested in LED decorations and lights, saving massive amounts of power and operating costs, and reducing the need to replace decorations and lights. Landfills benefit from the decrease in waste, including the reduced annual disposal of the glass bulbs and wire frames and other components of the products, as well as the packaging.
---
Shop LED Lights
M5 - LED Mini Light
LED Mini Lights
Energy Saving, Brighter Burn, Longer Lasting
Huge Selection of Colors available
Shop M5 LED Lights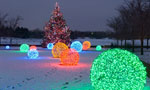 Wide Angle 5MM LED Lights
5MM Wide Angle LED Lights
Conical shape casts light for increased illumination
Many bulb colors, White and Green Wire available
Shop 5mm LED Lights
How To...
Christmas Lights Wattage
Learn more about wattage and amperage on Christmas lights, including how many lights you can run on a single outlet and how many strings can be connected together.
---
Christmas Lights Power Consumption
Understand electricity power consumption and how much it would cost to power your house during the Christmas season.
---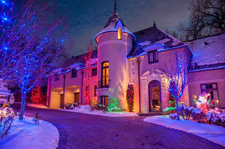 Outdoor Christmas Lights Ideas for the Roof
Outdoor Christmas lights have the strongest impact when outlining the roof. Find themes and ideas on hanging lights on the roof for the holidays.
---