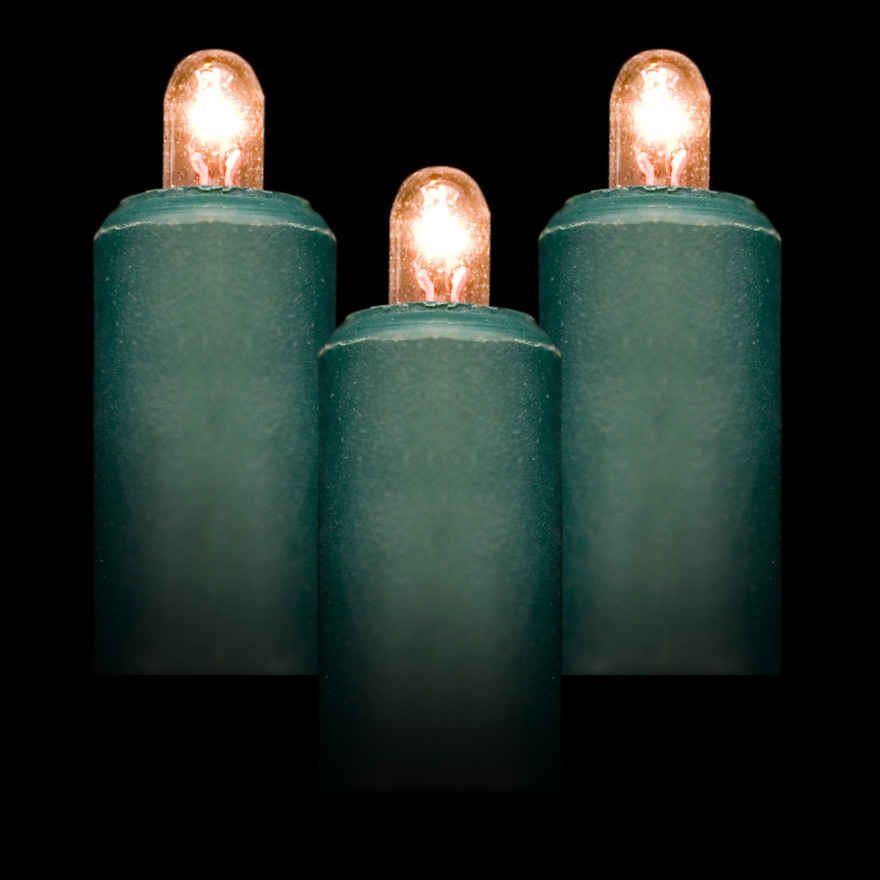 100 Clear Rice Lights, 2.5" Spacing, Green Wire
Item: U14181
Clear mini Christmas lights
100 count incandescent bulbs
2.5" spacing on green wire
22.6' long
End-to-end connection with male and female plugs
Connect up to 09 strings
One light goes out the rest stay lit
UL Listed, Indoor / Outdoor
| | |
| --- | --- |
| Light Count: 100 | Wire Color: Green |
| Light Color: Clear | Bulb Spacing: 2.5 in |
| String Length: 22.6 ft | Lead Length: 20 in |
| Max Sets Connected: 09 | Tail Length: 4 in |
| Bulb Size: Rice | Wire Gauge: 22 |
| Male Plug Type: Fused/Stackable | Light Display: Steady |
| Female Plug Type: End-to-End | Grade: Standard |
| Average Hours: 3,000 | Twist Proof Bulbs: No |
| Bulb Technology: One goes out the rest stay lit | Lamp Lock Bulbs: No |
| Bulb Type: Incandescent | Removable Bulbs: Yes |
| Voltage: 120 | Bulb Voltage: 2.5 |
| Watts Per Bulb: 0.225 | Rating: UL Listed |
| Usage: Indoor / Outdoor | Watts: 22.5 |
| Amps: .20 | Light Color: Clear |
| Bulb Size: Rice | |
Reviewed by William R.
on Sunday, January 19, 2014
100 Clear Christmas Rice Lights
Stars
I'm happy, they are exactly what I wanted, and quick service.
Reviewed by Deborah K.
on Wednesday, July 25, 2012
Good Product-Good Company
Stars
Thank you for offering this product. I would like to say something about how quick I got my order. Good job. Could you see about offering amber rice lights? I know me and my friends are looking for them.. Thank you again.
Reviewed by Ann M.
on Sunday, December 09, 2012
christmas rice lights
Stars
EXACTLY the lights I wanted for my country home at Christmas! AND the delivery speed was amazing!
Reviewed by Mary R.
on Sunday, December 16, 2012
Sparkly and bright
Stars
I purchased these for my ficus tree in the family room - will leave them on all year. Love how sparkly and bright they are - perfect!
Reviewed by Gary S.
on Saturday, January 19, 2013
Clear Rice Lights
Stars
The rice lights met my expectations.
Reviewed by Bertha F.
on Monday, December 03, 2012
rice lites
Stars
very pleased w/ the effect and my rice lights
Reviewed by Joanne P.
on Wednesday, December 12, 2012
Great Lights
Stars
Great lights, graet prices, & customer service rep was outstanding, will be back for more someday.
Products Related To Standard Clear Mini Lights
Email A Friend
Write A Review