100 Clear Twinkle Christmas Tree Mini Lights, 6" Spacing, Green Wire
Item: U15260
Clear mini Christmas lights
Soft twinkle mini lights
100 count incandescent bulbs
6" spacing on green wire
50.5' long
End-to-end connection with male and female plugs
Connect up to 05 strings
One light goes out the rest stay lit
UL Listed, Indoor / Outdoor
| | |
| --- | --- |
| Light Count: 100 | Wire Color: Green |
| Light Color: Clear | Bulb Spacing: 6 in |
| String Length: 50.5 ft | Lead Length: 6 in |
| Max Sets Connected: 05 | Tail Length: 6 in |
| Bulb Size: Mini | Wire Gauge: 22 |
| Male Plug Type: Fused/Stackable | Light Display: Twinkle |
| Female Plug Type: End-to-End | Grade: Standard |
| Average Hours: 3,000 | Twist Proof Bulbs: No |
| Bulb Technology: One goes out the rest stay lit | Lamp Lock Bulbs: No |
| Bulb Type: Incandescent | Removable Bulbs: Yes |
| Voltage: 120 | Bulb Voltage: 2.5 |
| Watts Per Bulb: 0.408 | Rating: UL Listed |
| Usage: Indoor / Outdoor | Watts: 40.8 |
| Amps: .37 | Light Color: Clear |
| Bulb Size: Mini | |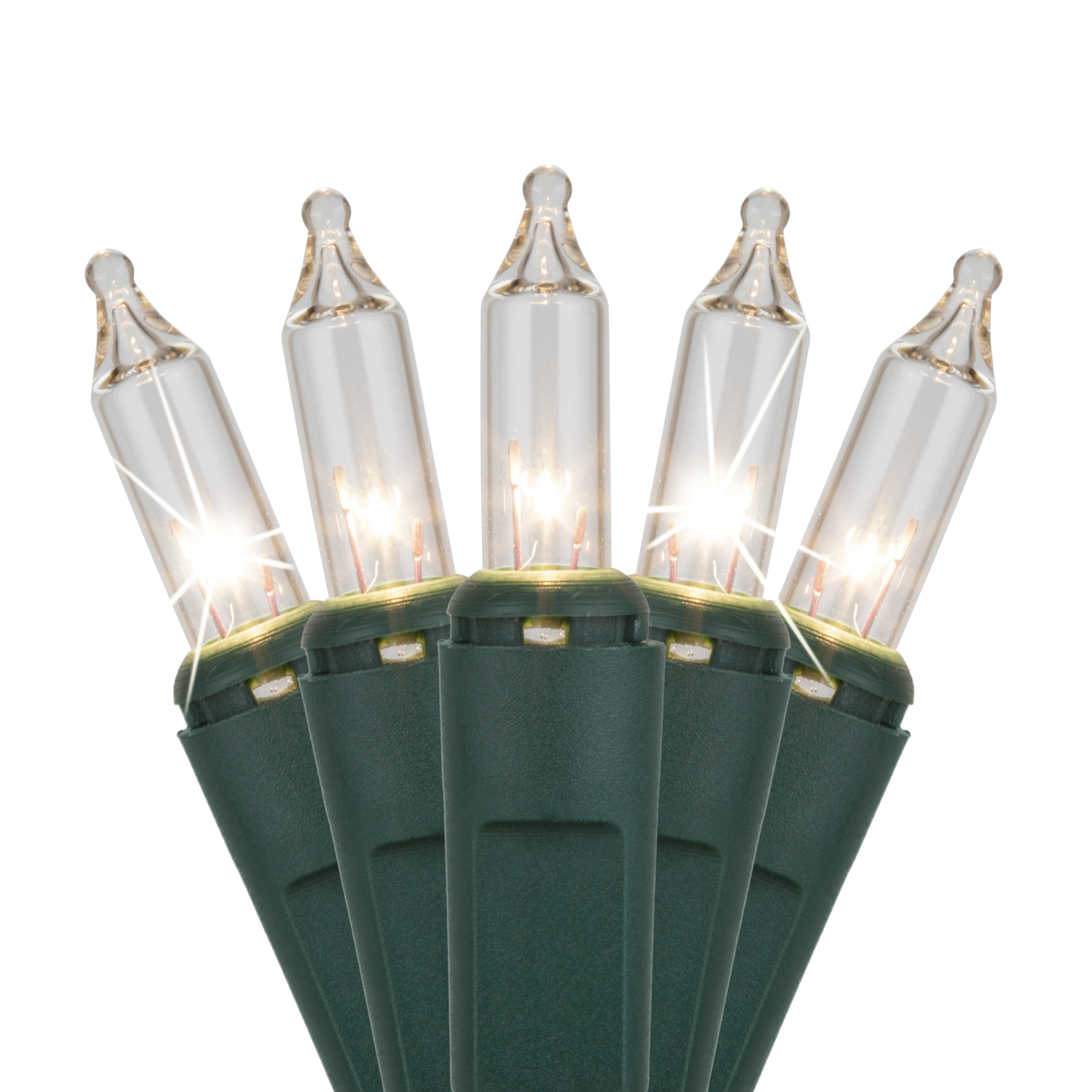 35 Clear Twinkle Christmas Tree Mini Lights, 6" Spacing, Green Wire
$6.99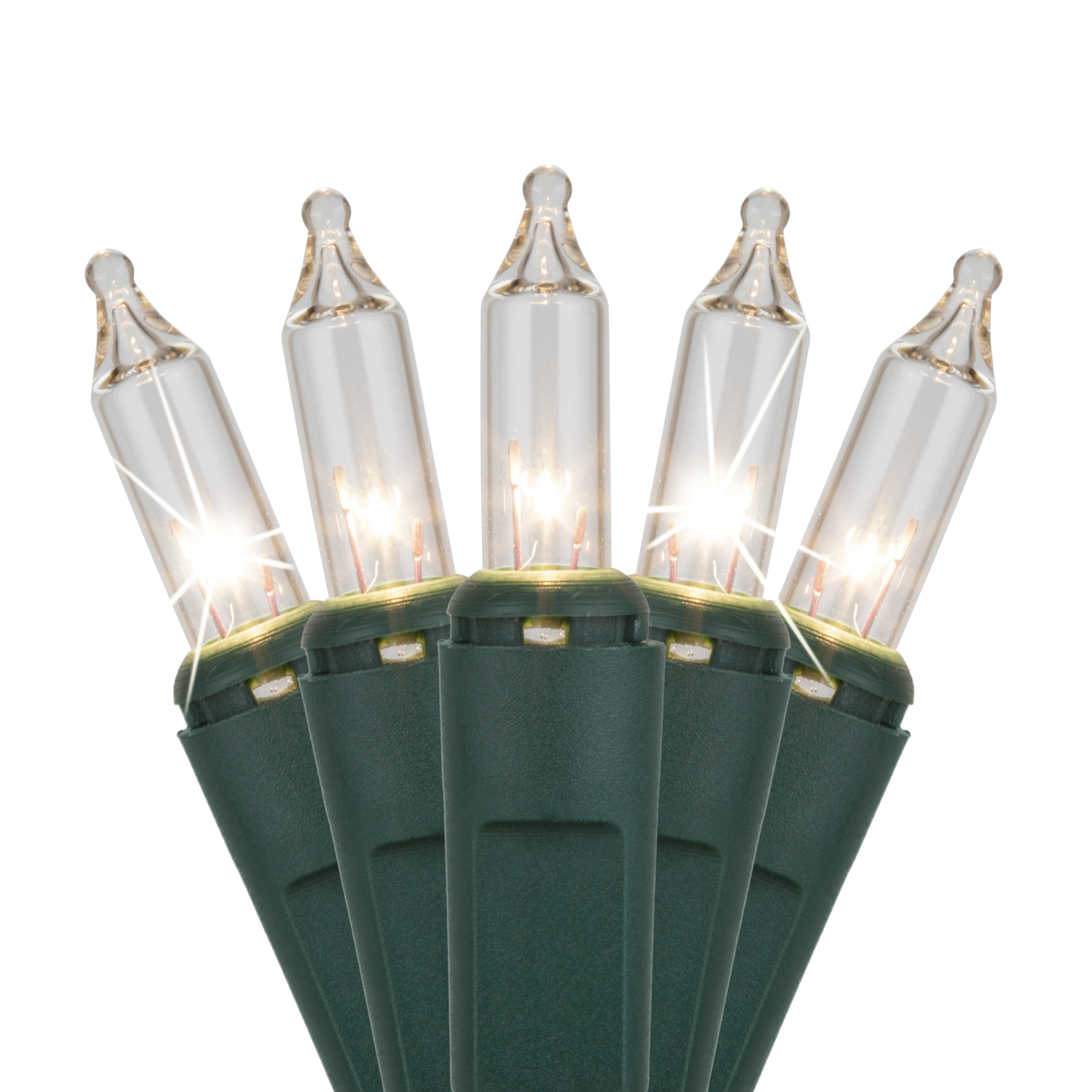 50 Clear Twinkle Christmas Tree Mini Lights, 6" Spacing, Green Wire
$8.99
Reviewed by John Y.
on Wednesday, December 19, 2012
Clear Twinkle Mini Lights
Stars
The twinkle lights worked out very well on my tree. I received them within 4 days. Very good product. Thank You.
Reviewed by judy h.
on Monday, December 31, 2012
Clear Twinkle Mini Lights
Stars
After much shopping around i decided to give these a try. There are no twinkle lights on the market to find anywhere. These are perfect and twinkle, not shimmer or flash!
Reviewed by Gail R.
on Wednesday, December 12, 2012
twinkle lights
Stars
These lights were just what I was looking for and at a reasonable price. They completed my outdoor display with just enough twinkle to make it even more festive.
Reviewed by John G.
on Wednesday, May 30, 2012
Twinkle mini lights make the backyard!
Stars
Used these lights in backyard. They make the yard look special. Only problem was I ordered 10 strands and one strand would not light. I did not pursue a credit, and don't know if one was available. Otherwise, I will be ordering these again.
Reviewed by Mitch B.
on Wednesday, November 14, 2012
Love those twinkiling bulbs
Stars
I got these last year and they really made the trees in the yard look amazing. Got some more this year to put in the back yard. Now our whole yard twinkles for Christmas!
Reviewed by Clare H.
on Saturday, January 18, 2014
100 Clear Twinkle Mini Lights - Very Happy
Stars
I was thrilled that Christmas Lights, Etc had twinkling lights. You just cannot find them anywhere anymore. I hate the blinking kind where the entire string blinks off and on. Who wants that on their tree. These lights arrived very fast and they look awesome on our Christmas tree. Thanks.
Reviewed by Jeff L.
on Friday, October 26, 2012
Love the twinkling mini lights
Stars
Love the twinkling lights. I gave a set to my niece and put up two sets in my backyard tree.
Reviewed by Donna T.
on Monday, October 29, 2012
Twinkle like snow
Stars
I love the twinkle lights as when they are on a tree, or I also use them in my garden, it gives a special touch that that looks elegant.
Reviewed by Carmen W.
on Saturday, July 21, 2012
twinkle lights
Stars
I have a year round tree in my bar and grill the twinkle lights make it sparkle i love sparkle, wish you could get other colors thanks
Reviewed by Diane C.
on Sunday, January 19, 2014
100 Clear Twinkle Mini Lights
Stars
These are true twinkles, not flashers or chasers. We love these on our garland all over the house. Great for summertime parties too!
Reviewed by Rodger Z.
on Wednesday, January 25, 2012
Ready for next year
Stars
I purchased for next years tree. 2nd time I have done this anf it works for me.
Reviewed by Joan D.
on Thursday, December 27, 2012
Twinkle mini lights: Spent a little more to get a great effect.
Stars
I bought these lights so I could re-string an artificial tree. I knew it was going to be a lot of work, and something I would only do once, no matter how much I liked the tree. I decided to pay a little more to invest in lights that would be a little distinctive. I am very pleased with the effect of these lights - soft and glimmering. Sincere compliments from family and friends, too. Worth the extra cost and effort.
Reviewed by Randy B.
on Saturday, December 29, 2012
Lights work very well
Stars
These lights give off a bright warm ligth that is pleasing to look at. The twinkle version is also set at a slow and pleasant speed.
Reviewed by David P.
on Sunday, January 01, 2012
Clear Twinkle lights
Stars
Glad your service is available. Thanks and Happy Holidays.
Products Related To Twinkle Chasing Mini Lights
Email A Friend
Write A Review