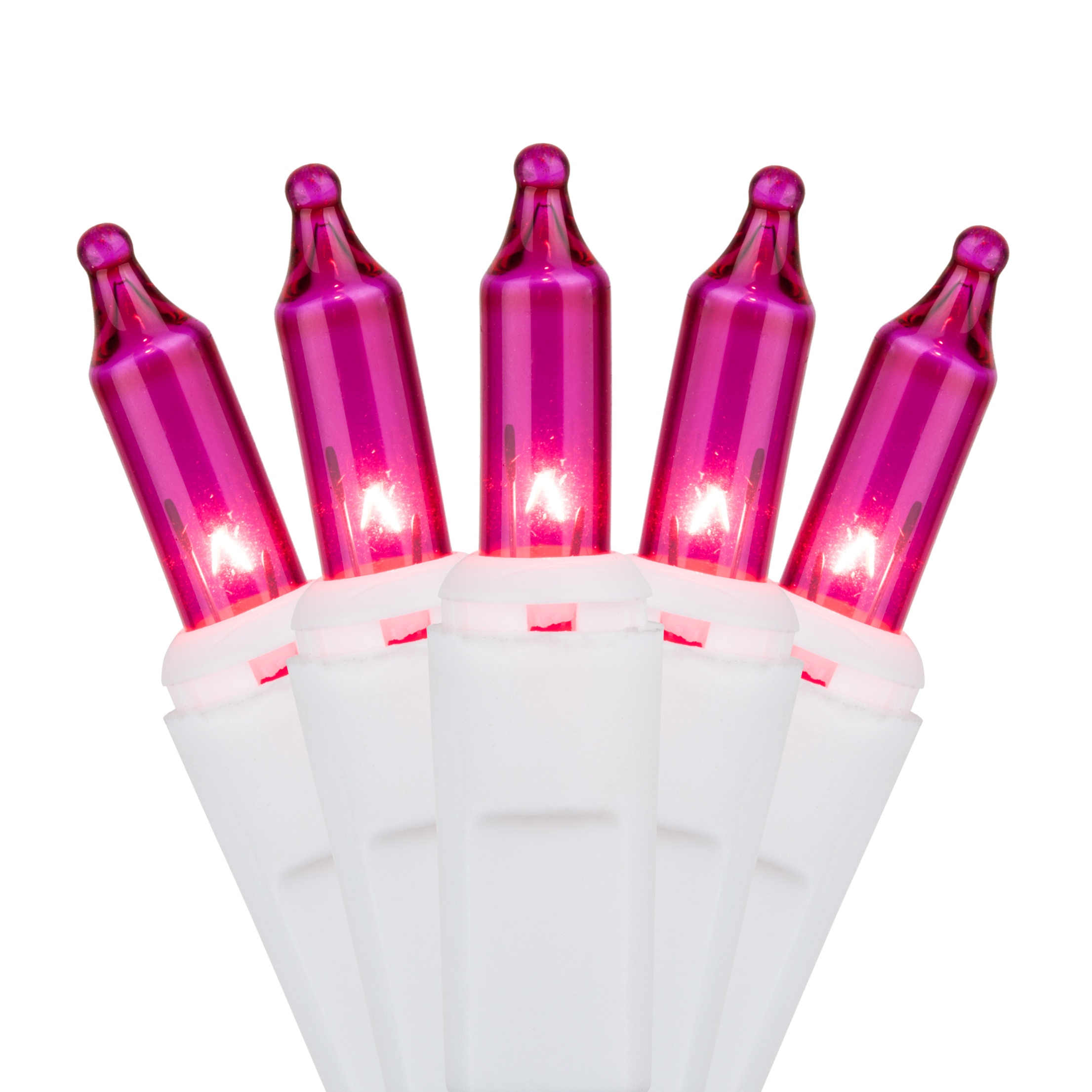 100 Pink Christmas Tree Mini Lights, 2.5" Spacing, White Wire
Item: U18748
Pink mini Christmas lights
100 count incandescent bulbs
2.5" spacing on white wire
21.1' long
End-to-end connection with male and female plugs
Connect up to 05 strings
One light goes out the rest stay lit
UL Listed, Indoor / Outdoor
| | |
| --- | --- |
| Light Count: 100 | Wire Color: White |
| Light Color: Pink | Bulb Spacing: 2.5 in |
| String Length: 21.1 ft | Lead Length: 3 in |
| Max Sets Connected: 05 | Tail Length: 3 in |
| Bulb Size: Mini | Wire Gauge: 22 |
| Male Plug Type: Fused/Stackable | Light Display: Steady |
| Female Plug Type: End-to-End | Grade: Standard |
| Average Hours: 3,000 | Twist Proof Bulbs: No |
| Bulb Technology: One goes out the rest stay lit | Lamp Lock Bulbs: No |
| Bulb Type: Incandescent | Removable Bulbs: Yes |
| Voltage: 120 | Bulb Voltage: 2.5 |
| Watts Per Bulb: 0.408 | Rating: UL Listed |
| Usage: Indoor / Outdoor | Watts: 40.8 |
| Amps: .37 | Light Color: Pink |
| Bulb Size: Mini | |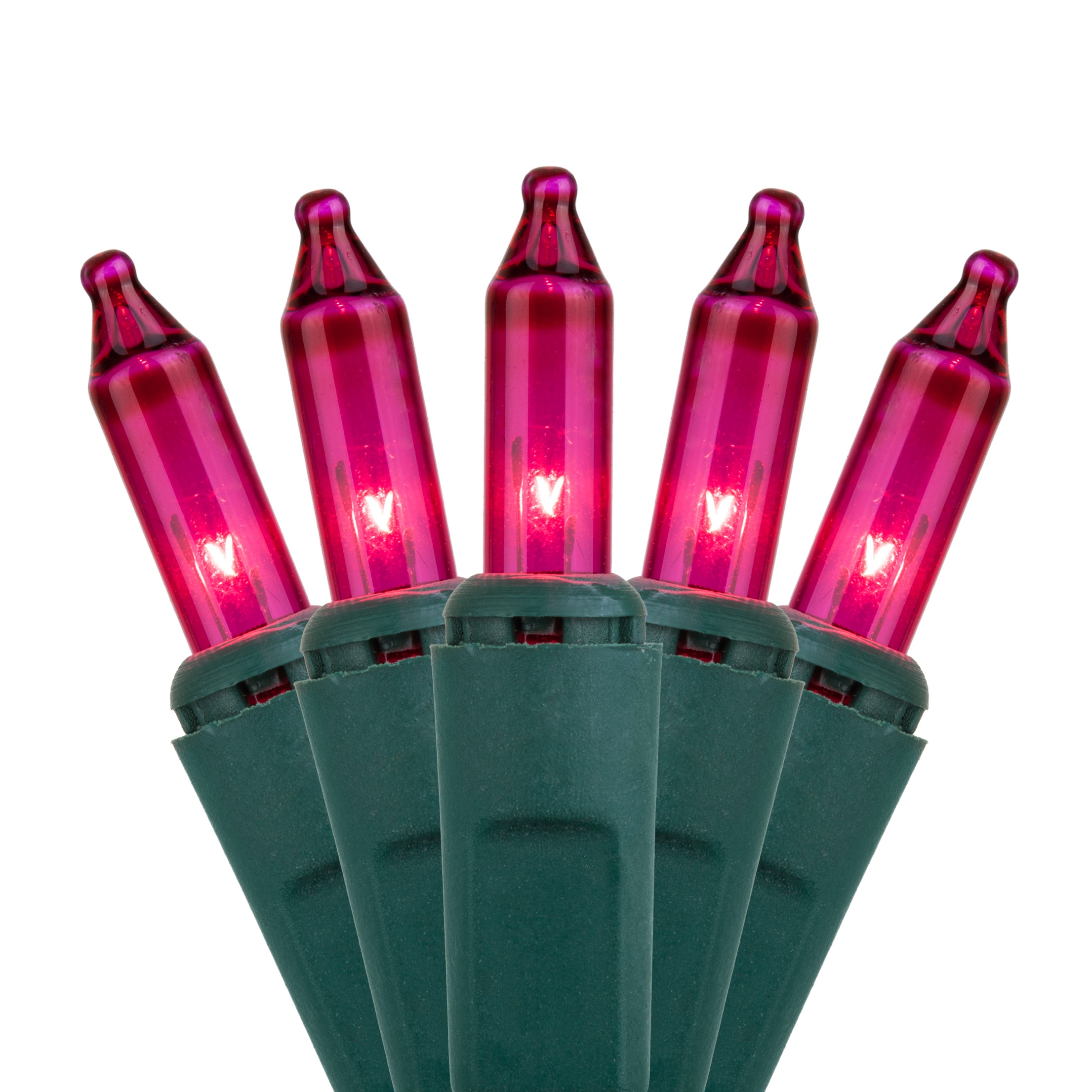 100 Pink Christmas Tree Mini Lights, 6" Spacing, Green Wire
Sale: $12.59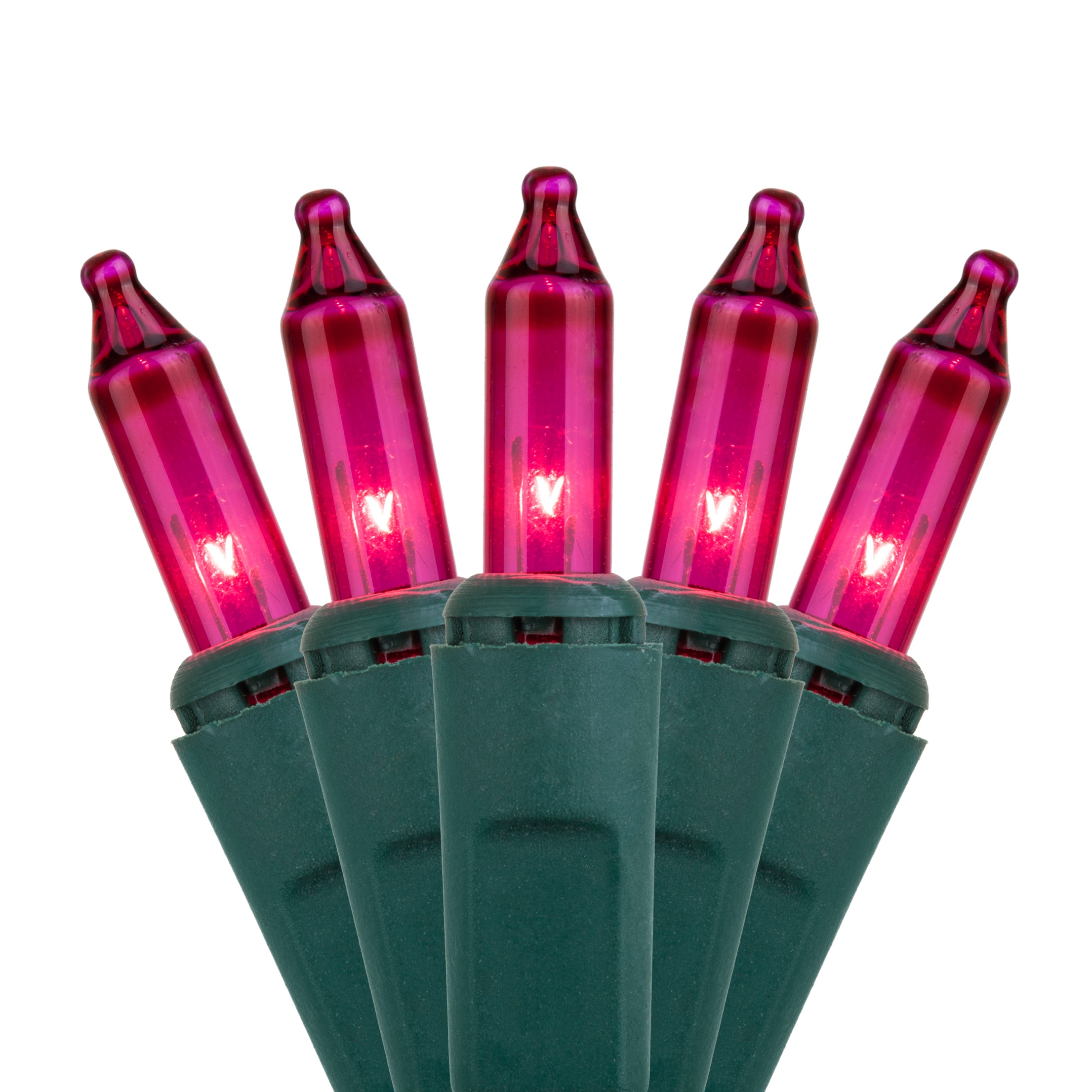 50 Pink Christmas Tree Mini Lights, 6" Spacing, Green Wire
Sale: $7.19
Reviewed by Donna K.
on Saturday, October 27, 2012
Pink Christmas Lights
Stars
My daughter loves them. I just wish they came faster.
Reviewed by Brian L.
on Friday, December 07, 2012
Lights for daughter's white tree
Stars
I searched and searched in stores for pink lights on white wire and didn't have any luck. Ordered these on a Sunday night and they arrived 3 days later, perfect. They look great on my daughter's white tree!
Reviewed by DAVID T.
on Saturday, March 23, 2013
Pink Mini Lights
Stars
These are nice and bright, great for Easter and Spring. I will be buying more Christmas lights.
Reviewed by Lorna P.
on Wednesday, February 20, 2013
Pink Mini Lights
Stars
I plugged them all in and I'm excited they work. I do a pink and purple tree for Christmas, so I am excited for next year.
Reviewed by Thomas S.
on Thursday, December 06, 2012
Great Product!
Stars
Great Product, Fast Shipping! Very Happy with my pink mini lights!!
Reviewed by donna k.
on Thursday, November 15, 2012
100 Pink Christmas Tree Mini Lights, 2.5" Spacing, White Wire
Stars
These pink lights were for my daughters dorm room. She loves them! Thank you!
Products Related To Standard Pink / Fuchsia Mini Lights
Email A Friend
Write A Review