C9 Green Replacement Bulbs, Transparent
Item: U15144
Green Christmas lights bring the season to life with warm glow and traditional color themes. Transparent Green C9 replacement bulbs light up Christmas and holidays. Triple Dipped Transparent Christmas lights illuminate in rich hues, while nickel bases prevent corrosion for 3,000 hours of Indoor / Outdoor display. 7 watt incandescent 130 volt light bulbs shine brighter. E17 Intermediate base size screws into regular C9 sockets. Great retro Christmas light to hang from rooflines and for wrapping trees.
C9 bulbs
E17 - Intermediate base size
7 watts
Transparent Green
Steady light display
Nickel base
| | |
| --- | --- |
| Bulb Size: C9 | Bulb Size: C9 |
| Light Color: Green | Light Display: Steady |
| Watts Per Bulb: 7 | Coating: Triple Dipped Transparent |
| Base Size: E17 - Intermediate | Base Material: Nickel |
| Bulb Diameter: 1.18" | Weather Resistant: Weather Resistant |
| Peel Resistant: Peel Resistant | Average Hours: 3,000 |
| Bulb Voltage: 130 | Usage: Indoor / Outdoor |
| Light Color: Green | Bulb Type: Incandescent |
| Voltage: 120 | |
C9 Green Replacement Bulbs, Opaque
Sale: $6.38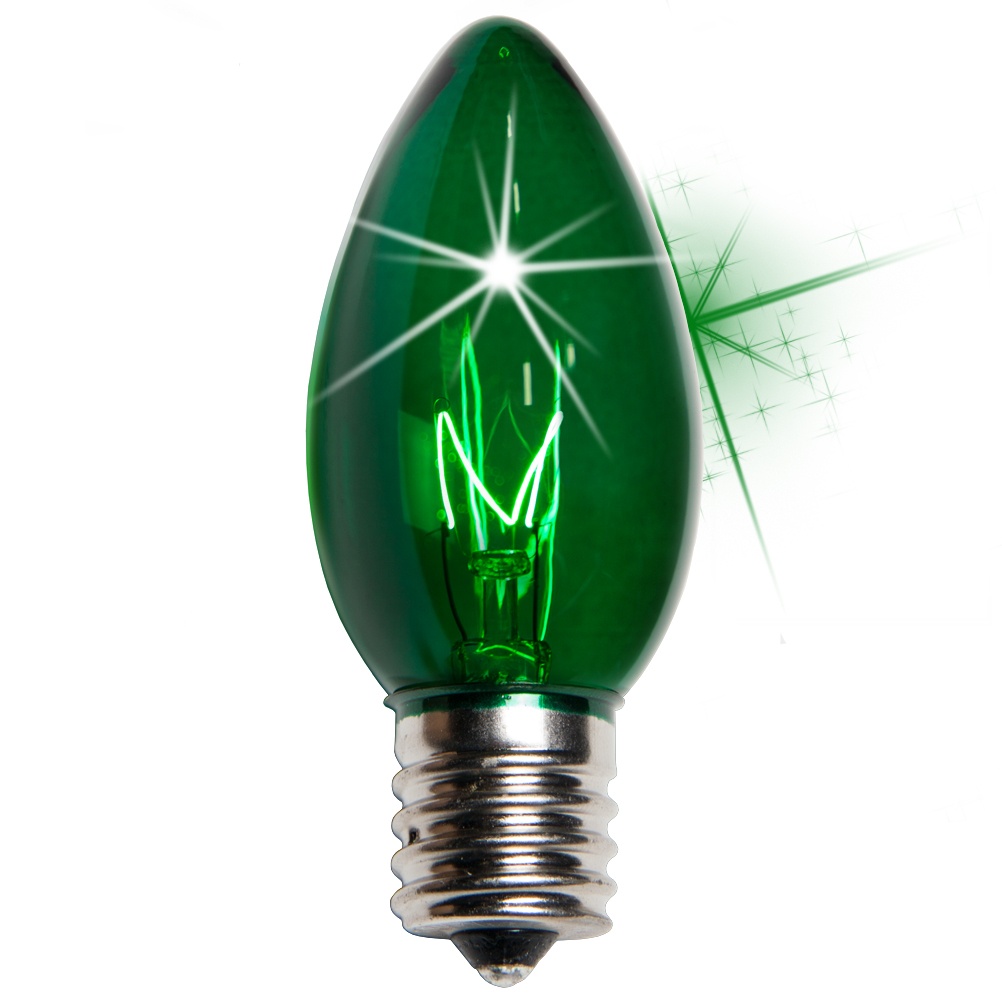 C9 Twinkle Green Replacement Bulbs
$12.50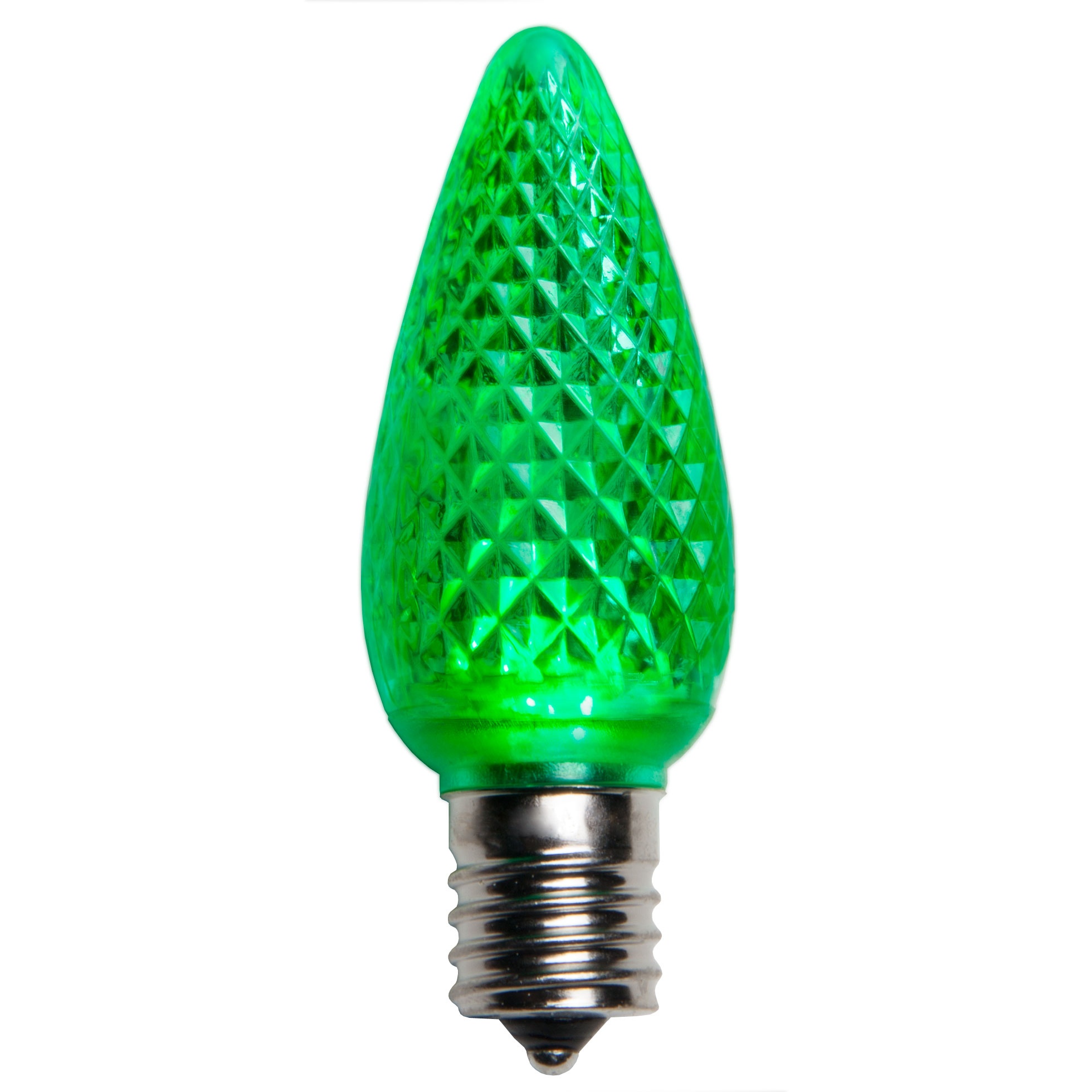 C9 Green LED Christmas Replacement Bulbs
$45.50
Reviewed by Lori B.
on Sunday, January 19, 2014
C9 Green Transparent Replacement Bulbs
Stars
Every bulb worked, and it shipped faster than I expected. They were packaged to reduce possible breakage and the price was great!
Reviewed by Robert P.
on Saturday, January 18, 2014
Best C9 Green Transparent Christmas Bulbs
Stars
I have been buying these bulbs for several years, and I am very happy with them. One year I decided to try some from another online company because they were cheaper, and after 4-5 weeks in the sun the coloring all blistered off. They did refund my entire payment, but I will never buy their lights again! These bulbs by Christmas Lights Etc., are durable. I reuse at least 85% of each new batch the next year, and most are still good the following year, etc. The color stays on.
Reviewed by Brent B.
on Saturday, January 18, 2014
C9 Green Replacment Bulbs
Stars
I could not afford to buy replacement bulbs for my house at a local store, and I got what I needed just in time. Thank you!
Reviewed by Karen Z.
on Thursday, December 20, 2012
replacement bulb
Stars
Good value for your money and promp shipment
Reviewed by Sandra E.
on Tuesday, December 18, 2012
Great purchase!
Stars
We love these bulbs and are planning on ordering another box to have on hand when we need replacements. Very good quality and would recommend them to anyone.
Reviewed by Barbara P.
on Friday, December 28, 2012
C9 bulbs
Stars
Spectacular color! Fast shipping!
Reviewed by Gerald S.
on Wednesday, February 06, 2013
C9 Green Transparant Lights
Stars
Great, extremely fast shipping!
Reviewed by SHARON P.
on Saturday, December 08, 2012
Exactly what I've been looking for
Stars
Love the color. Finding replacement bulbs in all green are impossible to find in stores, so I'm pleased with this no-hassle process of buying online. Shipping package very secure for no breakage.
Reviewed by Laura V.
on Monday, December 10, 2012
Green with Envy
Stars
I purchased 100 of these green bulbs as well as 100 red. The colors are true and clear. They arrived quickly and no broken bulbs. We were able to finish our Christmas decorating on time.
Reviewed by Todd C.
on Tuesday, December 04, 2012
C9 Transparent Green, 7 Watt, 25 Triple Dipped Replacement Lamps
Stars
C9 Bulbs were delivered on time and in great shape. Color is perfect for our decorating plans.
Products Related To Christmas Bulbs - C9 Transparent
Email A Friend
Write A Review