150 Clear/Blue Icicle Lights - White Wire
Item: U15233
150 count Clear Icicle Lights
Incandescent Mini lights on a 9.0' White wire
Premium grade icicle lights with 27 drops
Hanging icicle lights outline rooftops and fence lines
| | |
| --- | --- |
| Light Count: 150 | Wire Color: White |
| Light Color: Clear, Blue | Bulb Spacing: 3 in |
| String Length: 9.0 ft | Spacing Between Drops: 4 in |
| Max Sets Connected: 03 | Drop Count: 27 |
| Lead Length: 12 in | Drop Length: 18" - 15" - 12" - 9" |
| Tail Length: 4 in | Light Display: Steady |
| Bulb Size: Mini | Male Plug Type: Fused/Stackable |
| Wire Gauge: 22 | Female Plug Type: End-to-End |
| Grade: Premium | Bulb Technology: One goes out the rest stay lit |
| Removable Bulbs: Yes | Bulb Material: Glass |
| Average Hours: 3,000 | Rating: UL Listed |
| Voltage: 120 | Bulb Voltage: 2.5 |
| Watts Per Bulb: 0.425 | Usage: Indoor / Outdoor |
| Watts: 63.75 | Amps: .58 |
| Light Color Group: Blue | Bulb Type: Incandescent |
| Bulb Size: Mini | Wattage: 63.75 |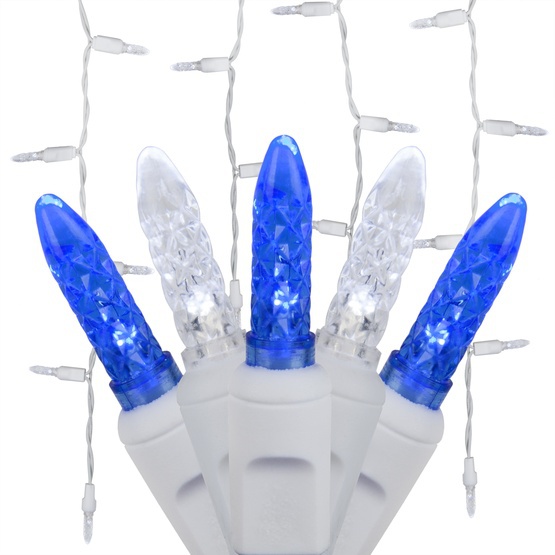 70 M5 Blue and White LED Icicle Lights
$27.99
70 M5 Blue LED Icicle Lights
$26.99
100 Blue Icicle Lights, White Wire, Short Drops
Sale: $7.99
Reviewed by AnnMarie H.
on Wednesday, January 09, 2013
Blue and Clear Icicle Lights
Stars
I just love them. Also they were a good price.
Reviewed by Janie M.
on Sunday, December 23, 2012
Blue and clear icicle lights
Stars
Beautiful. Look just like I thought they would. From the road you can see the blue lights, because the clear ones don't over power them.
Products Related To Traditional Icicle Lights
Email A Friend
Write A Review