70 M5 Blue LED Icicle Lights
Item: U20297
70 count Blue LED Icicle Lights
LED M5 lights on a 7.5' White wire
Premium grade icicle lights with 15 drops
Hanging icicle lights outline rooftops and fence lines
Energy saving LED lights use less power, allowing more icicle strings to be connected together
LED lights last longer and are virtually unbreakable
| | |
| --- | --- |
| Light Count: 70 | Wire Color: White |
| Light Color: Blue | Bulb Spacing: 3 in |
| String Length: 7.5 ft | Spacing Between Drops: 6 in |
| Max Sets Connected: 43 | Drop Count: 15 |
| Lead Length: 6 in | Drop Length: 9" - 14" - 19" |
| Tail Length: 6 in | Light Display: Steady |
| Bulb Size: M5 | Male Plug Type: Fused/Stackable |
| Wire Gauge: 22 | Female Plug Type: End-to-End |
| Grade: Premium | Bulb Technology: One goes out the rest stay lit |
| Removable Bulbs: No | Bulb Material: Acrylic Resin |
| Average Hours: 200,000 | Rating: UL Listed |
| Voltage: 120 | Watts Per Bulb: 0.069 |
| Usage: Indoor / Outdoor | Watts: 4.83 |
| Amps: .04 | Light Color Group: Blue |
| Bulb Type: LED | Bulb Size: M5 |
| Wattage: 4.83 | |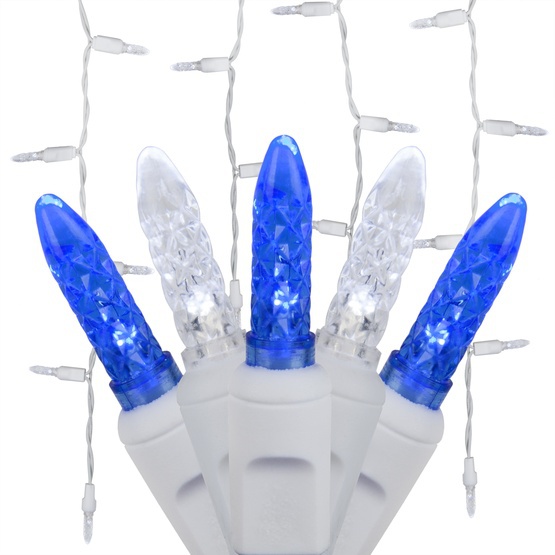 70 M5 Blue and White LED Icicle Lights
Sale: $19.99
100 Blue Icicle Lights, White Wire, Short Drops
Sale: $7.99
150 Blue Icicle Lights - White Wire
$15.99
Reviewed by Brad B.
on Saturday, January 18, 2014
Blue LED Icicle Christmas Lights
Stars
We love our Christmas lights. The color stands out like no other.
Reviewed by Sonya S.
on Wednesday, January 11, 2012
70 LED Sapphire blue icicle lights
Stars
VERY pleased with the light sets I ordered...The color and brightness was very satisfactory!!!!...I plan on ordering more for next year...VERY Happy with them...Thank You!!!!
Reviewed by Jeffrey M.
on Friday, January 13, 2012
North Pole in Florida
Stars
I have always liked the look of icicle lights, so when my regular Christmas lights started burning out, I deceided to try the LED version. I could not believe how great they were. I thought that they would be a lot dimmer than traditional lights, but I was wrong. The light sets are even brighter than the traditional icicle lights. Am I happy? 100% and would (will) change over to LED's on the rest of my lights.
Products Related To LED Icicle Lights
Email A Friend
Write A Review