C9 White Replacement Bulbs, Opaque
Item: U15139
Frosted White C9 replacement bulbs light up Christmas and holidays. Opaque Christmas lights illuminate in rich hues, while nickel bases prevent corrosion for 3,000 hours of Indoor / Outdoor display. 7 watt incandescent 130 volt light bulbs shine brighter. E17 Intermediate base size screws into regular C9 sockets. Great retro Christmas light to hang from rooflines and for wrapping trees.
C9 bulbs
E17 - Intermediate base size
7 watts
Frosted White
Steady light display
Nickel base
| | |
| --- | --- |
| Bulb Size: C9 | Bulb Size: C9 |
| Light Color: White | Light Display: Steady |
| Watts Per Bulb: 7 | Coating: Opaque |
| Base Size: E17 - Intermediate | Base Material: Nickel |
| Bulb Diameter: 1.18" | Weather Resistant: Weather Resistant |
| Peel Resistant: Peel Resistant | Average Hours: 3,000 |
| Bulb Voltage: 130 | Usage: Indoor / Outdoor |
| Light Color: Clear | Bulb Type: Incandescent |
| Voltage: 120 | |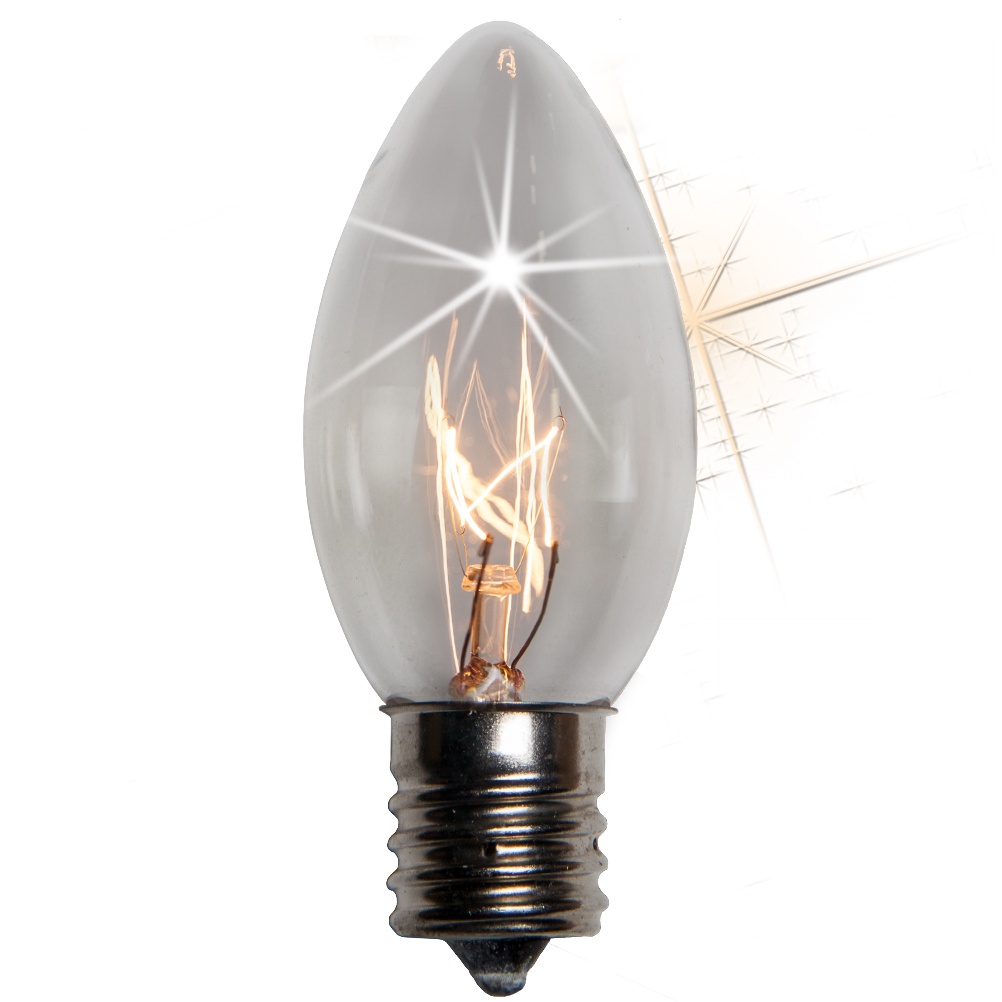 C9 Twinkle Clear Replacement Bulbs, 10 Watt
$10.00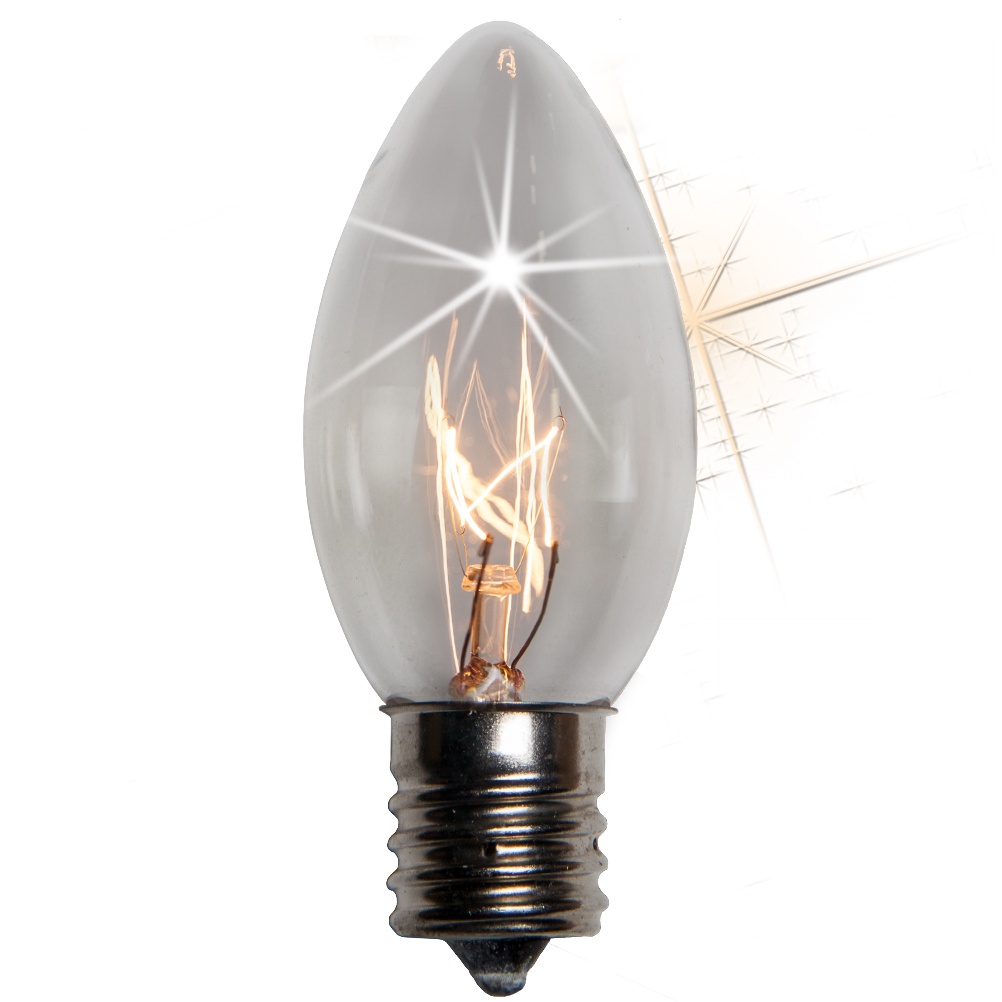 C9 Twinkle Clear Replacement Bulbs
$10.00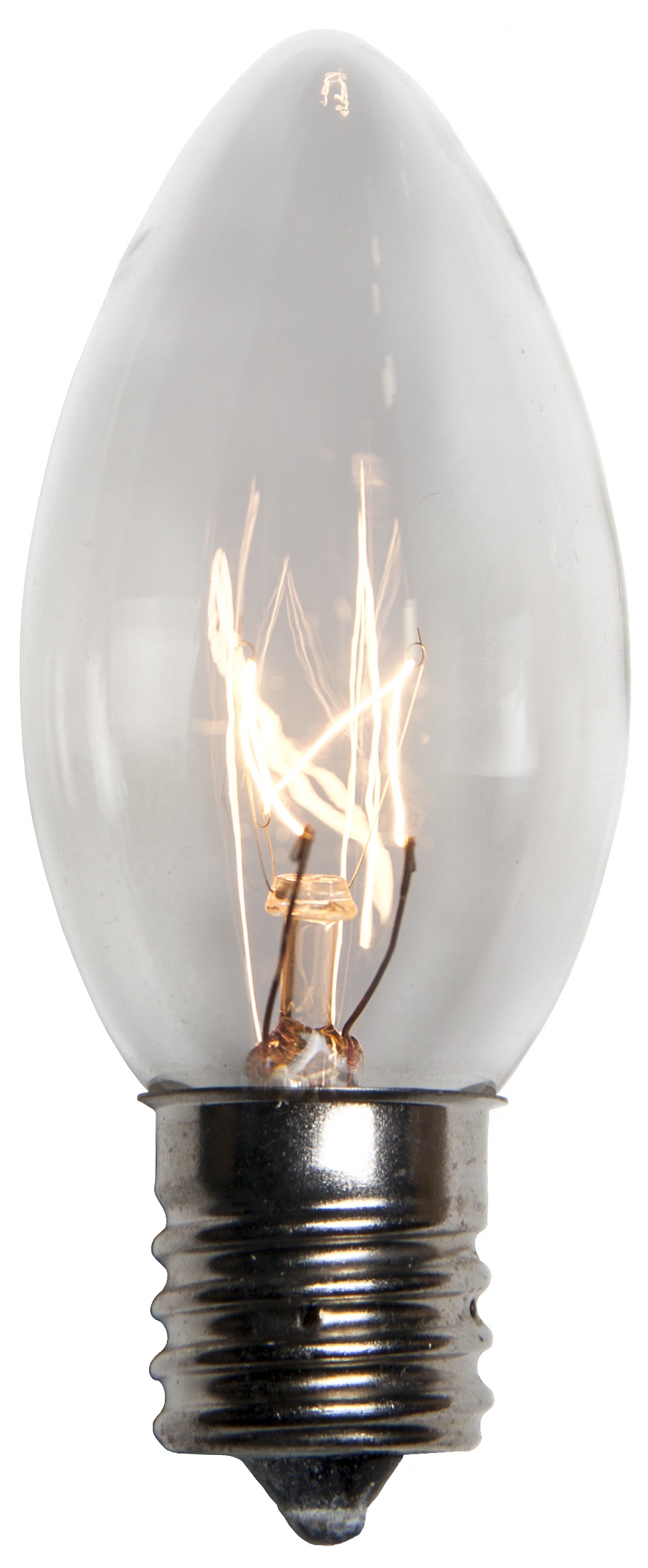 C9 Clear Replacement Bulbs, Transparent, 10 Watt
$8.00
Reviewed by Harry G.
on Friday, December 14, 2012
C9 White Opaque Bulbs
Stars
The customer service was top shelf and the string was just right! I was a little disappointed the bulb packaging though. The couple boxes opened during shipping and a few bulbs fell out and were broken.
Reviewed by Edward D.
on Friday, December 14, 2012
C9 White Opaque Bulbs
Stars
These bulbs are what I was looking for.
Reviewed by Barbara A.
on Thursday, December 13, 2012
C9 White Opaque Bulbs
Stars
The lights seem just fine.
Reviewed by Tamara E.
on Wednesday, December 19, 2012
C9 White Opaque Bulbs
Stars
You can't find these in stores anymore. The white wires blend in with my gutters so these hanging on my house look very nice. The first set had a short and didn't work, but customer service replaced quickly with another set. They were very easy to install and didn't tangle. Very good value.
Reviewed by Randall E.
on Monday, February 20, 2012
c9 opaque bulb
Stars
I have been using these bulbs since I received them and they are GREAT!!!!!!!!!!!!!!!!!!!!!!!!!!!!!!!!!!!!!!!!!!!!!!!!!!!!!!!!!!!!!!!!!!!!!!!!!!!!!!!!!!!!!!!!!!!!!!!!!!!!!!!
Reviewed by David R.
on Tuesday, December 04, 2012
very good
Stars
Everything from finding the product, to delivery was great
Reviewed by Anthony A.
on Friday, January 13, 2012
As Usual Top notch Service and Value
Stars
I am a return Christmas Lights, Etc customer with never a complaint
Reviewed by Terry T.
on Thursday, January 05, 2012
positive
Stars
Hard to find so thank you and great response time
Reviewed by Timothy G.
on Sunday, January 08, 2012
Priced right quick ship
Stars
made in china of course but the price is right for bulk quantity,paint and craftsmanship appeared to be good, packaged very well and shipped in a timely mannar all you can as for anymore these days
Reviewed by Brett B.
on Wednesday, December 12, 2012
GREAT!
Stars
Local stores run out of these replacement bulbs so fast and just sell the small 4 packs. The packaging is great 25 in each box and they will store much more safely! I will always use this vendor.
Products Related To Christmas Bulbs - C9 Opaque (Frosted)
Email A Friend
Write A Review