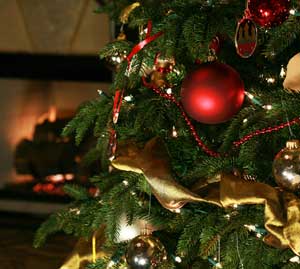 Christmas is a holiday that centers around Christian religion and the celebration of Jesus the Messiah's humble and miraculous birth. Christmas traditions have been carried through the years and vary from family to family, and country to country. Every year families gather together and celebrate in their own way, enjoying food and song, decorating and rejoicing. Children excitedly wait for Santa to come down the chimney, or La Befana to visit their home. Nativities are erected in sizes from small to gigantic, and Christmas lights frame suburban houses while Christmas trees shine through the night.
Christmas has always been a magical time for young and old. Carrying out the traditions of our parents and grandparents is vital to many families, but too often traditions get lost, and new families scramble in an effort to adopt new celebrations, or recreate a Christmas of days gone by. Christmas movies that crackle on the tv in black and white remind us of the years when Christmas was more simple, and dinners were cozy and warm. We try to give our children and friends the warm feelings we were given as children, and try to turn back the time year after year.
Christmas lights and holiday decorations are becoming increasingly mainstream, and quality is often being put on the side in exchange for the ability to offer the best deal in town. Christmas trees and lights from major retail stores are becoming short term fixes, and can't be used for years on end, unable to offer the memory of a single childhood tree. With this economic change in place, online stores are becoming the best source for traditional and unique Christmas decorations, with quality not being exchanged for quantity. Families should always take time to shop the Internet for their Christmas decorations before giving up and slowly allowing their Christmas traditions to dwindle into nothing more than a memory. Religious decorations and nativities deserve to be more than cheaply constructed, mass-produced items offering low dollar points. Nativities should be constructed and painted just as the first nativity in Italy was constructed - with an emphasis on beauty and quality construction.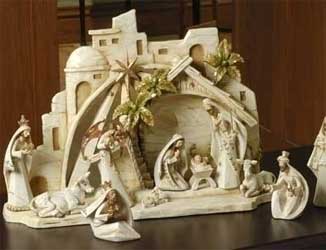 As far back as 1223, when St Francis of Assisi in Greccio, Italy created the first nativity, there were efforts being made to remind Christians that Christmas is about the birth of Jesus, and not secular gift giving. Italy still celebrates Christmas using the nativity, or Presepe, as the main focal point, displayed outdoors in public squares and churches, as well as indoors on a platform. Italy is believed to have done the best job at keeping Jesus' birth the main focal point of the holiday, and it is largely related to their focus on the nativity displays.
The Christmas tree has undergone many transformations throughout the years, and is now available in every color from green to pink to frosted, in size from tabletop trees to giant trees, and in contemporary and retro styles. Images of Christmas trees throughout the years include live trees lit with candles, tabletop trees using bubble lights, and grand artificial Christmas trees pre-lit with clear or multicolor lights. Whatever style and color tree is chosen, the result is always the same. Once the tree's lights turn on, an awesome vision comes to light.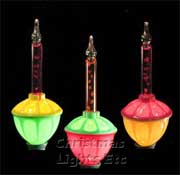 Table top trees with Bubble Lights are a big step towards transforming your holiday decorating into a retro theme Christmas. Bubble lights can be contemporary in design or traditional, but either way they are replicas of the originals. Using colorful garlands and tinsel to wrap around the Christmas tree, and large c7 lights will also create the retro look. Bring back the Christmases that your mothers and grandmothers enjoyed, and spend the season becoming familiar with sights they enjoyed in younger days.
Christmas trees used in the late 1800s and early 1900s were often blue spruce or evergreen, and only lit for a few precious moments for risk of fire. Efforts were quickly made to find a way to safely light Christmas trees to extend the amount of time lights could be left on. Most people can agree that a well lit Christmas tree is a beautiful holiday vision to behold. Today we can light live trees with light strings or purchase artificial pre-lit trees that can remain lit throughout the evening, and all Christmas day. Some of the more quality designer trees such as the TruTip Noble offer the blue tint and live feel of the original live trees, but come with lights already wrapped through the tree and ready to be plugged in. To achieve a complete recreation of these past Christmas seasons, Add a lot of thick greenery through the house, placing garland on mantles and over doors and windows. Greenery was used as holiday decor before all of the modern decorations and lighted items entered the market.