Light Up Your 4th!
FREE SHIPPING ($100+)
USE CODE: PARTY100
Retrofit LED Light Bulbs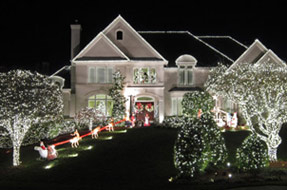 LED Christmas lights are available as prelamped strings or individual replacement lamps. LED replacement lamps are LED bulbs that fit in standard C7 and C9 stringers, making the transition from traditional incandescent lighting to energy saving LED bulbs easy and more affordable. Retrofit replacement LEDs are top of the line in quality and durability, are energy saving, cool to the touch, and feature increased diode count for bright light. When selecting Christmas lights this year, switch to LED retrofit bulbs.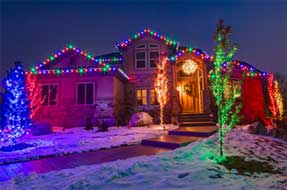 Customize Christmas lights:
Color Themes- Patterns can be updated each season or varied by changing bulb patterns. Instead of alternating bulb colors every bulb, try every 3-4 bulbs. Christmas light theme ideas include:

Red and White Candy Cane
Christmas Red and Green
Sports team colors

Length and Spacing- Cut stringers to desired length to achieve a clean, professional roofline or walkway. Spacing options allow for desired bulb spacing. The closer the bulbs, the brighter the display.
Brightness - Higher counts of diodes in LED replacement bulbs result in brightly immuninated lights.
Retrofit vs Prelamped LED Strings:
LED replacement lamps contain three to five light-emitting diodes per bulb, compared to prelamped LEDs with a single diode, or traditional incandescent bulbs that use a heated filament to create light. Choosing bulbs opposed to prelamped stringers also allows for varied use of bulb spacing and updated patterns and themes.
LED vs Incandescent Bulbs:
Retrofit LED bulbs get their color from the diodes, which are encased within a hard, acrylic plastic that creates an almost unbreakable bulb. Bulb surfaces are faceted for additional light reflection and often colored for extra impact. Glass incandescent bulbs are more susceptible to breaking, and color is painted on, which can fade and crack over time.
Additional benefits of LED Retrofit Bulbs:
80-90% Energy savings - only 0.96 watts/bulb compared to incandescents at 5-10 watts/bulb
Rated life for over 50,000 hours compared to 3,000 for incandescent
Cool to the touch, no filaments to heat
Nickel bases resistant to corrosion
Customization - switch it up every season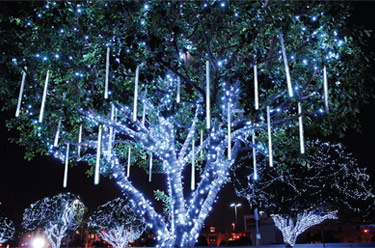 There are many styles of LED replacement bulbs, and retrofit LED Christmas lights fit into standard C7 and C9 sockets. Plastic encasements and LED technology allow for greater flexibility in design, resulting in a larger selection of bulb sizes, shapes and features than can be found with traditional incandescent bulbs.
Cool LED bulbs available:
Grand Cascade LED light tubes - The newest bulbs in demand, allowing the experience of falling snow with cascading diodes.
Color Change bulbs - Blinking red and green colors or color morphing bulbs for cool effects.
Dimmable LEDs - An excellent feature for customized and animated light displays!
Bulb sizes include G20, C7, C9, S14, Falling Icicle, T8 Grand Cascade Tubes.
In addition to the 80-90% savings in energy LEDs offer, longer lifespan also means fewer bulb changes over time and more money savings. Reusing the stringers and bulbs is also an investment in the environment. Some manufacturers tend to overpower LEDs in an effort to achieve a greater light output that results in a shorter lamp life. Christmas Lights, Etc works to achieve an optimal balance in providing maximum light output and longer life for all LED lights. Compare performance tests results for our LEDs compared to other manufacturers. Upgrading to LED replacement lamps has never been easier or made for sense. Now is the time!
| Consider the Statistics | Christmas Lights, Etc | Other |
| --- | --- | --- |
| Failure Rate | 0.016% | 2.65% |
| Brightness after 1,000 hours use | 92.2% | 67% |
| Failure Rates in Harsh Weather | 0.00% | 5.2% |
---
---
Related Resource Pages...
---
---
---
---