Commercial C7/C9 Spools and Retrofit Bulbs
Commercial C strings and Retrofit bulbs are available for commercial installers and decorators who need to have maximum flexibility and want the best look in LED. Retrofit LED bulbs at Christmas Lights, Etc have 5 LEDs per C9 bulb, compared to the single diode bulbs found in most prelampled LED strings. The lumens output is much greater, providing the maximum brightness available on the market, while using only 0.96 watts of energy per bulb.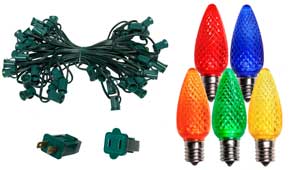 Bulbs can be found in every color from the purest cool white to vibrant colors of green, red, and gold. Twinkle, color morphing, and dimming bulbs are also available, providing tons of exciting design alternatives. An advantage of the Retrofit is the ability to mix and match colors at will to create custom color themes. Simply screw bulbs into commercial C7 and C9 strings with a variety of bulb spacing options, or use spools for larger projects and custom string lengths.