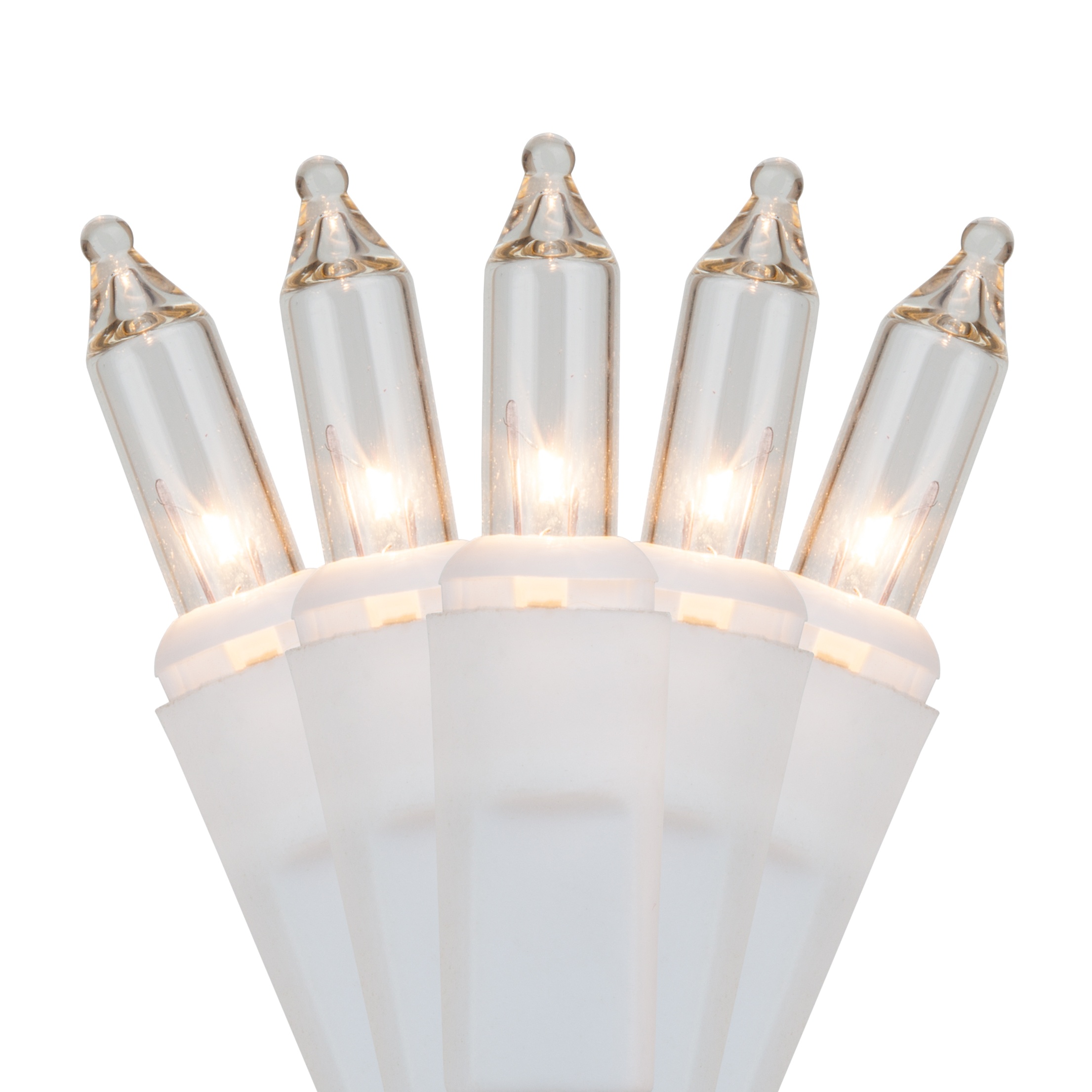 15 Clear Craft Mini Lights, 4" Spacing, White Wire
Item: U15178
Clear mini Christmas lights
15 count incandescent bulbs
4" spacing on white wire
6.7' long
Craft lights - no female plug
One light goes out the rest stay lit
UL Listed, Indoor
| | |
| --- | --- |
| Light Count: 15 | Wire Color: White |
| Light Color: Clear | Bulb Spacing: 4 in |
| String Length: 6.7 ft | Lead Length: 24 in |
| Max Sets Connected: 0 | Tail Length: 0 in |
| Bulb Size: Mini | Wire Gauge: 22 |
| Male Plug Type: Fused/Stackable | Light Display: Steady |
| Female Plug Type: None | Grade: Standard |
| Average Hours: 3,000 | Twist Proof Bulbs: No |
| Bulb Technology: One goes out the rest stay lit | Lamp Lock Bulbs: No |
| Bulb Type: Incandescent | Removable Bulbs: Yes |
| Voltage: 120 | Bulb Voltage: 8 |
| Watts Per Bulb: 0.8 | Rating: UL Listed |
| Usage: Indoor | Watts: 12 |
| Amps: .11 | Light Color: Clear |
| Bulb Size: Mini | |
Reviewed by Susan B.
on Friday, December 14, 2012
15 clear mini lights
Stars
I was excited to receive my mini lights so I could complete a Christmas craft. I was very disappointed when I plugged in the first set and they immediately burned out. I changed the burned out bulb with the extra one included, and the string again immediately burned out. I didn't replace it a third time because I didn't want to waste another bulb. The other strands I purchased worked fine.
Reviewed by Michael M.
on Sunday, December 16, 2012
15 clear mini lights
Stars
We are using these mini lights in crafts and they take a beating and still light everytime.
Reviewed by Gayle N.
on Tuesday, January 31, 2012
Clear Mini Lights 4" Spacing White Wire
Stars
I used the lights on a craft project and they look very nice. I would like to see that particular product offered in other wire colors.
Reviewed by Denise F.
on Thursday, December 20, 2012
mini lights
Stars
Great service, shipment arrived quickly even during holiday time. This was the second time to order lights and I'm sure I will be back.
Reviewed by Randal T.
on Monday, July 23, 2012
Finding Christmas Lights year round
Stars
Finding 15 or 20 light strings are getting hard to find. I light above kitchen cabinets and this helped tremendously
Reviewed by Michelle M.
on Friday, January 25, 2013
Clear Mini Lights
Stars
Fast shipping, thank you!
Reviewed by Sharon J.
on Wednesday, June 20, 2012
good service
Stars
I was very please with the timely deliver and the quality of the lights.
Products Related To Standard Clear Mini Lights - White Wire
Email A Friend
Write A Review