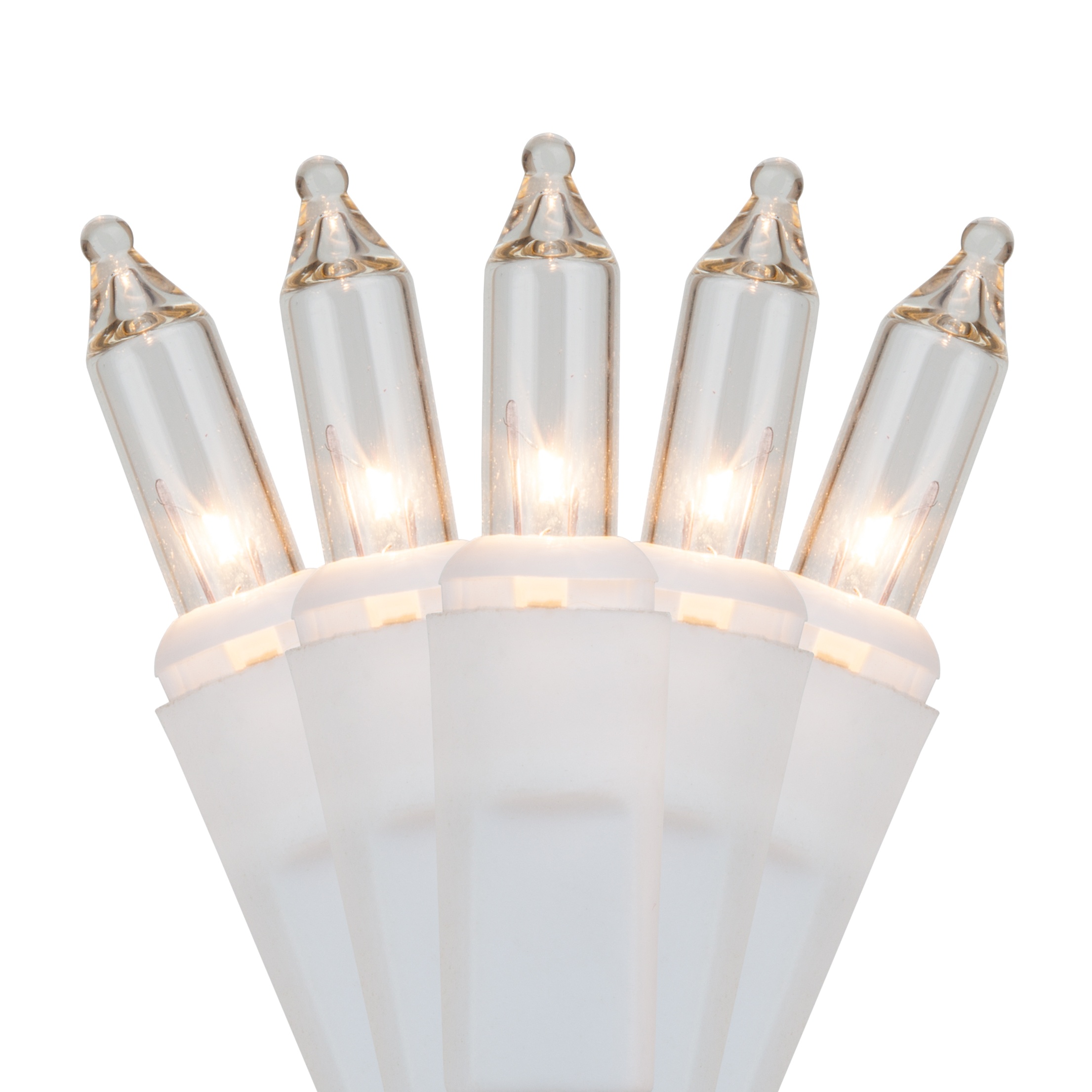 20 Clear Craft Mini Lights, 4" Spacing, White Wire
Item: U15180
Clear mini Christmas lights
20 count incandescent bulbs
4" spacing on white wire
8.3' long
Craft lights - no female plug
One light goes out the rest stay lit
UL Listed, Indoor
| | |
| --- | --- |
| Light Count: 20 | Wire Color: White |
| Light Color: Clear | Bulb Spacing: 4 in |
| String Length: 8.3 ft | Lead Length: 24 in |
| Max Sets Connected: 0 | Tail Length: 0 in |
| Bulb Size: Mini | Wire Gauge: 22 |
| Male Plug Type: Fused/Stackable | Light Display: Steady |
| Female Plug Type: None | Grade: Standard |
| Average Hours: 3,000 | Twist Proof Bulbs: No |
| Bulb Technology: One goes out the rest stay lit | Lamp Lock Bulbs: No |
| Bulb Type: Incandescent | Removable Bulbs: Yes |
| Voltage: 120 | Bulb Voltage: 2.5 |
| Watts Per Bulb: 0.66 | Rating: UL Listed |
| Usage: Indoor | Watts: 13.2 |
| Amps: .12 | Light Color: Clear |
| Bulb Size: Mini | |
Reviewed by Connie G.
on Friday, October 19, 2012
Christmas Gifts with Mini Lights
Stars
I'm using the lights in glass blocks & wine bottles and their wonderful!
Reviewed by Elizabeth M.
on Friday, October 19, 2012
Seem to work FOREVER!
Stars
These mini lights are super for small projects. They stay very cool yet are bright. Mine run day and night for months! Love them!
Reviewed by Diane W.
on Sunday, February 26, 2012
good lights
Stars
I find the lights very good for the project for which I am using them.
Reviewed by Mary F.
on Thursday, March 08, 2012
Mini strings lights
Stars
Lights were perfectly suited for the project I am doing with small glass blocks.
Reviewed by Martha K.
on Wednesday, May 09, 2012
Great mini lights
Stars
I was originally looking for green wire lights for my craft projects but the white wire looks good, too. I'm glad I can get lights at any time I need them instead of having my projects wait for Christmastime before they can be finished.
Reviewed by Lynne L.
on Thursday, May 10, 2012
20 Count Mini Christmas Lights
Stars
I was very pleased with my order of mini Christmas lites..The space in between each lite was better than I thought. They way they were each packaged was very nice too...I will be purchasing more of these lites in the very near future..
Reviewed by Laura D.
on Thursday, January 19, 2012
Happy customer
Stars
I make the lighted glass blocks, and these worked perfect for my application.
Reviewed by Carol L.
on Monday, March 04, 2013
Clear Mini Lights
Stars
These strings of mini lights are perfect for making wine bottle lights. White is great for clear bottles, the green would be better for colored wine bottles.
Reviewed by Donna A.
on Thursday, March 28, 2013
Clear Mini Craft Lights
Stars
I like the white cord for a special project. The craft lights are long lasting and just enough light.
Reviewed by Carolyn L.
on Sunday, December 30, 2012
Clear Mini Lights
Stars
Just what I needed for my project!
Reviewed by margie m.
on Wednesday, January 09, 2013
Clear Mini Christmas Lights
Stars
The white cord is just what I needed for the night lights.
Products Related To Standard Clear Mini Lights - White Wire
Email A Friend
Write A Review