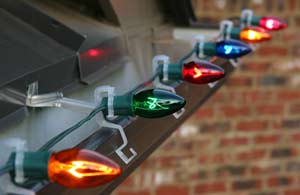 Gutters make an easy surface for hanging Christmas lights, and almost every light clip can secure easily on gutters.
Christmas Light Clips for Gutters:
S Style Gutter Hook
Gutter Clip
All-in-One Clip - all styles
Original Shingle Tab
Bi-Axial Shingle Tab
Vertical or horizontal? When installing Christmas lights on gutters, clips will face the following direction:
Gutter Clip - vertical or horizontal. For gutter lips thicker than 1/2", clips may only secure horizontally
Regular All-in-One - horizontal
All-in-One plus - horizontal
Omni All-in-One - horizontal
LED All-in-One - horizontal
Bi-Axial Shingle Tab - horizontal
Original Shingle Tab - vertical
C Style All-in-One - vertical
The most popular Christmas lights to hang from gutters include C7, C9 and icicle lights. It is important when hanging Christmas lights to choose a bulb size that is easy to see from the ground and the road. Icicle lights can be used with Christmas light clips like the All-in-One Plus and Omni All-in-One, which include hooks for hanging icicle lights.
Each bulb or icicle drop requires its own Christmas light clip, so be sure to purchase as many clips as lights. Assemble bulbs to the clips while on the ground, and then use a ladder that is tall enough to extend to the highest level to be decorated. When hanging Christmas lights from the gutter, be careful to never reach out to secure clips, but continue to move the ladder along the length of the gutters until all clips and lights are in place.
Most Christmas light tabs for gutters can also be used for shingles, so if you are hanging Christmas lights from gutters and shingles, you may be able to use the same light clips for both applications. Learn more about hanging Christmas lights from shingles and find your perfect light clip!
---